The Old City Loft
$1250 Monthly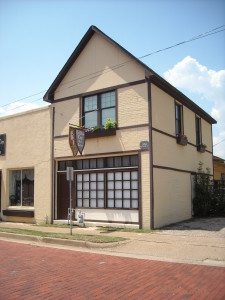 The Old City Loft blends historic ambiance with contemporary styling in a spacious upstairs loft. Located downtown, this classic studio apartment boasts wood floors, a kitchen with gleaming wood paneling and full-size appliances, a comfortable bath with tub/shower combo, a walk-in closet, and gated parking.
Even fully furnished with the queen-size bed, computer desk, dining table, and decorative Hoosier cabinet, you won't be crowded: the suite remains spacious with plenty of room to spread yourself out. The kitchen is ready-to-go with all the cookware and dishes you will need! You have two entrances to choose from, a shared entry off the parking lot or a private entrance off the main street (walking distance from the public transport stop-off!) Wireless Internet, cable TV, and maid service once a week fill out your city-living dream.
Only blocks from the courthouse, the city square, and Tyler's downtown restaurants, the Old City Loft offers a delightful slice of city living.
The Old City Loft is available for a monthly extended stay of $1250. (Monthly rates available via phone reservation only.) Hotel taxes do not apply to a tenancy stay of 30+ consecutive days. Please call Bert at 903-216-6366 to make your reservation.
<< Previous Room | Next Room >> | View All Rooms | Book Now