Innkeeper Rose Vine Inn Bed & Breakfast
Well we have not have had much of o winter. Now it is time for spring and all that it brings. We will explore some of the fun things and happenings in East Texas and particularly the Tyler, Texas area. Why??? Well, we want you to enjoy the area and understand why it is so much fun to stay with us at The Rosevine Inn Bed and Breakfast. In March you can visit a daffodil farm, Canton Trade Days, enjoy lots of music, theatre, home tours, flower trails, wonderful dining and and so much more. So lets get started with what there is to do.
Helen Lee's Daffodil Garden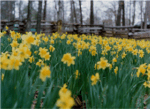 Most people have never heard of it… yet those who have, believe it is a private paradise tucked away among the East Texas landscape. It is considered to be the best kept secret in East Texas. Mrs. Lee's Garden is a 816-acre tract of land that is drastically transformation every February and March. Each spring the acreage becomes a golden haven of beauty. Millions of golden daffodils, scattered over approximately 28 acres, begin to bloom. Visitors can see all the beauty by traveling along a four-mile trail that meanders around two lakes, between wooded valleys, and around a replica pioneer log cabin. It is a sight that leaves visitors in absolute awe.
Within the boundaries of this 918-acre farm is a lesson of history, a sermon on the wonders of God's nature and much beauty for people to see. Due to the hard work, patience and love of Mrs. Lee, for her God, her country and her fellowman, to be able to add to the beauty of nature for all to enjoy as much as she did.
The garden is open during this time seven days a week from 10 a.m. to 4:00 p.m.. For Road Conditions and predicted blooming schedule, contact the Mrs. Lee's Daffodil Gardens directly at (903)845-5780
Open until around march 15th!
CANTON TRADE DAYS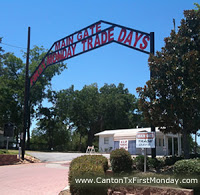 First Monday Trade Days in Canton, Texas is considered the largest flea market in the United States. It is the oldest, largest continually operating outdoor market in the USA, operates on hundreds of acres, and provides spaces for about 6,000 vendors.
First Monday Trade Days currently operates over hundreds of acres and provides spaces and booths for about several thousand vendors.There are various buildings and areas
Access from Dallas or Tyler and Shreveport is via Interstate 20. While several exits are available for Canton, most visitors choose to use Exit 527, which is Texas Highway 19, also known as Trade Days Boulevard.
DON'T MISS IT!!! In march the dates are March 1 – 4, 2012
Very interesting play at Tyler Civic Theatre

Crowns
•Wednesday, February 29th, 2012 @ 7:30pm
•Thursday, March 1st, 2012 @ 7:30pm •Friday, March 2nd, 2012 @ 7:30pm
•Saturday, March 3rd, 2012 @ 7:30pm •Sunday, March 4th, 2012 @ 2:30pm
CROWNS, a stand-up-and-testify musical based on the book by Michael Cunningham and Craig Marberry, focuses on Yolanda, a young Brooklyn girl who is sent down South to stay with her grandmother.
As Yolanda encounters her grandmother and her grandmother's friends in the rituals of preparing for and going to Sunday church service, she begins to discover connections to older traditions and a deeper spirituality.
CROWNS is a soul-stirring tribute to the unique cultural phenomenon that fuses faith with fashion by celebrating African-American women and their church hats.
Event Contact Information:
TCT Box Office
(903) 592-0561
http://www.tylercivictheatre.com/
Something for the Kids!!
Veggie Tales Live!
•Thursday, March 1st, 2012 @ 6:00pm
This is an announcement that VeggieTales Live! – "God Made you Special" will occur on Thursday, March 1, 2012 at 6:00 pm.

Location: Lane's Chapel United Methodist Church
8720 Old Jacksonville Highway
Tyler, TX 75703
Description: Doors open at 5 pm, show starts at 6 pm.
Tickets can be purchased via iTickets.com, Chick-fil-A on Troup Hwy, Chick-fil-A on Broadway Ave, Lifeway Bookstore, Lane's Chapel, The Scroll.
1-800-965-9324
Advance ticket – $15.00 Groups (10 or more) – $10.00
Gold Circle – $25.00 Day of show – $20.00
Benefits Meadow Lake, a non-profit retirement community in Tyler, TX.
Contact: Jessica Crain
Email: jncrain@sears-methodist.com Phone: (903) 526-5599
WE HAVE A GREAT THEATRE DOWNTOWN SHOWING VINTAGE MOVIES AND LIVE ACTS!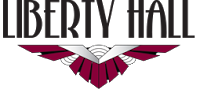 HERE IS WHAT THEY ARE DOING AT IN MARCH!!
FIRST I will list the movies-then we will feature the acts
Movies in March
March 1 The Graduate March 8 Animal House
March 14 Ferris Bueller's March 16 Attack the Block at Midnight Day Off Won the Midnight Feature Award
at the 2011 SXSW!!
March 17 The Muppet Movie (1978) March 22 Fast Times at Ridgemont High
March 29 The Breakfast Club
All shows start at 7 pm–except March 17 show is 2 pm. and (of course) The Midnight Movie on March 16
Now two great acts in March!
March 15 Guy Clark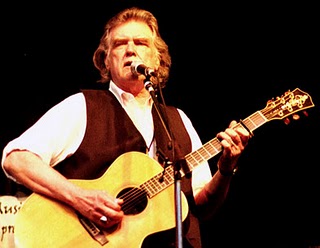 Guy Clark remains a national treasure and folk icon, crafting masterful, poignant melodies and insightful lyrics. Tough, bare-boned and dryly sentimental, his beautiful songs reflect the man himself and display an old-fashioned masculinity that emphasizes honesty, integrity and carefully chosen words. His craggy, wistful story-songs, and plain-spoken delivery are also indicative of his persona. Inducted into the Nashville Songwriters Foundation's Songwriters Hall of Fame in 2004, Clark was honored with the Americana Music Association's Lifetime Achievement Award for Songwriting in 2005. The following year, the Country Music Hall of Fame and Museum named Guy Clark as its prestigious 2006 Artist-In-Residence. Workbench Songs (2006), released to universal critical acclaim and the delight of his worshipful fans, was nominated for the 2007 Grammy award as Best Contemporary Folk/Americana Album
and
Thursday, March 15 at 7:00pm Donny Edwards is Elvis!!!
DONNY EDWARDS is the living, breathing answer to that! Donny is not just a "wedding Elvis" or small event performer, he is the MOST SOUGHT AFTER Elvis Tribute Artist in the business, performing his show at casinos, theaters/venues, fairs/festivals, cruises, conventions, weddings, meet & greets, TV appearances, corporate and special events, throughout the world. When he has the time, between his shows, he enjoys being a part of a more intimate events such as weddings and small gatherings. He feels honored to help make someones special day, more memorable. Donny is a versatile performer with the ability to re-enact each era of Elvis Presley's life and career. Whether he is performing the 1950's, 60's or 70's Elvis, he has every era down pat, at all times. Donny has the looks, the moves, the voice and the humility and maintains a performance of remarkable authenticity. His resemblance to Elvis will give you the chills. He is one of the few Elvis performers who actually looks AND sounds like Elvis!
A Run 7 for a Good Cause!!
Home Run 5K
•Saturday, March 3rd, 2012 @ 8:00am
Proverbs 19:17 ministries and trinity mother Frances Health and Fitness in Lindale are hosting a 5k run on March 3rd and all of the proceeds go to help build a house for a family of 6 whose current house poses a health risk to them.

The kids fun run will start at 8:00am at Faulkner park in Lindale and the 5k will start at 9:00.
Cost: $10 for the kids fun run without an adult entry and $5 with an adult entry $25 for an adult entry into the 5k that includes a tshirt and refreshments.
Register at Trinity Mother Frances Fitness Center in Lindale.
Event Contact Information:
Register at Trinity Mother Frances Fitness Center
(903) 920-6363
One of our Favorites!! March 3 through April 22!!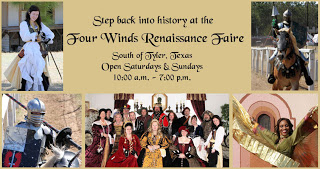 Dustin and Kristin Stephens
(903)839-5271
http://www.fourwindsfaire.com/
Rose City Chili Cookoff
•Saturday, March 3rd, 2012 @ 11:00am
Cooking is open to anyone who is interested in cooking chili and raising money for charity. Tasting cups start selling at 11:00 for People's Choice voting.31st Ever Rose City Chili Cookoff at Gander Mountain on Hwy 69 S.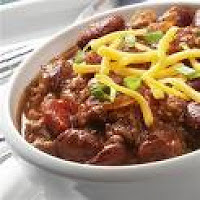 Overnighters and day cooks welcome, open for anyone interested in cooking chili for charity.
Beans competition and Junior Cooks category for age 17 and under.
$10 for beans, turn in at 12 noon.
$10 for Junior entry, turn in at 1:00.
CASI sanctioned chili $20 entry, 2:00 turn in.
See rules for cooking chili at www.chili.org or contact Blu Monday-Daniels at 903-372-2818.
Jefferson Ross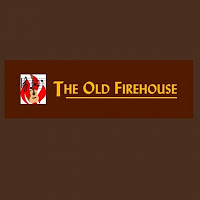 13+ or with adult, please… Jefferson Ross Based in Savannah, Georgia, where the spanish moss hangs from ancient oaks like long torn veils, Jefferson Ross employs his unique acoustic guitar style and southern, soulful voice to spin some of the finest story songs to come out of Deep Dixie in a long while.
His song craft has been compared to Guy Clark, Townes Van Zandt, Rodney Crowell and Jesse Winchester. His vocal style is fresh yet wizened by years on the road.
Ross spent over a quarter century honing his music in Nashville, Tennessee, working as a staff songwriter, and as a traveling musician. Returning home to The Peach State in 2010, Jefferson Ross now brings his solo show of original material to folks from Texas to Nova Scotia and tours Europe yearly.
An evening of Jefferson Ross is an evening of fantastic tunes and tales that the listener will not forget! Paula Held From the initial notes and first words sung by Paula Held…it's obvious you're in the presence of something special, from a singer/songwriter who
With a voice as immediately familiar and tender as a dear friend or fondly remembered lover, Held spins her songs from natural imagery, heartfelt emotions, and a vivid sensual lexicon. Rob Patterson, Music Critic, Austin TX Paula Held "retains a…fidelity to the integrity of emotion that a song should convey." John William Davis, Singer/Songwriter & Kerrville New Folk Winner, Denver CO
Cost: $12 in advance/ $15 at the Door.
Event Contact Information:
Jeff Gottesman
(903) 852-2781
http://www.theoldfirehouse.net/
More fun in Edom!!
279 Artisans Trail 2nd Saturday Art Jam
•Saturday, March 10th, 2012 @ 10:00am – 5:00pm
March is National Crafts Month.
Experience the craft rich area of Edom and Ben Wheeler, with events in artists' studios, galleries, and other businesses on The Trail. Demos, free instruction, hands-on experiences from resident and visiting artists.
Find out what hand made in America really means.
Event Contact Information:
http://www.279artisanstrail.com/
Young Frankenstein
•Friday, March 16th, 2012 @ 7:30pm
The classic Mel Brooks movie is ALIVE…and it's headed to Tyler!
You'll have a monstrously good time at this spectacular new production, winner of the 2008 Outer Critics Circle Award and the Broadway.com Audience Award for BEST MUSICAL!
This wickedly inspired re-imagining of the Frankenstein legend follows bright young Dr. Frankenstein (that's Fronkensteen) as he attempts to create a monster but not without scary and hilarious complications.
The brains behind the laughter is mad genius and three-time Tony winner Mel Brooks himself who wrote the music and lyrics and co-wrote the book along with his record-breaking team from The Producers: five-time Tony-winning director and choreographer Susan Stroman and three-time Tony-winning writer Thomas Meehan.
**ALERT** Strong language and adult situations.
Event Contact Information:
Terri Holland (903) 566-7424
http://www.youngfrankensteinthemusical.com/
Hey just have to say

Wow and this is just the first half of the Month!!
Come back in a couple of weeks check out the fun at the end of the month-Azalea Trails-Home Tours-Arts and Crafts-Walks-Can't Wait to tell you all of it. And don't forget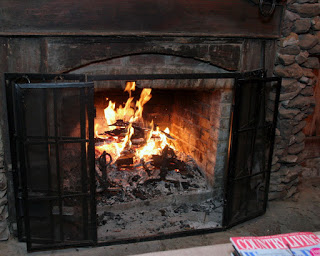 Fires burn nightly and breakfast is served daily at
The Rosevine Inn Bed and Breakfast!!
UNTIL NEXT TIME
INKEEPER BECCA
SIGNING OFF
Come enjoy all different types of performers from distant lands at Four Winds Faire, including armored knights, exotic belly-dancers, musicians, magicians, jugglers, fire-swallowers, pirates, and many more.