Innkeeper Rose Vine Inn Bed & Breakfast
Time again for holiday happenings. Christmas is fast approaching and the Big Guy will be here before you know it!! Take a day or two out from the hectic happenings and come rest and relax at the Rosevine Inn. Come sit by the fire-sip some hot spiced tea-or nice glass of wine. We would love for you to be here.

First you must come and get your tree here. There are several spots for cutting down your own tree nearby.
Three of our favorites are
Plantation Pines CHRISTmas Tree Farm – CHRISTmas Trees, Purple Hull Peas, Pumpkins, Gourds and Indian Corn,. Gift shop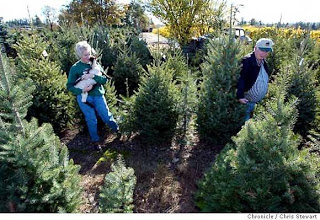 10098 CR 429, Tyler, TX 75704 in Smith County. Directions to Farm: From Dallas Exit I-20 at Tyler, Highway 69 South (US69 exit, go south 3.2 mile and turn right on Plantation Pines Road (CR 429). Our farm is on the left. From Tyler north on US 69, 1 mile north of Loop 323 turn left on FM 2016, second blacktop road on right, Plantation Pines Road. (CR429) about a mile on right – pasted Plantation Pines Peach Farm. Click here for mapping directions! 903-595-2046. We offer Leyland Cypress and Virginia Pine CHRISTmas Trees any where from 4 foot to 12 foot tall. During the CHRISTmas season we offer hayride, school tours, fresh wreaths and lots of farm fun. Every June we have a crop of purple hull peas. This will be our first year for the pumpkins, gourds and Indian Corn, so wish us well!!
Christmas tree varieties:
U-Choose & Cut your own: Virginia Pines and Leyland Cypress
Pre-Cut: Frazer Fir
Trail Creek Farm
– A choose and cut tree farm with hay rides, treasure trails, picnic tables, drinks, popcorn, peanuts, drinks and hot cider. We also have fresh wreaths, and lots of fresh air and trees. Trail Creek Farm will accept all major credit cards.
18127 CR. 4108, LINDALE, TX 75771 . Phone: 903-882-5746 (farm), or 214-748-4686 Dallas. Email: larry@trailcreekfarmfun.com. For a great family holiday experience, come to Trail Creek Farm and we will try to make it a wonderful time. Directions: To find Trail Creek Farm, go north on hwy 69 about 3 miles from its intersection with I-20. From downtown Lindale, go east on hwy 16 for 3/4 mile. Turn left on FM 2710 and go 200 yards. At the fork on the left, take Cr. 4108. Trail Creek Farm is 3/4 mile on your left.
Friday, November 23rd – Friday, December 21st
Friday 11/23, Saturdays & Sundays – 9am to 4:30(last hayride)
Monday through Friday – Noon to 4:30(last hayride)
Watson Christmas Tree Farm – Choose and cut Christmas trees,
11307 CR 2298, Tyler, Texas, 75707. Phone: (903) 566-1282. Directions: From East Loop 323 in Tyler, go 5.1 miles east on Hwy. 64. Turn left on CR 220. Go 2 and a half miles. Turn left on CR 2298, and go 1 mile. The farm is on the right. Open: weekends, 9 am to 5 pm
Pre-cut: Virginia Pine and Virginia Firs
THEN IN THE EVENING YOU CAN TWO GREAT LIGHT DISPLAYS IN THE AREA
Wednesday, Nov. 21st thru Dec. 26th from 6:30 til 9PM 7 days a week. The cost is $12 per person ( groups of 25 and more are $8 per person). Children 2 and under, FREE Admission. Large groups are encouraged to call ahead in order to better accommodate everyone. For reservations or more information, please call (903) 882 1518

Persons with oversize vehicles may park in the gift shop parking lot and ride Santa's Trailer. Our Trailer Rides only run Friday and Saturday night until Thanksgiving Day and every night thereafter. You may schedule Trailer Rides before Thanksgiving by SCHEDULED RESERVATION IF YOU HAVE A GROUP 25 OR MORE.($7.00 PER PERSON). Advance notice for 25 or more,at all times helps better accommodate all Rides. Gates open at 6pm and park closes at 10:30 pm nightly~rain or shine~7 days per week.(Including all Holidays)
We have a spacious Gift Shop packed with a wide variety of affordable gift ideas and a Snackbar inside our gift shop for our guests to enjoy.
Event Contact Information: Cindy Palmer
(903) 882-1518
www.santalandtexas.com
AND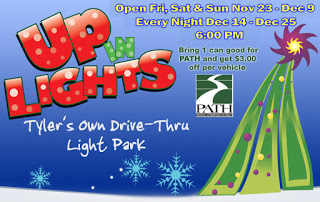 We are a Drive-Thru Christmas Light Park located about a mile outside the Loop 323 and Hwy 155 South, on Old Noonday road. (see map) This is our 8th year to turn on over 1 million lights and scenes to celebrate the Holidays! Our drive is 1 mile long, so you can take your time to view all our beautiful displays! Tune your radio to FM 95.1 & listen to our Christmas music while some of the lights dance to the tunes!
Christmas Light Drive Through is open:
Fri, Sat & Sun Nov 25 – Dec 11
Every Night Dec 16 – Dec 25
6:00 PM
$15 Per car or truck.
No buses or trailers, Please.
Standard Church type vans are allowed.
Maximum Height Limit of 8 feet 6 inches.
Did you get all shopping done at Canton Trade Days? Now it is time to enjoy yourself. You can shop in Tyler if you still have a list that you have checked twice!! We have had cancellations and now have rooms available! Come stay with us at The Rosevine Inn B&B.
You can get in shape before you shop on Saturday morning at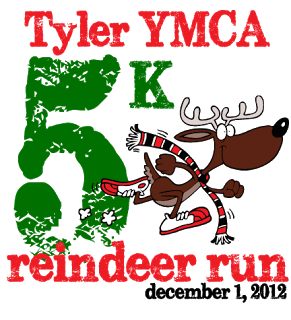 City, State: Tyler, TX
Smith County
Events: 5K Reindeer Run
0.5M Family Fun Run
Location: Tyler YMCA 225 S. Vine
Tyler, TX 75702
Contact: Tyler YMCA (903) 593-7327
Race Website: http://www.tylerymca.org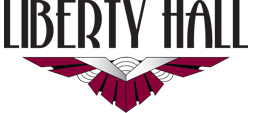 At the Liberty Theatre this month
"A Christmas Story"
•Thursday, December 6th, 2012 @ 7:00pm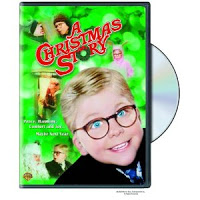 Ralphie, a young boy growing up in the '40's, dreams of owning a Red Rider BB gun. He sets out to convince the world this is the perfect gift. But along the way, he runs into opposition from his parents, his teacher, and even good 'ol Santa Claus himself.
On December 8 at 2 and 7 pm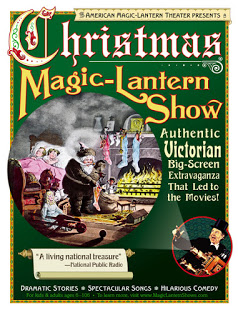 Travel back in time with the boisterous fun of America's only Victorian magic-lantern show. An authentic 1890's visual extravaganza projected on a full-sized screen – the kind of show that led to the movies! Christmas stories like Scrooge, The Little Match Girl and the The Night Before Christmas; animated comedy; and songs – all dramatized on screen by a live showman and singer/pianist. The audience participates in the fun, creating sound effects, and joining in chants and sing-along carols. Great show for families and all ages to enjoy!
Dec. 13 at 7 pm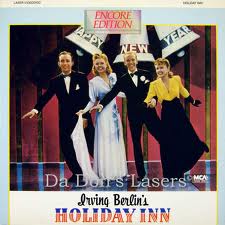 Lovely Linda Mason has crooner Jim Hardy head over heels, but suave stepper Ted Hanover wants her for his new dance partner after femme fatale Lila Dixon gives him the brush. Jim's supper club, Holiday Inn, is the setting for the chase by Hanover and manager Danny Reed. The music's the thing.
And of course the best Christmas show ever!! December 20th at 7 pm
George Bailey has spent his entire life giving of himself to the people of Bedford Falls. He has always longed to travel but never had the opportunity in order to prevent rich skinflint Mr. Potter from taking over the entire town. All that prevents him from doing so is George's modest building and loan company, which was founded by his generous father. But on Christmas Eve, George's Uncle Billy loses the business's $8,000 while intending to deposit it in the bank. Potter finds the misplaced money and hides it from Billy. When the bank examiner discovers the shortage later that night, George realizes that he will be held responsible and sent to jail and the company will collapse, finally allowing Potter to take over the town. Thinking of his wife, their young children, and others he loves will be better off with him dead, he contemplates suicide. But the prayers of his loved ones result in a gentle angel named Clarence coming to earth to help George… Tickets are $7.00 online or cash only at the door.
Event Contact Information
Liberty Hall
(903) 595-7274
http://www.libertytyler.com
Live, Original Folk Music Concert:Robby Hecht
•Saturday, December 8th, 2012 @ 7:00pm
The music of Robby Hecht is reminiscent of the early 70's golden era of acoustic pop, when thoughtful, well-crafted lyrics were blended with timeless melodies to impact mainstream music and culture.
Robby's melodic and captivating songs don't shy away from the complexity of human relationships even as he delivers them with a smooth tenor that evokes both sorrow and hope.
13+ or with an adult, please.
Cost: $12 advance/ $15 door.
Event Contact Information:
Jeff Gottesman
(903) 852-2781
http://www.theoldfirehouse.net/
Fine Arts Jury Exhibition
•Saturday, December 15th, 2012 @ 5:30pm – 8:00pm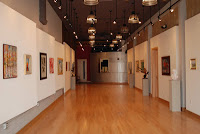 Join us at Gallery Main Street for light refreshments, live music, and plenty of art as we welcome our newest exhibition which will showcase works of art by our Fine Arts Jury.
This event is free and will be on display through Jan. 15, 2013.
Event Contact Information:
Ashley Foxx
(903) 593-6905
http://www.downtowntylerarts.com
A new annual event in Tyler
Create a new family tradition with 'Twas the Lights Before Christmas
'Twas the Lights Before Christmas will transform the East Texas State Fairgrounds into a nighttime holiday wonderland of wintery surprises and all things Christmas, filling guests' senses with seasonal sights, sounds and flavors, and creating a beautiful new tradition for east Texas families.
The East Texas State Fair's most familiar fans will barely recognize the portions of the fairgrounds that convert to 'Twas the Lights Before Christmas through special entertainment, live music, festive treats, holiday shopping and thousands and thousands of twinkling Christmas lights.
We are open December 7-9 & December 13-16, 5:30pm until 9:30pm each night.
•General admission for 'Twas the Lights Before Christmas is $5.00 for all ages. Tickets are available at the door.
•'Twas the Lights Before Christmas will also offer some magnificent new opportunities for groups looking to book a unique holiday party. For details, call The Park of East Texas at 903.597.2501
Tyler Youth Orchestra Christmas Concert
•Sunday, December 16th, 2012 @ 4:00pm
Enjoy the sounds of the holidays at the Tyler Youth Orchestra Free Family Christmas Concert.
Event Contact Information:
TYO Manager
(903) 597-4896
http://tyleryouthorchestra.org/
Well That is a few of the things going on in Tyler in December! We will be back to talk about New Year's Eve-ringing in 2013 should be GREAT!! In the mean time do not forget– At the Rosevine Inn Bed and Breakfast "Fires burn nightly and breakfast is served daily!!'" Oh and MERRY CHRISTMAS TO ALL