Innkeeper
Rose Vine Inn Bed & Breakfast

It is not too late to make a reservation at the Rosevine Inn to ring in the New Year!
Just click on our name and make your reservation online. We always include a small bottle of bubbly and a Happy new year trinket for our guests on Dec 31st!
January is quiet and relaxing time in Tyler-don't get me wrong-there is still plenty of music in the evening. There is still plenty of shopping and great food at our many great restaurants !

One of our favorite spots downtown is Jakes!!
This spot is downtown-the food is fantastic. They have a really fun 'happy hour" menu Monday through Friday with drink and appetizer specials that is really a great value. The Chaveta is a rooftop experience that is unique to Tyler. We love going and watching the sunset while relaxing with a beverage mixed by the wonderful bartenders. Jakes is also perfect for a special evening! The menu is available online at www.jakestyler.com .
Next door to Jakes is our favorite Mexican Restaurant
Don Juan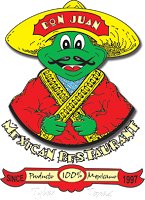 This is a really good Mexican restaurant-if you are looking for Tex-Mex -this is NOT the place for you. The food here is not alot of chili and cumin! Click here
http://www.donjuantyler.com/ for menus and photos! if like a really good margarita may I suggest "The Short Steve" !!
Next on the List is
Marios Italian Restaurant
They do not have a website-but let that stop you-This is a great spot for
a date or a big family group! The food is classic Italian-just what you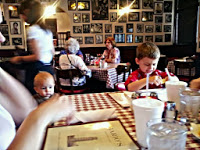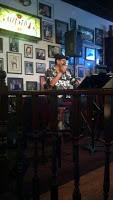 Israel Entertains
expect to find-the Pizza is really good but the pasta is too!! An added bonus—the great people who own and work there!
On Thursday, Friday and Saturday-Israel will entertain you with his wide selection of music. Here is a link to see the menu and get directions http://www.menupix.com/tyler/restaurants/4319014/Marios-Italian-Restaurant-Tyler-TX
We have a famous BBQ joint in Tyler Stanley's Famous Pit BBQ
featured in Texas Monthly Magazine as on of the

Stanley's is the oldest operating Mom & Pop BBQ Joint in Tyler, Texas. Serving up true, pit smoked BBQ for over 50 years. Stanley himself has been off of the scene for more than a decade,
but with a new owner and pit master, who took over the nearly 60
year-old-joint in 2000, has revived the quality of its barbecue–all the
usual suspects plus ham and turkey–and spruced up the atmosphere: It's
now a cross between a fifties diner and a rustic hunting lodge. They
also tinkered with the tangy house sauce, but the thick slices of lean
brisket (smoked for 16+ hours) and juicy pork-and-beef sausage taste
better left alone. If you visit at lunch, consider a sandwich called
the Brother-in-Law: hotlink, chopped beef, and cheese. Yes, cheese.
You'll wonder why it hasn't been a barbecue staple forever. Click here http://stanleysfamous.com/ For much more information!!
Okay-This one has been our favorite for Years!!

Bernard's was envisioned as a getaway, where all East Texans could
escape to and experience the great tastes of the Mediterranean. With
that in mind we have paid special attention to the relaxing atmoshpere
and the extraordinary tastes you will experience at Bernard's. They have great steaks, pasta, wonderful fresh fish dishes, etc-All with a French flair! Click here for menus and directions http://www.bernardsintyler.com/index.htm
Another really wonderful fine dining experience in our city is CURRENTS
An oasis tucked away in the heart of the city, Currents offers
elegant and contemporary interpretations of French and American cuisines
in a contemporary atmosphere.
Serving lunch and dinner for over 17 years, Currents is a great
place to meet your friends for a casual lunch, enjoy a romantic dinner
for two, or reserve the entire place for your next private event.
CLICK HERE for menus and directions http://www.currentstyler.com/
A fabulous place that we send many people to is

From Steak to Seafood, Gourmet Sandwiches to Salads, Soup to Desserts you'll find something on our menu to satisfy every taste.
Our signature dishes include…
Strawberry Spinach Salad

Chicken Crepes

Heavenly Chicken Salad

Fresh Soups, Made Daily

Hot & Cold Spiced Tea

Dine & Dance! Live Music every Friday and Saturday Evening as "Bob and Kenny" play favorite songs of yesteryear. Click here for more info http://www.potpourrihouse.com/

OK what is the deal with Italian Restaurants and websites!! Well another really good "Mom and Pop" in Tyler is Little Italy

Last but not least is Villa Montez

East Texas' Contemporary Latin Kitchen

Villa Montez is a unique casual family
dining restaurant,bringing you the best of the "Cocina Latina" Latin Kitchen. Our festive and friendly environment is the perfect place for
celebrating special occasions, hosting a business lunch or gathering for
a delicious meal with friends and family. Our vision is to provide a unique
dining experience in Tyler's most beautiful setting. We will empower our
team members to deliver a memorable experience for every guest, every
time! We will cook with the best quality and freshest ingredients
available to us. This is why all of our sauces are made fresh daily in
house. We are committed to being the BEST CHOICE of East Texas. During the Summer we grow all our own organic herbs & vegetables! Click here for more info http://www.villamontez.com/

Check back-if you don't already!-there are new spots opening all the time and this list is by far not complete!! We will talk about the newest restaurant is Juls can't wait to try it!!

Let us not forget canton First Monday Trade Days

January 2-5 2014-this is always a good one!!

Do not miss it-really good bargains.

The Tyler Civic Theatre next production is

Huge oil reserves have been discovered in The Chagos Islands and O.P.E.C. is pressuring the Chagosians to join the cartel.A CIA agent, who gets caught in all his own booby traps and security
measures, and an under Secretary of State, whose life appears to be run
by her libido, are sent to a safe house in the mountains of Virginia to
begin negotiations for the U.S. to place the Chagos Islands under their
protection. Except, no one knows who the islands' representative really
is. Could it be the stranded televangelist, his innocent secretary, the
ex-marine caretaker or the mysterious neighbor? What a comedy!

Showing Fri, Jan 17 at 7:30pmSat, Jan 18 at 7:30pmSun, Jan 19 at 2:30pmThu, Jan 23 at 7:30pmFri, Jan 24 at 7:30pmSat, Jan 25 at 7:30pmSun, Jan 26 at 2:30pm

East Texas Symphony Orchestra presents

The Five Browns

Five
famous siblings, five grand pianos, Richard Lee and your East Texas
Symphony Orchestra make this a unique concert experience you won't want
to miss.

January 18 7:30 pm at the Cowan Center!! For more information click here http://www.etso.org/1314sub3.php

Also at the Cowan

Dance Theatre of Harlem: Believe Again

January 23 at 7:30 pm

DANCE THEATRE OF HARLEM is
a leading dance institution of unparalleled global acclaim, encompassing a
performing Ensemble, a leading arts education center, and Dancing Through
Barriers® — a national and international education and community outreach
program. Founded in 1969 by Arthur Mitchell and Karel Shook, DANCE THEATRE OF HARLEM
was considered "one of ballet's most exciting undertakings" (The New York
Times, 1971). Shortly after the assassination of the Reverend Dr. Martin Luther
King, Jr., Mitchell was inspired to start a school that would offer children —
especially those in Harlem, the community in which he was born — the
opportunity to learn about dance and the allied arts. Now in its fourth decade,
DANCE THEATRE OF HARLEM has grown into a multi-cultural dance institution with
an extraordinary legacy and unprecedented success, bringing innovative and bold
new forms of artistic expression to audiences across the country and around the
world.
www.dancetheatreofharlem.org

For more information click here http://www.cowancenter.org/index.html

Well that is about it -We hope everyone rings in the new year safe and sound

Hope we get to see every one of you in 2014. Come visit us at THE ROSEVINE INN BED AND BREAKFAST WHERE

FIRES BURN NIGHTLY

AND

A CONVIVIAL BREAKFAST IS SERVED DAILY!

Innkeeper Becca Signing off!!