Innkeeper
Rose Vine Inn Bed & Breakfast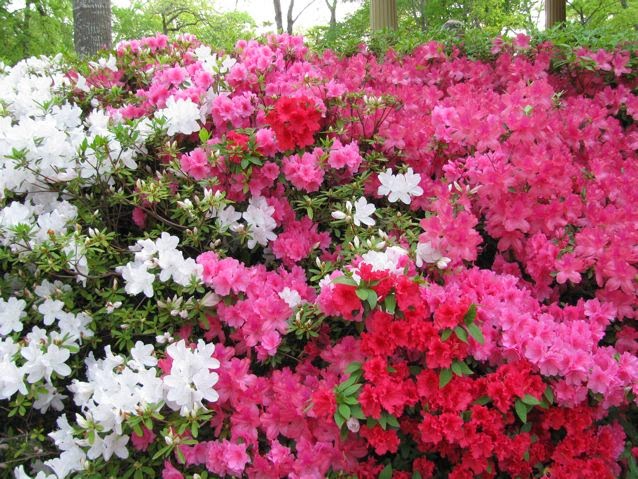 Our flowers are late!! Guess the cold winter weather had an effect on the blooms. What does that mean for you? It means we have three great weekends with lots of activities with , or without the lovely blooms of our azaleas and spring flowers. We have already discussed the first two
weekends-ongoing activities include-9th annual Life in Tyler Photography
contest-submit your photos and you could win some great  prizes!,
Tours of Tyler  is offering some very intriguing options including-historic homes,shopping, dining ,and, of course, haunted places! The Goodman Museum and The McClendon House are both open for tours and both are really showing off for the trails!Coming up  Historic Tyler Home Tours beginning march 28 is Historic Tyler's Historic Home Tours-being kicked of on Friday night with a candlelight party. Also coming up the weekend of march 28th-Azalea Trails Arts and Crafts Fair in Bergfeld park and, one of my very favorite things to do every year, Spirits of Oakwood Cemetery tours only on March 29th!! I blogged on many of these activities on the previous blog!Check it out**   Now for the ongoing activities-so you can make plans!!
First of course   FIRST MONDAY TRADE DAYS!!
For over 150 years
Canton, Texas has welcomed Shoppers to the World Famous First Monday Trade Days. FindThatVendor.com is your 
First Monday "Fone" Book
online,
helping you find the bargains you're shopping for at Canton Trade
Days. Discover the merchants at the Grand Daddy of all Flea Markets
,
Canton First Monday Trade Days! Known worldwide as that "Canton Flea
Market", First Monday Trade Days got it's name in the 1850's as the
Circuit Judge came to the County Seat on the First Monday of every month
.
Swapping and trading just naturally sprang up around the Courthouse
Square the weekend before Court on Monday. First Monday was moved to
it's present location in 1965 and now up to
7500 vendors gather in Canton, Texas every month to display their wares from "apparel to zithers". You're invited to use S
hopFirstMondayCanton.com
a/k/a
FindThatVendor.com
&
ShopFirstMondayCantonTradeDays.com
to shop ahead for your favorite goodies and stuff and locate the Vendors you'll love to shop with.
First Monday Canton Trade Days has been featured in Country Living, National Geographic, Wall Street Journal,  and  even a live telecast  on Good Morning America.  The A & E Channel has filmed 20 shows here and Southern Living Magazine featured us as well!   We're glad you are coming to Canton's First Monday Trade Days, the Grand Daddy of all Flea Markets.
The Addams Family   at the Cowan Center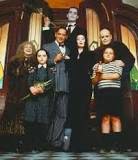 April 4 at 7:30pm
THE ADDAMS FAMILY is a
smash-hit musical comedy that brings the darkly delirious world of Gomez,
Morticia, Uncle Fester, Grandma, Wednesday, Pugsley, and, of course, Lurch to
spooky and spectacular life. "A visually satisfying, rib-tickling, lunatic
musical that will entertain you to death!" according to Toronto Post City. This
magnificently macabre new musical comedy is created by Jersey Boys authors
Marshall Brickman & Rick Elice, Drama Desk-winning composer/lyricist Andrew
Lippa (The Wild Party), choreographer Sergio Trujillo (Jersey Boys), and
Olivier Award-winning costume and set designers Phelim McDermott & Julian
Crouch (Shockheaded Peter) with direction by four-time Tony Award® winner Jerry Zaks. Snap your fingers to the family's creepy beat! www.theaddamsfamilymusical.com

For questions…
cowan@uttyler.edu
903 566-7424
903-566-7424
Ready for a run?

April 5
Get ready for the 3rd annual Tyler Run for Autism benefiting the
Treatment and Learning Center for Children with Autism in Tyler.  10K,
5K and 1M fun run/walk plus lots of fun activities for families and
children including face painting, bounce houses, great food and silent
auction among others.  Every child participating in the event gets a
shirt and medal! come support this great event and enjoy beautiful April
weather and Azalea trails in downtown Tyler. Visit us at www.tylerrunforautism.org for more details.
Friday April 3 10-8
Brick Street Village First Friday
Merchants get together and offer refreshments to visitors, walks in the gardens, stroll through the shops,take advantage of specials and door prizes.Music, demonstrations and talks all day.
Located W. Phillips,S. College, S. Bois d' Arc and W. Rusk streets
Call 903-939-8878 or 903-533-1771 for more information

A night of theater, entertainment and LOTS of dancing with something for
the everyone. Let the Apache Belles walk you through some of the most
memorable sayings, references and quotes of our time using various forms
of dance and theater.
Friday, April 4th at 7:30 p.m. – $13
Saturday, April 5th at 2 p.m. – $8 (matinee)
Saturday, April 5th at 7:30 p.m. – $13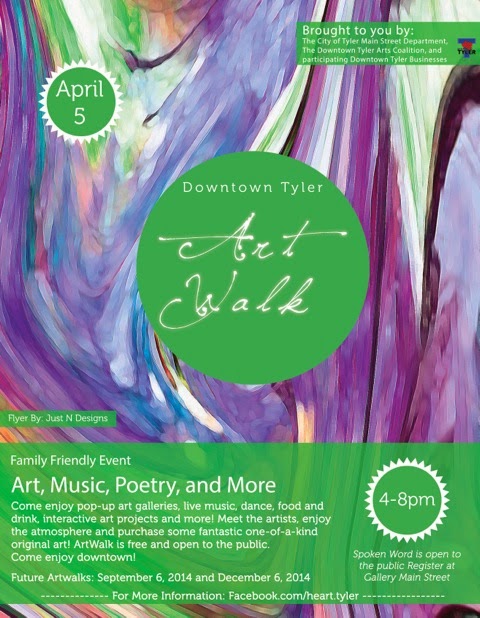 Downtown Tyler ArtWalk    Downtown Business open their doors for art exhibits
Saturday, April 5, 2014        including oil and acrylic to jewelry, metal art,and
4-8 p.m.                                       interactive projects. Enjoy live music, dance and more!
Contact 903-593-6905 or click here www.DowntownTylerArts.com
How about a Murder Mystery? No not at Rosevine-   although we are planning one soon! Hint June!!  This one is April 5 Saturday 7-10 pm at The McClendon House–it is
                      Murder at the Azalea Ball
Find the clues, ask questions and solve this live action murder mystery set in the 1960's in Tyler following the success of the first Azalea Trail!  For info 903-592-3533 or 903-245-6535 www.mcclendonhouse.net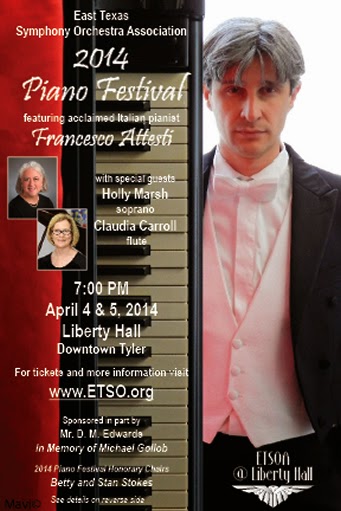 Friday, April 4, 2014 7:00 pm
Francesco & Friends
with special guests
Holly Marsh, soprano,& Claudia Carroll, flute
Acclaimed Italian pianist
Francesco Attesti comes to Liberty Hall for this family oriented program
of familiar music by composers such as Beethoven, Mozart, Chopin and
much more. Joining Mr. Attesti for the evening are Tyler favorites
soprano Holly Marsh and flutist Claudia Carroll.
Saturday, April 5, 2014 7:00 pm
The Art of Attesti
Enjoy
Francesco Attesti in solo recital. The program will include music of
Brahms, Liszt, and Chopin, and Mr. Attesti's own arrangements of music
by Bach and Rossini.
Concerts are at Liberty Hall, 103 E Erwin, Downtown Tyler
Tickets for each concert are
Adults:  $20     Students:  $10
General Admission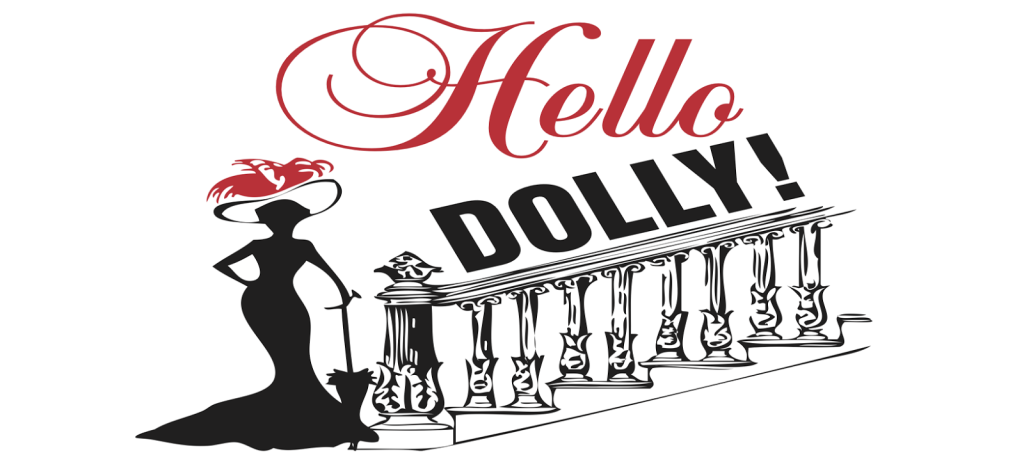 April 2 @ 7:30 pm – 10:00 pm
 Pollard Theatre Company, an outreach ministry of Pollard United
Methodist Church,3030 Copeland Road, presents "Hello Dolly!" April
2nd-5th (7:30pm each night with a 2:30pm Saturday matinee), at the
Founders Center on the Pollard campus.Directed and choreographed by Sara England with Musical Direction by
Arnold Sherman, "Hello Dolly!" is a delightful musical comedy.The show follows the adventures of Dolly Levi as a matchmaker in
turn-of-the-century New York, and has been called an "irresistible story
of the joy of living." It sparkles with memorable songs such as "Before
the Parade Passes By," "It Only Takes a Moment," and, of course,
"Hello, Dolly!" If show tunes and fun choreography tickle your fancy,
this is the show for you.
Tickets are $16 for adults and $10 for those 12 years and under and go on sale March 10th at www.pollardumc.com/theater or (903)730-1056 or call Showtix toll free at (866)967-8167.
Tyler Children's Clothing  Consignment Sale
April 10-12, 2014
Harvey Convention Center
Tyler, Texas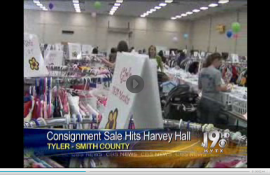 Over 1,000 East Texas families gather twice a year to sell their
gently used, name brand items. We fill over 30,000 sq. ft. as well as a
tent outside in the parking lot. We have it all. Toys, clothes, books,
furniture, baby equipment, maternity items as well as household
furniture and home decor. Come Join East Texas' Largest Consignment
Sale. Visit our website www.cccsale.com for more details. Where Smart Moms Find Great Deals.
     Another great play at Tyler Civic Theatre!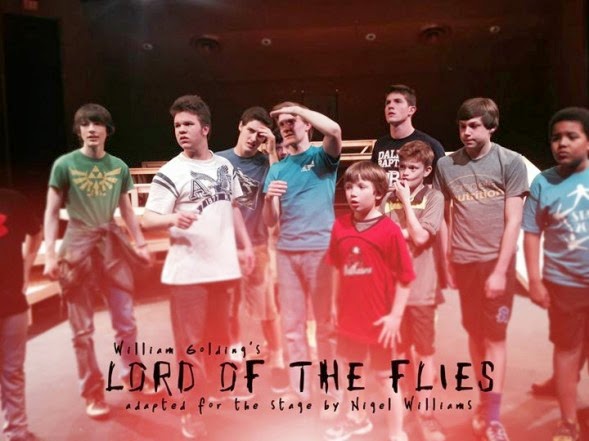 April 10-13 7:30pm  April 14 2:30pm
A plane crashes on a deserted island.
The only survivors are a group of school boys.
They live in a land of bright exotic birds and dark blue seas, but at night their dreams are inhabited by a terrifying beast!
Before long this well behaved group has turned into a bloodthirsty and murderous tribe!
This adaptation of William Golding's compelling story is about a group
of very ordinary small boys marooned on a coral island has become a
modern classic. At first it seems as though it is all going to be great
fun; but the fun before long becomes furious and life on the island
turns into a nightmare of panic and death. As ordinary standards of
behaviour collapse, the whole world the boys know collapses with
them—the world of cricket and homework and adventure stories—and another
world is revealed beneath, primitive and terrible.
Lord of the Flies remains as provocative today as when it was first
published in 1954, igniting passionate debate with its startling, brutal
portrait of human nature.
DIRECTED BY: 
Justin Wayne Purser
East Texas Garden Lecture Series                    April 12 8:30 am
A WARM WELCOME – LANDSCAPE TIPS FOR CURB APPEAL
Date:  April 12, 2014
Location:  Tyler Rose Garden Center
420 Rose Park Drive
Time:  8:30 a.m. Registration: 9 a.m.           Details:
Come to this morning program where Dee Bishop,

Smith County Master
Gardener and longtime landscape professional, will share ideas on how to
easily set out a colorful and inviting welcome mat to your home with
plants.  Artfully planted and strategically placed containers and small
beds can create a dramatic and warm welcome to your front door, even if
you are a renter.
Demonstration planters will be offered as door prizes.
Cost: $15 (or $45 for a season pass to all seven Lecture Series programs).
Contact:
Texas A&M AgriLife Extension Service Smith Co office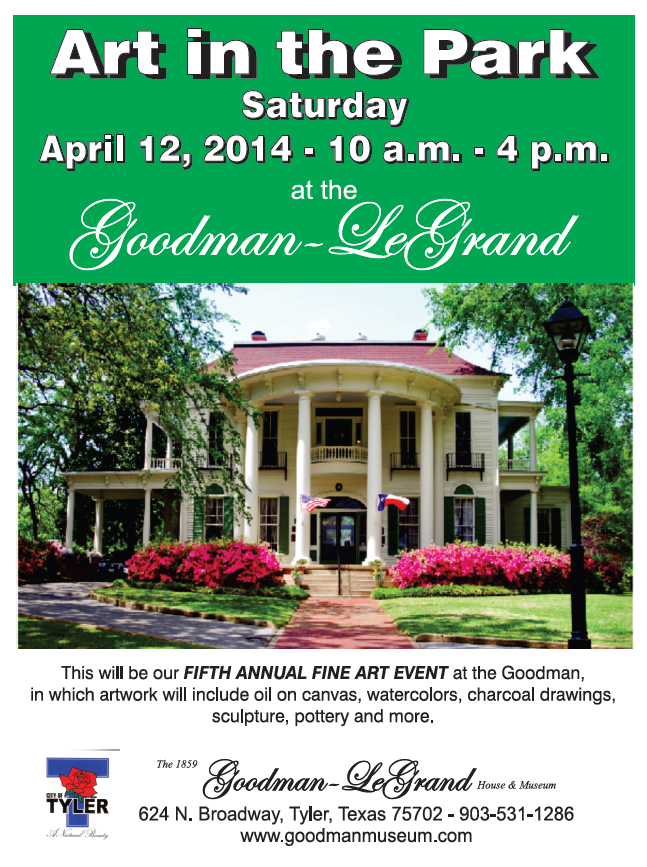 The event will feature local artists demonstrating a variety of forms,
styles and techniques. Every form from watercolor to pottery and
sculpture will be on display. There will also be lectures delivered by
local professors from UT Tyler. Tours of the Museum and musical
performances will be taking place throughout the day.
Also coming at the end of the month of April-Not to be missed!!
 Oh I forgot-we had a very special guest here last week! Guess we bragging a little!!  Stevie Jo Rosenbalm from The Voice! He is from "around here" and is a real talent-I am including a clip form you tube so you can here-Keep watch-he is going to do great things.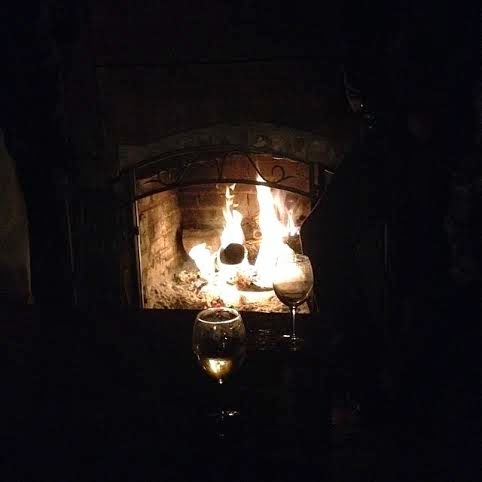 OK That's it until next month!! Easter is April 20-so we will get another edition out about that time! Check us often -and of course come visit and stay at THE ROSEVINE INN B&B– Where fires burn nightly and breakfast is served daily!!
Until next time
Innkeeper Becca
signing off!