Innkeeper
Rose Vine Inn Bed & Breakfast
Valentines Day-Mardi Gras and daffodils-this is what we look for in February!!
Throw in Canton First Monday Trade Days- Music around the city-warmer days-
or we may get snow!! Who knows ?
Rosevine Inn Bed and Breakfast is the place to stay in Tyler to enjoy one or
all of the fun in the area-
Let's get started on the list
AS WE MENTIONED IN THE LAST BLOG JANUARY 30 THROUGH FEBRUARY 1
WE ARE GOING TO FEATURE THE ONE AT THE END OF THE MONTH , TOO AT THE END OF THIS BLOG-TELLING YOU MORE ABOUT THE SHOPPING FUN!!
Our first run of the year!! a 5K and Fun Run starts at the Lee High School Band hall!!
JANUARY 31 AT 8 AM
The
Robert E. Lee High School Band is hosting our 1st Annual 5K and Fun Run,
January 31.
The
Red Raider Band on the Run 1 mile and 5K fun run will begin at the REL Band
Hall, and wind through beautiful Rose Rudman trail, crossing at Donnybrook and
ending at REL's campus. Be a part of
this uniquely musical 5K, with the Red Raider Band performing tunes and
cadences along the route.
On Saturday, January 31, the 1 mile fun
run will begin at 8 a.m. and the 5K will begin at 8:30 a.m. On-site
registration will end at 7:45 a.m. Parking is available at the REL horseshoe. Registration
is $25 per runner. Online registration
information is available at www.relband.org.www.relband.org.
And the month of February at the
The Princess Bride
Feb. 5 at 7 p.m.
Tickets are $7
A kindly grandfather
sits with his ill grandson and reads him a story. The story is one that
has
been passed down from father to son for generations. As the
grandfather reads the story, the action comes alive. The story is a
classic tale of love and adventure as the beautiful Buttercup, is
kidnapped by the odious Prince Humperdinck in order to start a war. It
is up to Westley (her one true love) to save her. On the way he meets an
accomplished swordsman and a huge, super strong giant, both of whom
become Westley's companions in his quest to save Princess Buttercup, but
can they save her in time?
"The Oldest Town in Texas Road Show"
Saturday, Feb. 7 at 7 p.m.
Floor seats are $30.00 online or $40.00 at the door.
Balcony $20.00 online or $30.00 at the door.
VIP Box seats are $140.00 and seat 4 per box
From sensational
shows at The Grand 1894 Opera House in Galveston Texas and The Pines
Theater in Lufkin Texas, "The Oldest Town in Texas Road Show's " Texas
Tour continues with another excellent night of entertainment. Join us
for an outstanding night of family fun and music including a variety of
showstoppers from past to present, Staring: Rocking P, Jan and Stephen
Pate ( The Hottest Guitar Picker in The Lower 48) and band, Plus!!!
From Hollywood to East Texas…Brad Maule ( Dr. Tony Jones of
Televisions "General Hospital"), Rodger ( Johnny Cash ) Robinson, Ally
Fuller, Bo (Jerry Lee ) Miller and "Camo Elvis", along with other
special guests.
Where else can you
hear the music of Otis Redding, Bob Wills, ZZTop, Eric Clapton, Patsy
Cline, Elvis, Tex Ritter, Jerry Lee Lewis, the Doobie Brothers, George
Strait, and Fleetwood Mac all in the same place? Sing along with many
of your favorite songs and add some new favorites to your playlist as
well.
Don't miss this one night opportunity to see a show like no other! This is "Branson style" entertainment on steroids!The cast will be available after the show to meet and sign autographs.
Roman Holiday (1953)
Feb. 12 at 7 p.m.
Tickets are $7
Princess Anne (Audrey
Hepburn) embarks on a highly publicized tour of European capitals. When
she and her royal entourage arrive in Rome, she begins to rebel against
her strict and regimented schedule. One night Anne sneaks out of her
room, hops into the back of a delivery truck and escapes her luxurious
confinement. However, a sedative she was forced to take earlier starts
to take effect, and the Princess is soon fast asleep on a public bench.
She is found by Joe Bradley (Gregory Peck), an American newspaper
reporter stationed in Rome. He takes her back to his apartment. The next
morning Joe dashes off to cover the Princess Anne press conference,
unaware that she is sleeping on his couch. Once he realizes his good
fortune, Joe promises his editor an exclusive interview with the
Princess.
For Valentines Day
An Affair to Remember (1957)
An Affair to Remember (1957)Saturday, February 14 at 8 p.m. Valentine's Day!
Tickets are $10 or VIP boxes are available for $50
One of the most
romantic movies ever made, "An Affair to Remember" is the story of
handsome playboy Nicky Ferrante and beautiful night club singer Terry
McKay who meet by accident while on a cruise from Europe to New York.
Despite being engaged to other people, both agree to reunite at the top
of the Empire State Building in six months if they still feel the same
way. However, an unfortunate accident keeps Terry from the reunion, and
Nicky is left wondering if her feelings for him are gone. Will he
discover the truth behind her absence and reunite with his one true
love, or has fate and destiny passed them by? Starring Deborah Kerr and
Cary Grant. A great way to celebrate Valentines Day with the one you
love.
Texas Speaker Series Presents Alex Chacon
Feb. 19 at 7 p.m.
Tickets are $15
VIP boxes for $100 and seat 4 people
Alex Chacón is an
adventure rider, public speaker, professional photographer,
videographer and presenter. He presents to groups around the world about
his challenging and charitable expeditions on various motorcycles
around the world. Alex is a leader on the cutting edge in motorcycle
adventure riding/exploring, contributing to major motorcycle
magazines, working as a professional free-lance photographer for
companies and well recognized brand names in the industry and
collaborating in product development of prototype gear with testing and
production. He currently runs the only motorcycle consulting business in
the world for travel in Latin America where he occasionally runs tours
His most famous expedition to date has been a 500 day solo round trip from Alaska to Argentina in 500 days raising money for the Children of Uganda in Africa.
Thanks to the success
of his blogging, writing, and capturing of his own personal Motorcycle
Diaries, he was able to document this epic adventure in a whole new
interactive and in-depth way never captured before, through unique
pictures, videos and viral YouTube films like, "The Modern Motorcycle
Diaries".
His body of work has been featured around the world in thousands of
magazines, newspapers, international/national TV news and interviews.
Magik Theatre Presents Rumpelstiltskin
February 21 at 3 p.m.
Tickets are $15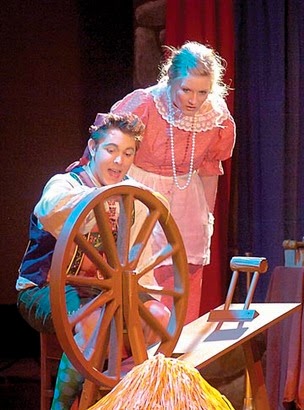 The King has locked
Gabby in a straw-filled room, with orders to spin gold or lose her head!
When a crafty man with a secret name offers to help, Gabby makes him a
promise she isn't prepared to keep. Now gabby has three days to guess
the man's name. Can she do it before time runs out?
Best for children ages 4 to 10.
Now in its 20th
season, The Magik Theatre is San Antonio's premiere professional family
theatre, producing live stage versions of children's classic and
contemporary literature. Since the first curtain came up in 1994, The
Magik Theatre has served over 1.5 million people, including children
from over 700 schools and groups in over 40 school districts throughout
South and Central Texas.
Urban Cowboy (1980)
Feb. 26 at 7 p.m.
Tickets are $7
Bud Davis is a
country boy who moves to the Houston to stay with his uncle and find
work.
Bud's aunt and uncle take him out to Gilley's, the local honky
tonk, to show him a good time. He loves it and makes it his usual
nightly party spot. He gets a job at the refinery where his uncle works
and meets Sissy, a local girl looking for her happily ever after. They
fall in love and decide to get married. Marriage is a lot harder than
either of them ever expected. Can these two grow up and make their love
last or will others come between them and ruin their happy ending?
This COULD be fun!!!
The Newlywed Game and Comedy Night
Feb. 28 at 8 p.m.
Tickets are $15 online or $20 at the door
VIP Boxes are $100 and seat 4
Join us for our very
own "Newlywed Game" East Texas style! Four lucky couples will be chosen
directly from the audience to participate in this live version of the
old gameshow!
This show is not for the easily shocked or offended, but will be a lot
of fun for a date night! The show will also feature the comedy of our
very own Brandon Davidson, who will also MC the game. The winning couple
will get a special prize!
Bring your Mr., Mrs. or your sweetie and play along and have a grown up night of fun and romance!
At University of Texas Cowan Theatre-One of my Favorite Authors!!
Nicholas Sparks
February 5 at 7:30 pm
salesman who wrote in the evenings. In early 1995, and
against all odds, his manuscript was discovered in the slush pile. By
October, Warner Books famously paid a million dollars for an unknown
story about a notebook. The rest, as they say, is history. Now with
almost 80 million copies of his books in print, literary sensation
NICHOLAS SPARKS is the author of 17 New York Times #1 bestselling books
and a cultural phenomenon in his own right. Limited tickets to the post
lecture reception are available. Persons attending the reception are
invited to bring their favorite book for signing. For more info
3900 University Blvd
Tyler, Texas 75799

For questions…

903 566-7424
East Texas Garden Lecture Series
February 7- 8:30 a.m.
3 floral designers will give quick lessons on floral arranging with
arrangements being raffled at the end. Proceeds benefit East Texas
Crisis Center
Registration 8:30 AM Program 9:00 AM
$15 ($45 for season pass to all six Lecture Series programs)
Contact: Texas A&M Agrilife Extenstion Service-Smith County 903-590-2980
Annual Quilt-a-thon
Feb 7 at 9 a.m.
Our Saviour's Lutheran Church, 4900 Kinsey Drive, will be having it's
Annual Quilt-a-thon on
Saturday, February 7th. from 9:00 AM to 3:00 PM.
This event is free and open to the public. If
you can tie a knot or
just want to watch, come by. For more info call 903-561-1865. or check
us out on facebook. All quilts will be donated to various non profit
organizations. For more Info
Our Saviour's Lutheran Church 4900 Kinsey DriveTyler, Texas 75701
903-561-1865
Rose City Classic Invitational Gymnastics Meet
Texas East Gymnastics is holding the 9th annual Rose City Classic
Invitational Gymnastics Meet. The USAG sanctioned meet will have over
500 female gymnasts competing. Competitors are from all over Texas as
well as surrounding states. The meet will include gymnastics Levels 2-10
as well as Xcel athletes and Elite gymnasts. A portion of the proceeds
will be donated to the Cancer Foundation for Life: FitSTEPS for Life
program.
http://www.uttyler.edu/ 903-566-7068
For questions…
903-509-3547
Some Valentine's Day Ideas!!

Love Under the Stars Feb. 14 5 or 8 pm
For more info

Center for Earth and Space Science Education
1327 South Baxter Avenue
Tyler, TX 75711


http://www.tjc.edu/cesse

For questions…
903-510-2312
(903)-510-2312
ROCK'n Valentine's Festival featuring
Bret Michaels
ROCK'N VALENTINE'S FESTIVAL
BRET MICHAELS With SPECIAL GUESTS WARRANT, Winger and FireHouse
TICKETS ON SALE DECEMBER 12, 2014 @ 9:00AM
The Oil Palace – Tyler, Tx
Saturday, FEBRUARY 14, 2015
Doors open at 5:30 PM
Show starts at 7:30 PM
Tickets