Innkeeper
Rose Vine Inn Bed & Breakfast
March is here and Spring is coming!! So much goes on starting in this month! We have St. Patrick's
Day-Love that day- Then there is the arrival of Spring and the beautiful flowers -we will once again feature
Mrs. Lee's daffodil garden and Tyler's Azaleas Trails! We can look forward to more outdoor activities and then-Easter will be here the first Sunday in April!! WOW-lets get started with what's coming up in the area-
I left this out on the last blog-but they are sing some of my favorite music!
The Lettermen February 26@ 7PM
The East Texas Men In Harmony present …
The Lettermen! For over 50 years
The Lettermen have been performing pop music with their unique blend of
close harmony. Through the 1950's and 1960's, The Lettermen scored 16
Top Ten Singles (including the number one remake of "When I Fall In
Love"), 32 consecutive Billboard Magazine Chart albums, 11 Gold records
and five GRAMMY nominations. Their signature sound made romantic
standards of songs such as "Smile", "Put Your Head On My Shoulder"
"Shangri-La" and "Love".
Green Acres Baptist Church Crosswalk Conference Center
Tyler, TX 75701

For questions…

936-554-9449
Don't forget First Monday Trades Day
If you can't make it then, maybe this will float your boat
4th AnnualSpring Rummage Sale
Families who would like to do a little spring cleaning and make a little
money are invited to take part in the rummage sale at the Glass
Recreation Center. This sale is for used items only; no baked
items allowed.
March 7 beginning @ 7 am.
Free admission to the public and donations will
be accepted.
This is always Fun Fun Fun
Rose City Chili Cookoff March 7@11 A. M.
34th Rose City Chili Cookoff benefiting Spirit of St Louis Therapeutic Riding Program for special
needs adults and teens.
Public
tasting for People's Choice voting begins at 11:00 AM, $3 for tasting
cup. Anyone can cook all categories. beans, $10, turn in at 12 noon;
Junior Chili for ages 7-17, $10, turn in at 1 PM, CASI Chili, $20, turn
in at 2PM.
Registration opens at 8:30 AM, pre-registration-mail to Rose City Pod, PO Box 132401, Tyler, TX 75713.
For more information, call Blu Monday-Daniels 903-372-2818.
TobyMac, Mandisa and Capital Kings
Saturday March 7, 2015
The Oil Palace
10408 Tyler 64
Tyler, Texas 75707
http://www.oilpalace.com

For questions…

903-566-2122
This may be fun on an extended girls weekend!
Mega Bunco Bash presented by To the Moon Sisterhood
March 12 @6:30pm
Come join us! This event is open to all women in East Texas. We will
have great door prizes and a silent auction that night. Grab a taco and
a drink inside Fresh and enjoy some laughter and fun on the Patio with
us.
We are excited to welcome new friends to our casual, laid
back events. With no membership and no dues, To the Moon is a great
place to develop genuine friendships with other women. We hope to see
you there!
Click here for website
For questions…
903-780-7464
(903) 534-3000
An Art opening downtown!!
Opening Reception for Exploding Boundaries: A Fiber Arts Exhibit
Join us to celebrate the grand opening of Gallery Main Street's
Exploding Boundaries: A Fiber Arts Exhibit. The event will feature
music, refreshments and an opportunity to meet the artist's. It's free
and open to the public, so make plans now to attend. March 14 at 5:30- Always interesting!!
East Texas Garden Lecture Series
March 14 at 8:30 am
Learn about the newest, easy-care rose varieties that require little or
no spraying and can make a colorful impact in your landscape. Mark
Chamlee, owner of Chamblee's Rose Nursery will discuss new rose
varieties coming out of breeding programs that are developing superior
plants for the environmentally-conscious gardener. Learn how to
correctly prune all types of roses and tour the nursery.
Registration 8:30 AM, Program 9:00 AM. $15 or $45 for a season pass to all six lecture series programs.
Chamblee's Rose Nursery

10926 US Highway 69 N
Tyler, TX 75706

For questions…

smithjean17@hotmail.com
So if gardening is not your
903-590-2980 style how about***
15th Annual Family History Fair
FREE BEGINNING & ADVANCED GENEALOGY CLASSES – 25
HISTORICAL QUILTS ON
DISPLAY
Susan D. Kaufman, Keynote Speaker,
will help you find those lost ancestors "Using Criminal Records &
Unusual Source Records for Genealogical Research"
Dr. Deborah Burkett –
Quilts and Their Stories: Binding Generations Together
Debbie
Parker Wayne, CG, CGL – "DNA and Genetic Genealogy"
V. W. 'Web'
Freeman, MMS, MA – "Getting Started with FamilySearch–FREE Resources"
Jim Connally – "Storytelling and Genealogy"
Youth
Track (12-17): Beginning Genealogy and Other Courses.
There is an
Optional Box Lunch catered by Chez Bazan. Click on the link below to
download more complete information on Classes & Presentations,
Pre-Registration and Box Lunch Order Form, and Hotel Discounts
for out-of-town guests.
PLEASE COME AND INVITE YOUR FRIENDS!
For questions…

903-825-2617
At the Cowan
It's time to put our political differences aside and enjoy the musings
of THE CAPITOL STEPS – the only group in America that attempts to be
funnier than Congress! No elected official, including the current
resident of the White House, or those who may aspire to it, is off
limits. These former congressional and senate staffers satirize today's
political headlines, and political headline makers, with humorous song
and dance. Always fresh and crisp – no two performances by THE CAPITOL
STEPS are alike.
7:30 pm
We talked about this in the last blog-and promised to mention it again-one of our favs in the area!
did.
Road conditions-
it is closed when the roads are wet.

The garden's future ability to
remain open depends upon the number of people who visit and register their
attendance.
Mrs.
Lee loved the land that her husband purchased so much that she bought
adjoining land until the ranch amassed over 1,000 acres. She took
this
raw land and transformed it into a budding paradise; converting the
gravel
pits into a 5-acre lake and a 3-acre pond. Both of these were stocked
with
bass, perch, and catfish, while surrounded by abundant wildlife of all
kinds,
some of which were deer, wild turkey, all
types of birds, snakes, and bobcats. Mrs. Lee purchased an
entire
boxcar load of daffodil bulbs from Holland and they were all planted
with
approximately 40 workers, including Mrs. Carolyn Owens Johnson's
grandparents, Mamie and Nathaniel Scott, whom worked for Mrs. Lee from
1952-1984. Mrs.
Johnson is the current manager of Mrs. Lee's Daffodil Gardens.
At the Liberty Theatre in March!!
The Thin Man (1934)
March 5 at 7 p.m.
Tickets are $7
After a four year
absence, one time detective Nick Charles (William Powell) returns to New
York with his new wife Nora (Myrna Loy) and their dog, Asta. Nick
re-connects with many of his old cronies, several of whom are eccentric
characters, to say the least. He's also approached by Dorothy Wynant
whose inventor father Clyde Wynant is suspected of murdering her
step-mother. Wynant's father had left on a planned trip some months
before and she has had no contact with him. Nick isn't all that keen on
resuming his former profession but egged-on by wife Nora, who thinks
this all very exciting, he agrees to help out. He solves the case,
announcing the identity of the killer at a dinner party for all of the
suspects.
March 7 at 8 p.m.
Tickets are $20 online and $25 at the door the night of the show (if not sold out)
VIP Boxes (seat 4) and are $150
Once you have seen
Dave Alexander in concert it is easy to understand why he has been named
"Entertainer Of The Year" by the Academy of Western Artists.

Throughout his successful and award winning career this dynamic
entertainer has gained the respect of his peers while mesmerizing his
audiences with each performance. His talents as a performer are
unsurpassed as recently exemplified upon his induction in to the Texas
Western Swing Hall of Fame and "Male Vocalist of The Year" by the
Academy of Western Artists.

Dave has performed and recorded with the biggest names in country music
such as George Strait, Toby Keith and LeAnn Rimes while carving out his
own stellar career in the music industry. The three time GRAMMY nominee
remains as one of the nation's top selling western artists.

Alexander has been recognized as having created the finest Western Big
Band ever assembled to deliver his overwhelming performances. Great
western musicians, combined with his incomparable horn section, make up
the finest musical ensemble on the road today. As a former member of the
Texas Playboys, Alexander combines the heritage and success of
yesterday's great western music with the fever and excitement of his own
compositions and today's hottest musicians. The results remain
unprecedented.

He can be heard across the country on a nationally syndicated Radio
Program as guest host of "The World of Western Swing". A new radio show
currently sweeping the nation as it brings to life the fun and exciting
sounds of Western Music. His latest feature film, "The Hi Low Country"
includes music written, arranged and performed by Dave with such artists
as Willie Nelson and Marty Stuart. This film later received a Western
Heritage Award from the National Cowboy Hall of Fame. Don't miss this
amazing artist live at Liberty Hall!
Opening for them is another great East Texas Group!
Andie Kay Joyner and Heather Stalling of "Blacktop Gypsy".
When they met in the
early 1990's, both were already accomplished musician/vocalists.
Stalling was an award winning fiddler, coming off a two-year run as a
support player in Branson, MO. Joyner was still a teenager, but had sung
in front of thousands of people at countless performances. Each had
grown up in musical families that exposed them to bluegrass, folk, and
traditional country music. For the next decade, the girls further
groomed themselves for their own band by separately backing Texas
artists, such as Mark David Manders, Max Stalling, Johnny Lee, Tommy
Alverson, Bob Schneider, and others. The girls took a Tuesday night
residency at the legendary Dallas honky-tonk, Adair's Saloon for almost a
year. Stalling and Joyner even co-produced their debut CD,
blacktopGYPSY, with Austin resident Adam Odor at famed Cedar Creek
Studios. The album is a montage of styles representing the songwriters'
varied influences and phases of musical interest. The traditional
country material one might expect of a fiddler and country vocalist is
certainly there. blacktopGYPSY released their second CD "Whirlwind" in
September 2011 produced by the legendary Lloyd Maines
Ghostbusters (1984)
March 12 at 7 p.m.
Tickets are $7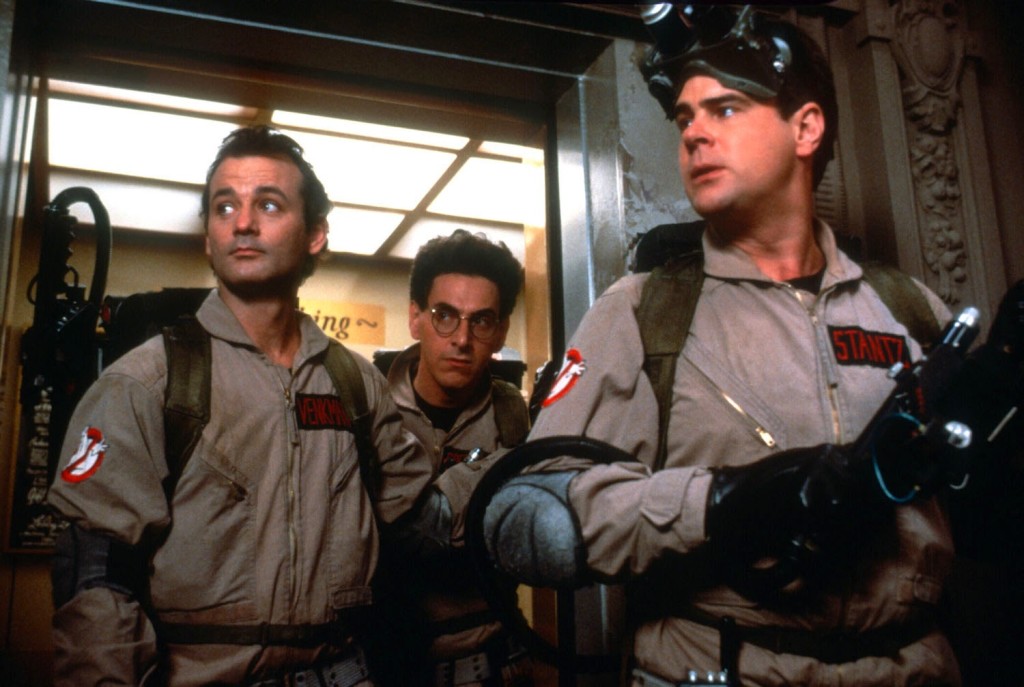 Three odd-ball
scientists get kicked out of their cushy positions at a university in
New York City where they are experts in the occult – not very
marketable.
They decide to set up shop in an old firehouse and become Ghostbusters,
trapping pesky ghosts, spirits, haunts, and poltergeists for money. They
wise-crack their way through the city, and stumble upon a gateway to
another dimension, one which will release untold evil upon the city. Who
you gonna call?!
Arsenic and Old Lace (1944)
March 19 at 7 p.m.
Tickets are $7
Cary Grant plays
Mortimer Brewster, a newspaperman and author well known for his
diatribes against marriage. We watch Mortimer getting married at city
hall in the opening scene of the film. Next Mortimer travels home to
share the good news with his two eccentric, but oh so sweet aunts. While
sharing his happy news, he accidentally stumbles on a secret of his
dear aunts'. They happen to be killing lonely old men and burying them
in the cellar. It just gets worse from there….
OK we are going to stop here!! There is so much happening this month we are going to post now and later in the month-probably around the 15th or so! So check back soon and often!!

Don't forget
the time changes on the 8th this year!!
Come see us at the Rosevine Inn Bed and Breakfast and Extended Stay Suites-You will LOVE IT!!
Innkeeper Becca
Signing off