Innkeeper
Rose Vine Inn Bed & Breakfast

Fall officially arrives in a few days-September 23rd. Everyone is casting their thoughts in the direction of cooler days and beautiful colors in nature. At the Rosevine Inn we cant wait to start burning our outdoor fireplaces and spending more quality time outdoors. This blog will go into the first part of October, since your writer took a little break last month! Shall we get started with some of the fun and exciting things to do in the area? Sure let's get going!
Family Day at Tyler Museum of Art
September 12 at 2pm til 4 pm Free
admission, interactive art projects, light snacks and a festive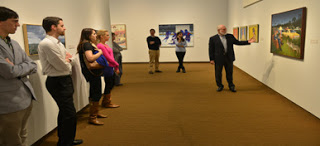 atmosphere for
all ages are on the menu from 2-4 p.m. the second Saturday of each month with
the Tyler Museum of Art's popular Family Day. This month features the
phenomenally popular LEGO sculpture exhibition "The Art of the
Brick," which has drawn close to 10,000 Museum visitors since opening July
10. Also in the spotlight is the recently opened "Reflections of East
Texas," featuring works by five artists with strong ties to this region.
To RSVP for groups of 10 or more, please call (903) 595-1001 or e-mail
info@tylermuseum.org. For information, visit www.tylermuseum.org
The Price is Right LIVE™
THE
PRICE IS RIGHT LIVE™ is the hit interactive stage show that gives
eligible individuals the chance to "Come On Down" to win. Prizes may
include appliances, vacations and possibly a new car! Play classic
games from television's longest running and most popular game show from
Plinko™, to Cliffhangers™, to The Big Wheel™, and even the fabulous
Showcase. Playing to near sold-out audiences for nearly nine years, THE
PRICE IS RIGHT LIVE™ has given away more than 10 million dollars in cash
and prizes and sold more than 1.2 million tickets. If you enjoy the
rush of emotions experienced while watching the show on television, just
imagine the possibilities if you were actually in the audience watching
it live.

WANT TO BE A CONTESTANT ON THE PRICE IS RIGHT LIVE™?
To
be a contestant on the The Price is Right Live™ at the Cowan Center, you
must be eligible (see official rules in the link below) and register in
person on the day of the show (A ticket is not registration to be a
contestant).Contestant registration begins 3
hours before show time and ends 15 minutes before show time.All registered contestants will be
entered into a random selection drawing 15 minutes before show time,
when 60 names will be chosen to possibly participate in the show as one
of the six contestants.For full details please click HERE to download official rules for Price is Right Live™!
Cowan Center

3900 University Blvd.
Tyler, Texas 75701

903-566-7141

903-566-7424
Children's Clothing Consignment Sale
Over 1,300 East Texas families selling their gently used items. (Tyler, Tx)Children's Clothing Consignment Sale
September 17-19, 2015
Harvey Convention Center
Tyler, Texas Over
1,300 East Texas families gather twice a year to sell their gently
used, name brand items. We fill over 30,000 sq. ft. as well as a tent
outside in the parking lot. We have it all. Toys, clothes, books,
furniture, baby equipment, maternity items as well as household
furniture and home decor. Come Join East Texas' Largest Consignment
Sale. Visit our website www.cccsale.com for more details. Where Smart Moms Find Great Deals.


Harvey Convention Center
2000 W Front St
Tyler, TX 75702



For questions…

903-705-2236

903-531-1349

Lunch with the Symphony on the Square

The East Texas Symphony Orchestra is
pleased to host its 2nd Annual Concert Season kick-off event by
inviting the community to "enjoy lunch with the symphony on the square"
in downtown Tyler on Friday, September 18, 2015 10:30am – 1:30pm.
Make plans now to enjoy a casual and relaxing lunch where you
can come and go at your leisure. Brown bag your lunch or purchase from one of
the downtown area restaurants. Your symphony orchestra is passionate about
engaging community members of all ages in music appreciation. Visit www.etso.org for more details. Join us!

St. Gregory Annual Fun Run

St. Gregory
and Bishop TK Gorman reunite on the Gorman campus this year for the 30th Annual
St. Gregory Fun! The Fun Run and Carnival will be held Saturday, September 19,
2015. Fun Run events begin at 8:30 a.m. and include 5K and 1 mile races, plus a
Kids' Dash for runners ages 7 and under. The new racecourse starts on Easy
Street and finishes on the TK Gorman track. With only 100 ft of elevation gain,
smooth wide roads and a track finish, our new 5k

racecourse promises to be fast
paced and fun! And, to add more fun to this family atmosphere, the race will
include an optional "water balloon lane", where friendly spectators are invited
to "award" the participating finishers with a refreshing water balloon splash.
The Fun Run will culminate with awards to top finishers, fun filled Carnival
games and food.

For more information
and questions like us on Facebook. https://www.facebook.com/stgregoryfunrun

Race
registration can be done online

Get Me Registered
– St. Gregory Run

Call (903) 595-4109
for more information.

ADDITIONAL NOTES:

AWARDS:

5k Finishers

• Top 100 finishers
will receive our 2nd annual St. Gregory Fun Run commemorative mug.

CASH PRIZE PURSE

• Top Male &
Female 5k finishers receive – $100 and FREE entry into the FRESH 15k race of
choice

• Top Male &
Female Master finishers receive – $50

• Top Male & Female
Age Division winners receive – $20 (under 9, 10-12, 13-15, 16-19, 20-24, 25-29,
30-34, 35-39, 40-44, 45-49,

50-54, 55-59, 60-65,
and over 65.)

All 1 mile Finishers
will receive medals.

All Dash finishers
will receive ribbons.
Kids are welcome

Bishop TK Gorman

Tyler, TX 75701


For questions…


903-595-4109
Trace Adkins
Sept 19 7:30 pm Cowan Center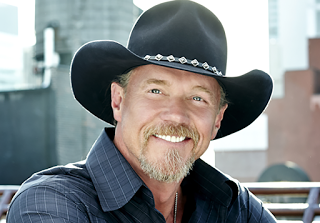 TRACE ADKINS' trademark baritone voice has powered
countless hits to the top of the charts and sold over 10 million
albums. The Grammy-nominated member of the Grand Ole Opry is a TV
personality, actor, author, and spokesman for the American Red Cross,
for whom he raised over $1.5 million as a winner of NBC's "All-Star
Celebrity Apprentice." As a dedicated supporter of the troops, Adkins
has performed as part of seven USO Tours. Adkins made his debut on the
country music scene in 1995 with the album Dreamin' Out Loud, since
then, he has released seven studio albums and two Greatest Hits
compilations. In addition, he has charted more than 20 singles on the
Billboard country music charts, including hits "(This Ain't) No Thinkin'
Thing," "Ladies Love Country Boys," "Chrome," "Honkytonk Badonkadonk,"
and "You're Gonna Miss This."
Cowan Center
3900 University Blvd.
Tyler, Texas 75701
For questions…
903-566-7141
903-566-7424
At the Liberty Theatre-through part of October!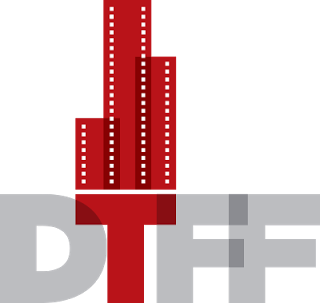 Downtown
Tyler Film Festival is a celebration of storytelling through film in
East Texas. We accept and show short films from all around the world,
but we have a special fondness for local independent works.
About DTFF September 23-26,2015 website http://www.tylerfilmfest.com/
Downtown
Tyler Film Festival was founded in 2011 as a venue for encouraging
local filmmakers to hone their craft and introducing local cinephiles to
new storytellers. We care deeply about putting on a quality festival
that caters to filmmakers and cinephiles alike. Our festival is laid
back and film-focused. Viewings take place at the Liberty Hall Theater,
with additional receptions and gatherings held around the square.
Throughout The month of October there are some Scary Movies at the Liberty!!
Evil Dead II
Starring Bruce Campbell and Sarah Berry
Oct. 1 at 7 p.m.
Tickets are $7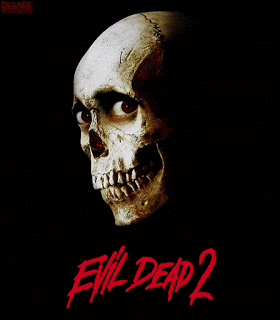 A young man, named
Ash, takes his girlfriend Linda to a secluded cabin in the woods where
he plays back a professor's tape recorded recitation of passages from
the Book of the Dead. The spell calls up an evil force from the woods
which turns Linda into a monstrous Deadite, and threatens to do the same
to Ash. When the professor's daughter and her entourage show up at the
cabin, the night turns into a non-stop, grotesquely comic battle with
chainsaw and shotgun on one side, demon horde and flying eyeball on the
other.
Army of Darkness (1992)
Starring Bruce Campbell and Embeth Davictz
Oct. 8 at 7 p.m.
Tickets are $7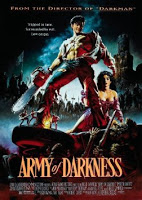 In this sequel to the
Evil Dead films, a discount-store employee ("Name's Ash. Housewares.")
is time-warped to a medieval castle beset by monstrous forces. Initially
mistaken for an enemy, he is soon revealed as the prophecised savior
who can quest for the Necronomicon, a book which can dispel the evil.
Unfortunately, he screws up the magic words while collecting the tome,
and releases an army of skeletons, led by his own Deadite counterpart.
What follows is a thrilling, yet tongue-in-cheek battle between Ash's
20th Century tactics and the minions of darkness.
More Movies in the next Blog!!
This looks like fun!!
Girls Night Out with Country Cool Comedy!
Oct. 10 at 8 p.m.
Tickets are $30
VIP Box Seats are $175 (admits 4)
Country Cool
is a straight shootin' comedy show that laughs at what we're all
dealin' with… the "this can't really be happening" moments in life, that
make us all feel like we're losing our minds one traffic jam at a time.
Trish Suhr
,
Karen Mills
, and
Leanne Morgan
all have southern roots and are well traveled, diverse, sharp and
savvy. Their no nonsense approach "tells it like it is" but of course
with charm and style. It's not redneck, it's not white trash – these
girls are Country Cool! It's comedy for the masses, because let's face
it, doesn't matter who you are… everybody's got a little country in 'em!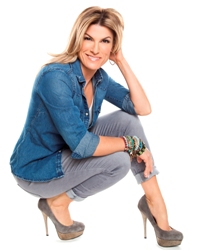 Emmy Award winner
Trish Suhr
,
is a native of Kentucky now living in Los Angeles. Trish puts
a modern spin on keeping it real. The star of Style Network's long
running
Clean House
, she uses her southern sensibilities to
navigate the big city and knows what it takes to sta
bourbon" approach to life has landed her on top television shows
including
Good Morning America, The New Ricki Lake Show, The Marie Osmond Show,
as well as on a variety of programs for CMT, VH1, E!, Style Network and Lifetime Networks.
Karen Mills
has a straight-forward approach to the realities of life. Her smart,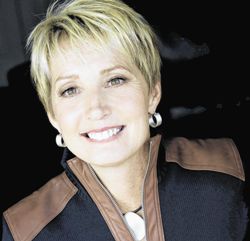 funny, keen observations will keep you laughing at yourself as you
relate to her experiences. Even ovarian cancer couldn't stop Karen from
turning pain into a punchline: "When the surgeon cut me open, my right
ovary popped out the size of a cantaloupe, my left ovary the size of a
grapefruit… turns out my muffin top was a fruit salad!" She brings a
fast-paced comedy style that both men and women love. Karen has toured
the nation as a comedian for 22 years. She's worked clubs, colleges and
theaters across the country and can be heard daily on Sirius/XM blue
Collar Radio, Laugh USA, iHeart Radio and Pandora. Additionally, her
stand up has been seen on Fox, ABC and GAC TV. Standing only 5'2", Karen
was a division 1, first team, All American basketball player at
UT-Chattanooga and was the first women inducted into their basketball
hall of fame.
Leanne Morgan
exudes southern charm. She is a naturally funny story teller who gives
an honest look at suburban life and the challenges of keeping her
husband happy while juggling kids, dogs and cheer-leading camp at the
same time she's racing to get her hair highlighted, have a colonoscopy,
and joining weight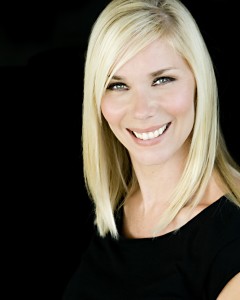 watchers for the 7th time! Leanne will
take you on a hilarious walk through motherhood and beyond as she finds
comedy amid the chaos. Leanne's funny but honest point of view has
earned her spots on the Dr. Phil Show as part of his "advice panel."
She's also worked with Paula Deen both "Live" in theaters, as well as
numerous appearances on her cooking shows. Leanne was chosen by The View
as one of their most hilarious housewives and she was a finalist on
Nick at Nite's 'Funniest Mom in America.' Leanne is heard regularly on
Sirius/XM and has her own show on Blue Collar Radio called "Chewing the
Fat"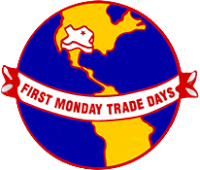 Next Canton First Monday is
October 1 through 4 Don' miss it !!
Wednesday, October 7, 2015 • 7:30 PM
The
famous harmonies and classic songs of THE
BEACH BOYS continue to travel the world bringing "Good Vibrations"
everywhere! Performing music from their earliest surf rock classics to
masterpieces like "Wouldn't It Be Nice" and "God Only Knows," to later hits
including "Kokomo," THE BEACH BOYS remain
legendary for their millions of fans spanning multiple generations playing and
singing with the same bold imagination and style that marked their explosive
debut 50 years ago! Original members Mike Love and Bruce Johnston will be
"Surfin' U.S.A" in this epic one-night-only performance.
Cowan Center
3900 University Blvd.
Tyler, Texas 75701
For questions…
903-566-7141
903-566-7424
Sunday, September 13, 2015, 3:30 – 7:30pm

Sunday, September 13th – Pelle Legna Vineyards
Winery Tour and Tasting will take place at 3:30pm at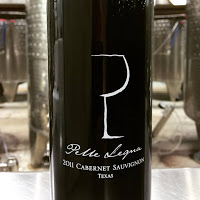 18655 CR 418,
Tyler. This will be an extra special event with a private tour and wine
tasting. Dawn Leatherwood, owner and proprietress of this remarkable
vineyard, has once again graciously welcomed all Tyler Wine Lovers out
to her magnificent winery. They have coordinated the event date with the
release of the new vintages, and we may even be catching a glimpse of
the harvest as well. If you are interested in learning about the wine
making process from grape to libation, and appreciate sampling finer
wines, then you can't miss this rare opportunity for a first class tour
and tasting at Pelle Legna. The cost per person is $10 (bring this with
you to the event, please) which covers your tour, the exclusive wine
tasting event, and will be waived for anyone joining the Pelle Legna
Wine Club. For more info, go to www.facebook.com/PelleLegnaVineyards.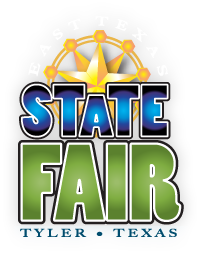 100 the Anniversary!!
Hours & Directions
2112 West Front Street Tyler, TX 75702
Office Hours M-F 9-5
903-597-2501
DATE & SHOW OPEN TIME
RIDE SPECIALS
SENIOR DAY
Friday, 9/25 4pm
$25 Unlimited Rides 4pm – 11pm Saturday, 9/26 12 Noon
$25 Unlimited Rides 12 – 5pm Sunday, 9/27 12 Noon
$25 Unlimited Rides 12 – 5pm
Monday, 9/28 4pm
$25 Unlimited Rides 4pm – 11pm STUDENT NIGHT
Wednesday, 9/30 4pm
$25 Unlimited Rides 4pm – 11pm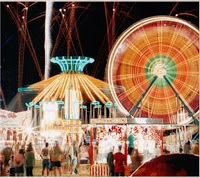 Thursday, 10/1 4pm
$25 Unlimited Rides 4pm – 11pm Friday, 10/2 4pm
$25 Unlimited Rides 4pm – 11pm Saturday, 10/3 12 Noon
$25 Unlimited Rides 12 – 5pm
Sunday, 10/4 12 Noon
Last Blast – $25 Unlimited Rides 12pm–10pm
Star party TJC science center
September 28th 8PM
It could be a brighter-than-usual star party on Saturday at the Center for Earth & Space Science Education at TJC.
.The star party will begin 8 p.m. Saturday at the TJC science center located at 1411 E. Lake St., on the TJC main campus.

The night sky will be shown inside the center's dome theater;
and, weather permitting, the Astronomical Society of East Texas will
have telescopes set up outside for close-up star viewing.
"Mars will be near conjunction and will appear very bright," said
Dr. Tom Hooten, TJC science center director and professor of physics
and engineering.
The eclipse is the first of a lunar tetrad – four lunar eclipses –
set to occur in 2014 and 2015. A tetrad is a succession of four total
lunar eclipses, with no partial lunar eclipses in between, each of which
is separated from the other by six lunar months or full moons.
Blue Moon Gardens Annual
Fall Fest
Saturday October 10 10-2
Join us for the festivities, speakers, refreshments, scarecrows, gorgeous plants and more……..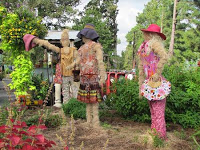 10 AM Using Roses with Shrubs in the Landscape Ron Hill Chamblee Nurser
11 AM Exciting Winter PlantsMary Wilhite co-owner Blue Moon Gardens
12 AM A Garden Party-Cook Fresh from the Garden

Chef Christian Chavanne
ion of Nursery Plants in Tyler Area
Blue Moon gardens is a destination garden center, nursery and gift shop located in a
beautiful East Texas setting between Canton and Tyler TX. We specialize
in perennials, herbs, natives, hardy roses and cottage garden flowers.
The 90 year old farmhouse is our gift shop filled with home decor,
candles, books, garden art, fairy furniture and more.
Location:
We are located at 13062 FM 279
4 ½ miles east of Edom and 15 miles west of Tyler
Just a few of the MANY things to do this month in Tyler and surrounding areas!! Hope you will come and take advantage of our wonderful facility for a night or longer to enjoy the activities that abound, or just to rest and relax. Until next time- it is about the time for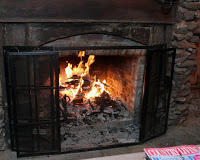 Fires to burn nightly and
breakfast is served daily at
The Rosevine Inn B&B
Your Innkeeper Becca
Signing off