Merry Christmas!! We all are excited it is on the way-and many excited when it has come and gone! it is such a wonderful time to visit with family and friends. We hope everyone that reads this is in the "Christmas Spirit"! , embracing all the happy things about the season and remaining stress free. We are all decorated and ready for guests at The Rosevine Inn bed and Breakfast and Extended Stay Suites. Come visit and let us de-stress you. Now let's see what to do while you are here!!
GOODMAN MUSEUM, Cotton Belt Depot, Gallery Main Street, Smith County Historical Society and the McClendon House – DEC. 8 – VICTORIAN CHRISTMAS OPEN HOUSE
Many of the downtown museums and galleries filled with guests,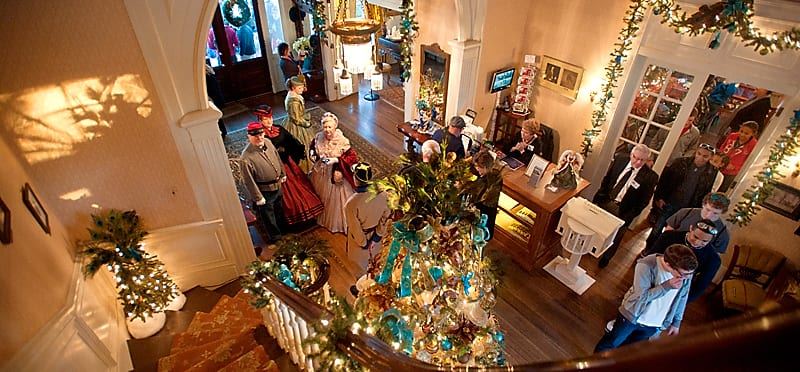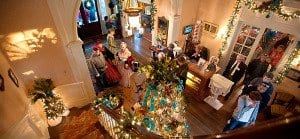 re-enactors, carolers and volunteers in period attire during the Downtown Tyler Museum Alliance's annual Holiday Open House Thursday evening. The museum offered "A Victorian Christmas" with vintage-type refreshments, entertainment and period re-enactors. Museums included in the event were the 1859 Goodman-LeGrand Museum, Cotton Belt Depot, Gallery Main Street, Smith County Historical Society and the McClendon House. While you are downtown-go see a GREAT movie at The Liberty Theatre.
Thursday, Dec. 8 at 7 p.m.
Tickets are $7
This wonderful Christmas movie stars Bing Crosby and Danny Kaye as a successful song-and-dance team who become romantically involved with a sister act and team up to save the failing Vermont inn of their former commanding general. Come see it to get you in the Christmas spirit!
Start out Saturday the 10th at Broadway Square-you and the kids will enjoy
Meet in the center court from 9-10 am. Breakfast is provided by Chick-fil-a and there will be face painting, too!.
Then Santa will be going to Caldwell Zoo-so you should to!
Calling all kids—come on over to the African Huts to create some seasonal crafts to give or keep (small materials fee of 25¢-75¢). December 10 and 17; 1:30-3:30pm
You may still be looking for unique gifts for those special people in your life! Well, you may not have to look any further than here! HOLIDAY BAZAAR IN THE GARDEN Dec. 10 – Tyler Rose Garden 10-5 More than 50 vendors will be onhand with items for sale. There will be storytime available for the kids featuring Mrs. Clause. Come enjoy the sights and sounds of the holiday. After dark-the gardens are decked out with garden decorations!! Admission is free. For more information, you may call 903-531-1214 or online at www.tylerparksandrec.com
The evening of December 10 go see
"All Star Country Christmas"
Sat., Dec. 10 at 7:30 p.m.
Tickets are $35 for VIP (includes meet and greet)
Tickets $25-$20 regular
VIP BOX Seats are $175 and include meet and greet also
Featuring the talents of
Tim Atwood-
Wade Benson Landry
And
Dion
Pride
! Also special guests
Penny Gilley
and
Lisa Layne– For more Information click here-
http://www.libertytyler.com/ComeSeeAShow
/
i2iRecordsPresentsAllStarCountryChristmas.aspx
Gun Show in town!
Tyler Lone Star Gun Show
– at Harvey Hall Convention Center. The show is held at Harvey Hall Convention Center and hosted by Lone Star Gun Shows of Texas. All federal, state and local firearm ordinances and laws must be obeyed. Bring your old guns in and trade up for the gun that you've always wanted at the Tyler Gun Show in Texas! There will new guns, used guns, ammo, swords, knives, hunting gear, books, coins, medals, ammo, reloading supplies and more! For more information
Green Acres Baptist Church's "Christ is Born"
9 a.m. and 10:30 a.m. Dec. 11 and 7 p.m. Dec. 12, Green Acres Baptist Church, 6701 Troup Highway. A program of music and praise celebrates the birth of Christ. Free. What a lovely programs this is-worth a visit.
One of the very best Christmas shows! At the Liberty Theatre
It's a Wonderful Life (1946)
Thursday, Dec. 15 at 7 p.m.
Tickets are $7 George Bailey has spent his entire life giving of himself to the people of Bedford Falls. He has always longed to travel, but every time something keeps him stuck in Bedford Falls.
On Christmas Eve, George's Uncle Billy loses the business's $8,000 while intending to deposit it in the bank. Potter finds the misplaced money and hides it from Billy. When the bank examiner discovers the shortage later that night, George realizes that he will be held responsible and sent to jail and the company will collapse, finally allowing Potter to take over the town. Thinking his wife, their young children, and others he loves will be better off with him dead, he contemplates suicide. But the prayers of his loved ones result in a gentle angel named Clarence coming to earth to help George. Clarence is happy to help since this could be the key to earning his wings! Can Clarence save George from making a terrible mistake?
A really special LIVE NATIVITY AT THE PYRON GARDEN
Friday and Saturday Dec. 16-17, 6-8 PM
Enjoy the garden along the Azalea Trail listening to Christmas music and viewing the live Nativity scene. located at 212 W. Dobbs St. more info! Call 903-593-1204
CLEVELAND ARMORY/BLACK BEAUTY RANCH VISITATION DAY – DEC. 17 – MURCHISON which is about 30 minutes west of Tyler

The 1,400-acre animal sanctuary at 12526 Van Zandt County Road 3806, Murchison, offers public tours on Saturday. Reservations required: 903-469-3811, fundforanimals.org.
The Liberty Theatre is busy this December-This weekend there us a lot going on!!
Elvis Hometown Christmas Show
Friday, Dec. 16 at 8 p.m.
Tickets are $20-35
VIP Box Seats are $150 and admit 4 per ticket (only 3 available)
Elvis has NOT left the building!! Celebrate a hometown Christmas this holiday season with internationally acclaimed Elvis tribute artist Kraig Parker and the Royal Tribute Band. Parker's powerful voice, looks and moves are as close as it gets to Presley, leaving audiences all shook up and screaming for more!
The Tyler Civic Chorale continues its tradition of following the model of liturgy, carols and scripture readings created at King's College, Cambridge. Please join us for this lovely evening of music. There is no admission charge. held at The First Presbyterian Church, 230 W. rust St. more info 903-597-6317.
OK OK I will STOP~~ You know there is more to do and see than I mentioned- Christmas light displays abound in the area. Relaxation by the fire at The Rosevine Inn, and so much more. Next Blog we will tell about a couple of New Year's Eve parties that you may want to enjoy in town- and some interesting things for January visits to our area
SO until we meet

next time have a Very Merry Christmas. Enjoy the holiday-kiss your loved ones and remember the REASON for the season!! The time that Christians celebrate the birth of our Savior Jesus Christ
Your innkeeper Becca signing off