National Apple Pie day is May 13th! Rosevine Inn Bed and Breakfast and Extended Stay Lodging is joining in with 42 other Inns from over many states in publishing some really great and diverse recipes for apple pie! We are giving you a preview of our recipe here- ENJOY!!
American Apple Pie
2 cups flour 4 cups (about 3 apples) peeled and sliced
1 cup brown sugar granny smith (or similar( cooking aplles
1/2 cup reg. oats, uncooked 3/4 cup suagar
1/2 teas salt 1 tbsp. cornstarch
1/3 cup chopped nuts 1/4 teas. salt
3/4 cup butter/melted 1/2 cup water
1/2 teas. vanilla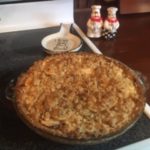 Combine first five ingredients in a large bowl, add butter and stir until blended. Measure 1 cup firmly packed mixture, set aside. Press remaining mixture in bottom and up the sides of a 9 inch deep dish pie plate. Arrange apples in pie plate-set aside. Combine 3/4 cup sugar, cornstarch and salt in saucepan, stir in water. Cook over medium heat until it boils. Add vanilla and stir. Pour hot mixture over the apples. Crumple the reserve mixture on top.
Bake at 375 degrees for 40 minutes. Cover w/foil last 15 min. if necessary.