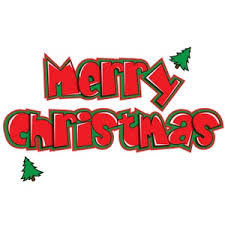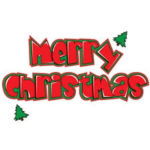 East Texas is beautiful in fall, but the holiday season is where it really begins to shine. The streets are decorated with bright lights and Christmas trees. There are lots of wonderful holiday events taking place this year. Still trying to think of what to get your loved one for Christmas? A stay at Rosevine Inn makes a great gift for families or couples wanting to get away. Get your gift certificate today!
Wrap Up Your Holiday Shopping
As you check your list twice, be sure to stop by these great shopping events happening in Tyler and the surrounding areas. But you could just wrap it up quickly!! HOW?? Buy a GIFT CERTIFICATE at Rosevine Inn HO HO HO
Here is a link to Tyler's Rose City Christmas https://visittyler.com/rosecitychristmas/ Lots of Info there!!
Mistletoe and Magic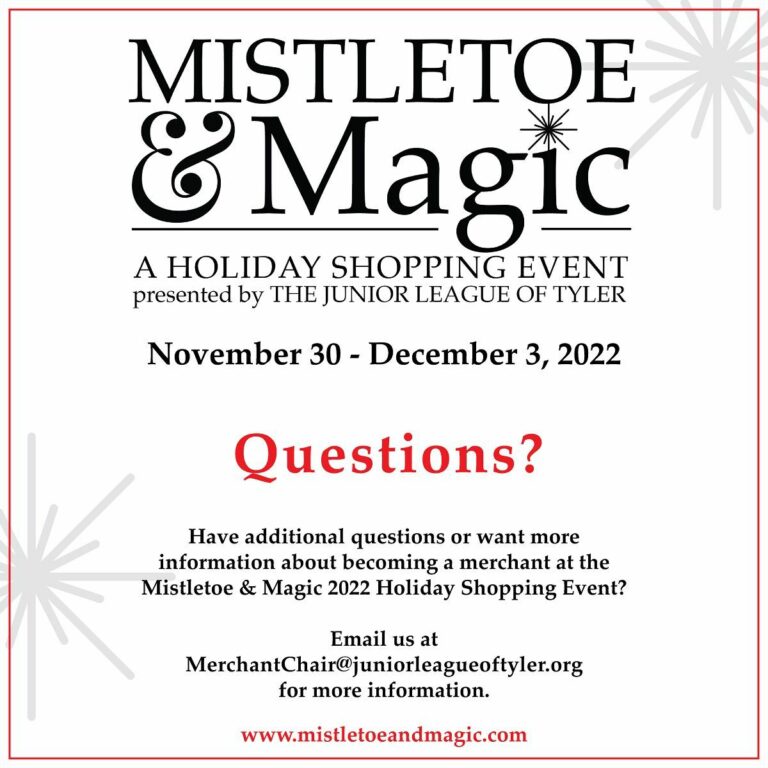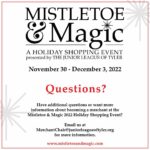 Through December 3rd, check out the Rose Garden Center for the Junior League's annual Mistletoe and Magic. More than 50 vendors from all over the country will bring marvelous wares to showcase. You do have to purchase entry, but proceeds go towards nonprofits and community organizations throughout East Texas. You can find more information here.
Christmas Bazaar at the Hamptons
December 8th, drop by the Hamptons for a free shopping event. The bazaar will be open from 1 to 6, and you can sip on complimentary cocoa or cider while you peruse goods from local vendors.
Holiday Block Party at Off Square Downtown
Also on December 8th, Off Square Downtown on Broadway is hosting a holiday block party! You can shop at any of the vendors located in that shopping center, including Moon Rivers Naturals, Brands and Threads Apparel, House of Velvet Rose, Moss, and ETX Brewing Company. There will be live music and drinks as well.

Hit the Bricks Holiday Market
Every second Saturday, Hit the Bricks comes to downtown Tyler. December 10th is a holiday market featuring local vendors. There will also be family-friendly activities, gift-wrapping, food, and music. The City of Tyler is partnering with KLTV to host this event, and Santa Scirto will be there at 1 to take photos.
East Texas Christmas Events for the Family
Looking for something fun to do this holiday season? Rose City has lots of wonderful things to offer. You can ride in a horse-drawn carriage with your sweetheart, take the kids to see Santa, or visit a local parade.

On December 1st, Rotary Clubs of Tyler is putting on the annual Tyler Christmas Parade. The parade will begin on Broadway at 6 pm, making a loop around the square and ending on E Oakwood. The full parade route is here.
Christmas in the Park at Children's Park of Tyler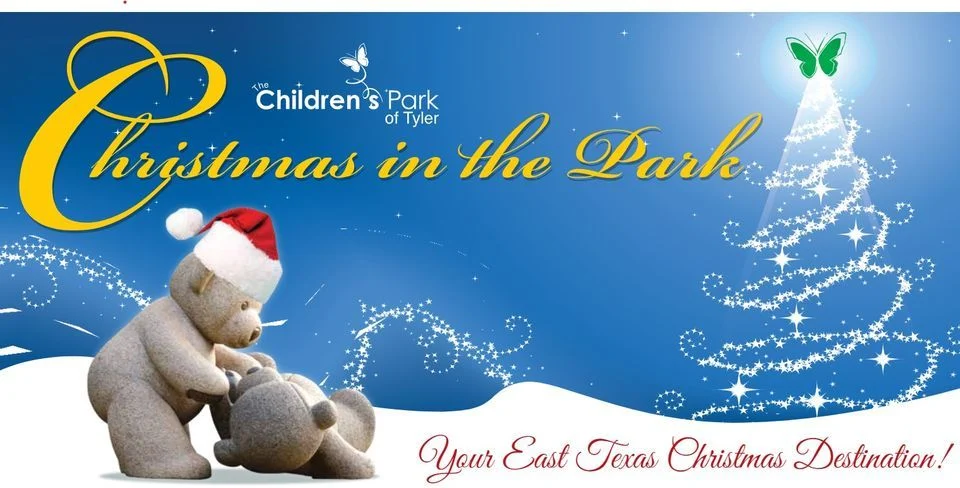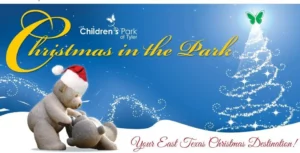 Visit the Children's Park of Tyler on December 9th for Christmas in the Park. The park will be decked out with Christmas lights, the kids can enjoy s'mores and hot chocolate, and your family can sing along to Christmas carols. This is a fun event for the whole family to unwind amid the bustling holiday season.
Winter Fest with Santa at Bergfeld Park
Still need to write your letter to Santa? He'll be at Bergfeld Park on December 10th, so grab your kids and bring your crafting skills. There will be crafts, games, and a tree-decorating contest. Several vendors, including Paparazzi, Pink Zebra Sprinkles, and Hand and Stone Massage & Facial spa will also be there.
Where to See Christmas Lights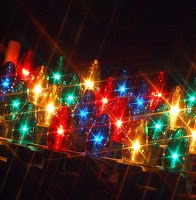 Tyler has lots of great options for Christmas light displays. As usual, the Azalea Trail will be decked out with lights for their annual contest. Anytime in December, take a self-guided tour through the Azalea district and be sure to share a photo of your favorite home to cast your vote. Santaland and Up in Lights are also two Christmas light parks nearby that you and your family can enjoy from the warmth and comfort of your car.
Pineywoods Christmas Lighted Drive-Thru
Take a walk or drive through Tyler's very own state park December 9th and 10th for Pineywoods Christmas. Every year, campers decorate their own campsites! This will be at the Lakeview and Big Pine Campgrounds, so don't miss out.
A Night at the Theatre
Best Christmas Pageant Ever at Tyler Civic Theatre
December 1st through 4th, and December 8th through 10th, visit the Tyler Civic Theatre for Best Christmas Pageant Ever, a play based on the best-selling book by the same name. This fun comedy is family-friendly and is sure to be a treat for children and adults alike. Purchase tickets here.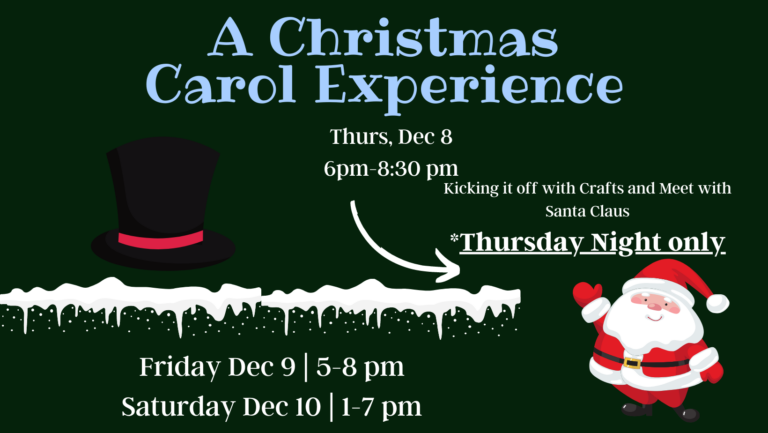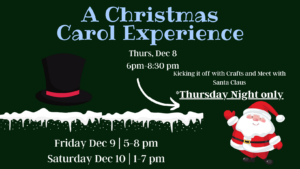 December 8th through 10th, experience Charles Dickens' A Christmas Carol like you've never seen before. The Tyler Public Library will be transformed into the set of A Christmas Carol. The story will be performed by live actors, and, on December 8th only, the performance will be followed by crafts and a visit from Santa.
Holiday Music, Movies, and More
Liberty Hall
Tyler's historic downtown theatre has several great events happening throughout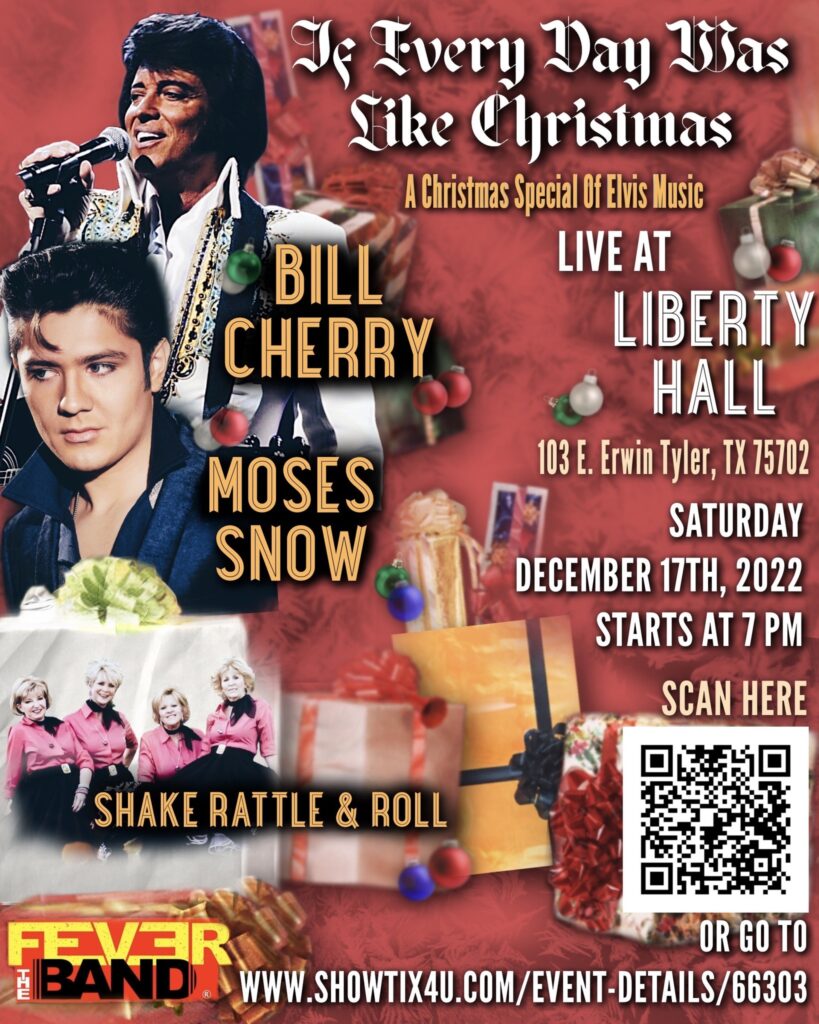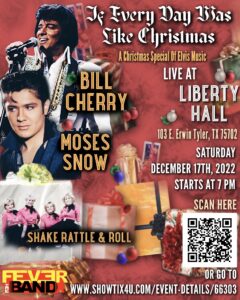 December, starting with Home Alone on December 1st. December 3rd, check out Tommy Katona and Texas Flood for A Bluesy Christmas. The 9th and 10th, see It's a Wonderful Life. On the 16th, sing along with White Christmas. And December 17th, Bill Cherry, Moses Snow, Shake Rattle & Roll, and FEVER the Band will do a Christmas-themed Elvis tribute called If Every Day was Like Christmas.
K-Love Christmas Tour
December 16th at Green Acres Baptist Church, see Natalie Grant, Danny Gokey, Brandon Heath, Tasha Layton, and Jon Reddick in concert for the K-Love Christmas Tour. Get your tickets here.
Blue Santa Pub Crawl


Rosevine Inn is a sponsor of the Blue Santa Pub Crawl benefitting the Tyler Police Blue Santa Program. December 3rd, visit local businesses to collect costume pieces so you can become a Blue Santa! Find out how to join in on the fun and a list of participating locations here.
Holiday Tea at Three at Goodman-LeGrand Museum
Visit the historic Goodman-LeGrand Museum December 3rd for flavored teas and sweet delicacies. Local musician George Faber will perform, and the house will be decorated in the spirit of the season.
Get Outside
Stretch your legs at the Tyler Reindeer Run at Rose Rudman on December 17th. There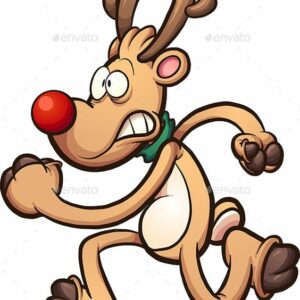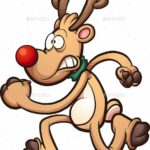 will be a 5K, 10K, and 15K. Or, January 1st, there will be First Day hikes at Tyler State Park. 2023 marks the 100-year anniversary of the Texas State Park system and the entire year will be packed with fun activities for the whole family. One of the first of these activities is the T.R.Y.athon, where visitors can learn about Trekking, Riding, and kayaking. Who knows? Maybe you'll find a new favorite activity.
Happy New Year
Merry Christmas and Happy New Year from Rosevine Inn! As always, don't forget about First Monday Trade Days in Canton December 29th through January 1st.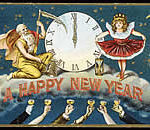 After you go out in the cold to wrap up your holiday shopping, come inside to a warm, crackling fire. We still have gift certificates available, or you can book a stay at our 1930's style bed and breakfast. We look forward to seeing you at the Rosevine Inn!