With January coming to an end, 2023 already seems like it's threatening to fly by. The mild East Texas winter has fully set in, and it's a great time to sit inside where it's warm with a steaming beverage. But if staying in isn't quite your cup of tea, check out these upcoming events!
Celebrate Valentine's Day in Tyler
Rosevine Inn is the perfect romantic getaway. Impress your sweetheart for Valentine's Day with a stay in our cozy 1930's style bed and breakfast. The inn is situated close to several great date locations. Plan a date at any of Tyler's great restaurants, take a picnic in one of the beautiful parks, or just walk down the historic red brick roads of the Azalea district.
Wow 2 Murder Mystery Dinners this Month!!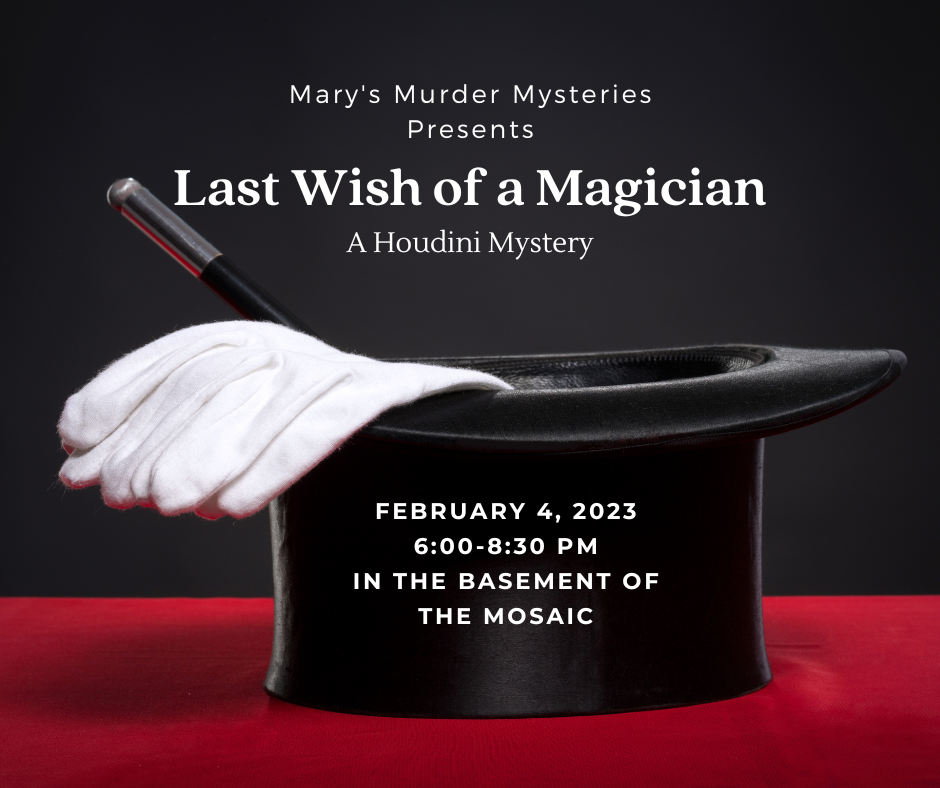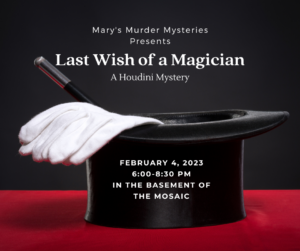 Come one, come all! One night only!
The escapologist and Man of Magic, Houdini is to hold one last party before his departure, to which he has invited everyone who has brought pleasure and pain to his life so far. Tickets are $40 each or $75 per couple. Dinner and entertainment included. Contact Mary's Murder Mysteries for tickets and details: mary@marysmurdermysteries.com Located in the basement of the Mosaic Venues 119 W Ferguson Tyler, TX
My Vintage Valentine: Murder Mystery Dinner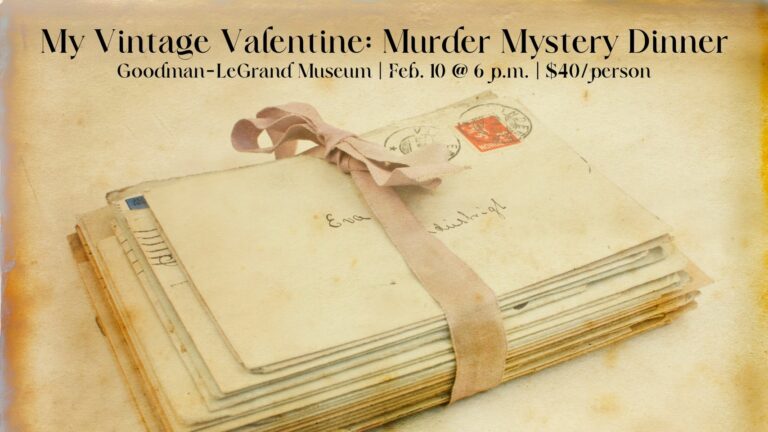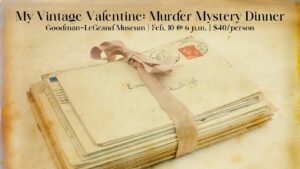 Dress in your best 30's garb and head over to the Goodman-LeGrand Museum on February 10th for a night full of secrets, scandal, and intrigue.Tickets are $40 per person and seats are limited. Come dressed in your best vintage fashion! Will you be the one to solve the mystery? Click on solve the mystery or call (903) 531-1286.
Valentine's Dances
Parents and kids, get dressed up for a night out. Tyler Parks and Rec will host their

annual Valentine's dances at the Glass Recreation Center from February 10th through 12th. The mother-son dance for ages 4 to 13 will be on the 10th starting at 7 p.m., followed by a father-daughter dance on the 11th at 6 p.m. for ages 4 to 8. A second father-daughter dance will be on the 12th starting at 8 p.m. for ages 9 to 13. This is a precious moment between parent and child that will become a treasured memory. Tickets are only $10 per person, but spots are limited.
Pop-up Galentine's Day Market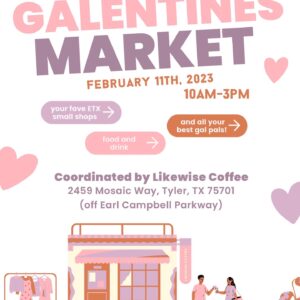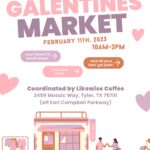 Grab your best gal pals and drop by Likewise Coffee in Tyler on February 11th for a special Valentine's market, featuring goods from local East Texas businesses. This would be a great opportunity to find a Valentine's gift for a friend or loved one or just sip and shop with your friends. Find more information here.
Dinner Date at True Vine
Need ideas for a Valentine's Day date night? Visit True Vine On the Square on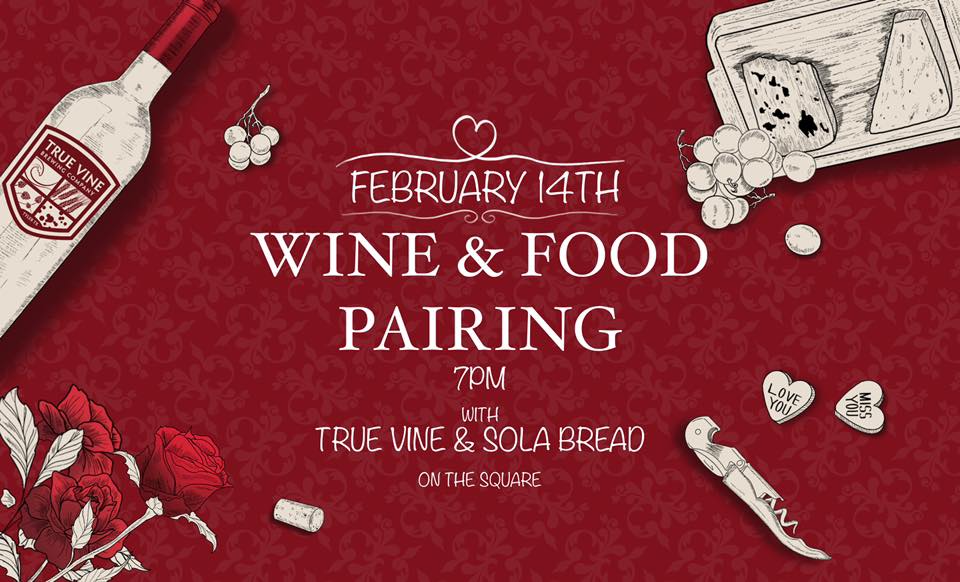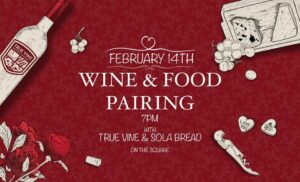 Valentine's day for delicious food from Sola Bread specifically paired with delectable wines. Pre-ordered wine bottles can be taken home and a bouquet of flowers will be delivered to each table. This event has limited seating, so reserve your tickets ahead of time.
Princess Bride Quote Along
What better way to spend Valentine's Day than by quoting along to The Princess Bride? "Fencing, fighting, torture, revenge, giants, monsters, chases, escapes, true love, miracles…" this movie has it all. You can see the 1987 classic at Liberty Hall on February 14th. If you arrive early, there will be trivia and the winner will receive the Princess Bride Adventure Book Game.
Canton Trade Days falls in February the first weekend. Feb.2 thru Feb 5!
Discover Nature
The weather's still a bit chilly, but there are lots of beautiful places to explore in East Texas year-round. The Texas State Park system is turning 100 this year and there are always cool things happening at the Tyler State Park.
This is one of the best things that happens in our area every year at this time Mrs. Lees Garden Have a one-of-a-kind romantic experience at one of the best-kept secrets in East Texas. Mrs. Lee's Daffodil Gardens opens around the middle of February and stays open seven days a week between 10 a.m. and 4 p.m untill the first part of March.

The 918-acre farm has two lakes, wooded valleys and a pioneer log cabin. Decades ago Mrs. Lee planted train carloads of daffodil bulbs, now every spring the gardens burst into bloom, with daffodils in every direction.
Call ahead when planning your trip because the gardens close when roads are wet. Check road conditions and the predicted blooming schedule on their new Facebook page
https://www.facebook.com/profile.php?id=100083016203161
or call (903)845-5780.
DON'T MISS IT OF COURSE, THE BEST ACCOMMODATION TO ENJOY WHEN YOU ARE NOT ENJOYING NATURE IS

THE ROSEVINE INN

.
wINTER FUN 5K,10K,15K
February 4th, stretch your legs on Rose Rudman trails in a 5K, 10K, or 15K. Rose Rudman is a gorgeous trail between Donnybrook and Copeland with paths running through beautiful trees and over streams. This is a casual race beginning and ending at Southside Park. It is open to all ages and medals will be awarded to all participants. Purchase tickets here.
Master Gardeners Lecture Series

The Smith County Master Gardeners deliver a lecture series at the Tyler Public Library annually. February 17th, the master gardeners lecture about winter preparation for your spring garden. This is a great opportunity to learn how to prepare your own garden for spring or to learn new things about gardening in East Texas. For a full schedule of lectures, visit the City of Tyler website.
Art, Music, and More
Art and music are two things found in abundance in East Texas. Here are a few of the upcoming opportunities where you can experience local art and music.
Tyler Recycled Art Contest
Now through March 3rd, submit your entry into the 2nd annual Tyler Recycled Art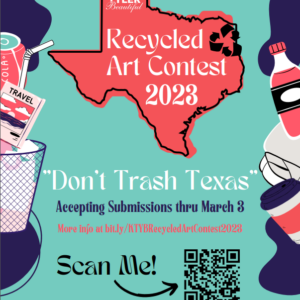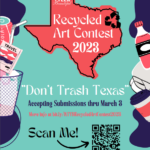 Contest. Participants will use recycled materials in their artwork to create a piece along the theme of "Don't Trash Texas". There will be an awards ceremony at the Great Tyler Cleanup on April 1st and the winners will be awarded Brookshire's gift cards. Some entries may also make an appearance at the "Art in the Garden" exhibit at the Rose Garden in April. For more contest rules and submission guidelines, check out the City of Tyler website.
Joel McHale
Former "Community" and "The Soup" star Joel McHale performs at UT Tyler Cowan Center on February 16th. Grab tickets to see this comedian here.

Mark Wills
Hit country singer Mark Wills performs at Liberty Hall on February 18th. This is a must-see for country music lovers. You can purchase tickets here. Doors open at 6 p.m. and the show begins at 7 p.m.
Gatlin Brothers
Also at Liberty Hall, Grammy-winning country musicians the Gatlin Brothers perform February 25th. Don't miss it!
Eve's Road with Charla Murray
Stop by Fresh by Brookshire's for live music, good food, and drinks. Eve's Road performs February 27th with Charla Murray, a harpist.
Dance with the Viola

The East Texas Symphony Orchestra is a hidden gem of East Texas. Since its inception in 1936, it has engaged with the community, inspiring locals to dream and create. Their performance on February 25th, Dance with the Viola, features the viola in folk and dance songs from around the world. Conductor and music director Richard Lee will lead the ETSO through music by Ralph Vaughan Williams, Bela Bartok, and Pyotr Tchaikovsky. You can buy tickets here.
WAIT A MINUTE–MARDI GRAS IS FEBRUARY 21ST! HERE'S A FUN PARTY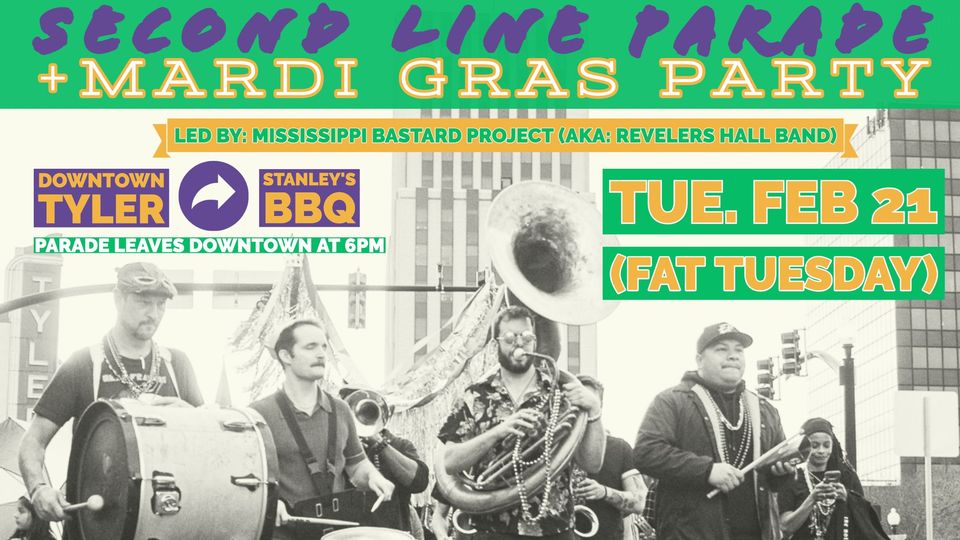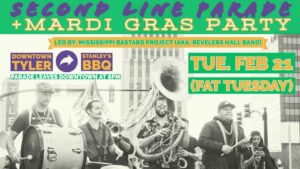 Mississippi Bastard Project (aka: Revelers Hall Band) will lead a New Orlean's style second line parade from the downtown Tyler square to Stanley's Famous Pit BBQ! MARCHING BEGINS AT 6! AND/OR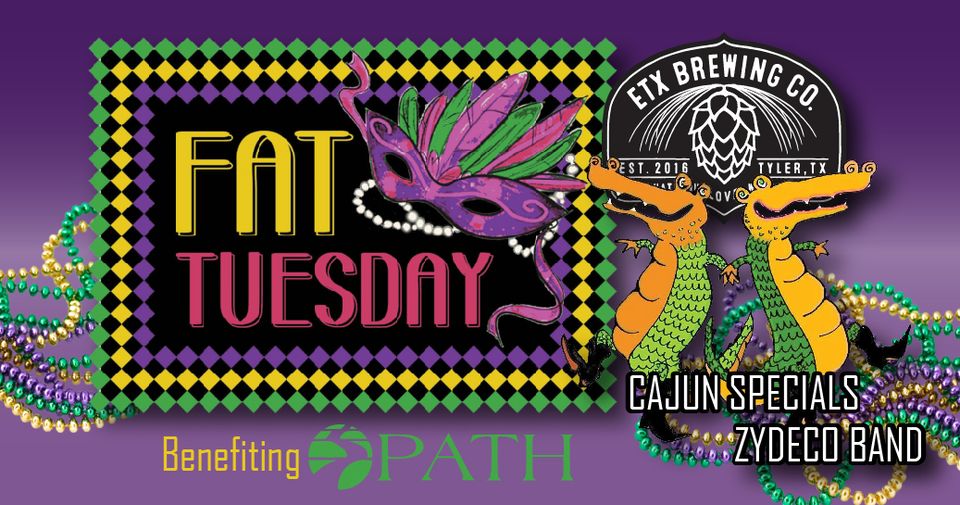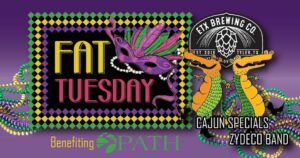 FAT Tuesday at ETX Brewing Co. benefiting PATH – People Attempting to Help. Tuesday, February 21, 2023, 6:00 pm – -10:00 pm
* Special CAJUN Menu BEER Release Zydeco Band from Louisiana
* Crowning of the KING & QUEEN
ETX Brewing Co. 221 S. Broadway – Downtown Tyler STARTS AT 6 ENDS AT 10
SHOPPING
Rose City Farmer's Market
February 8th, drop by ETX Brewing Co. for the Rose City Farmer's Market: Winter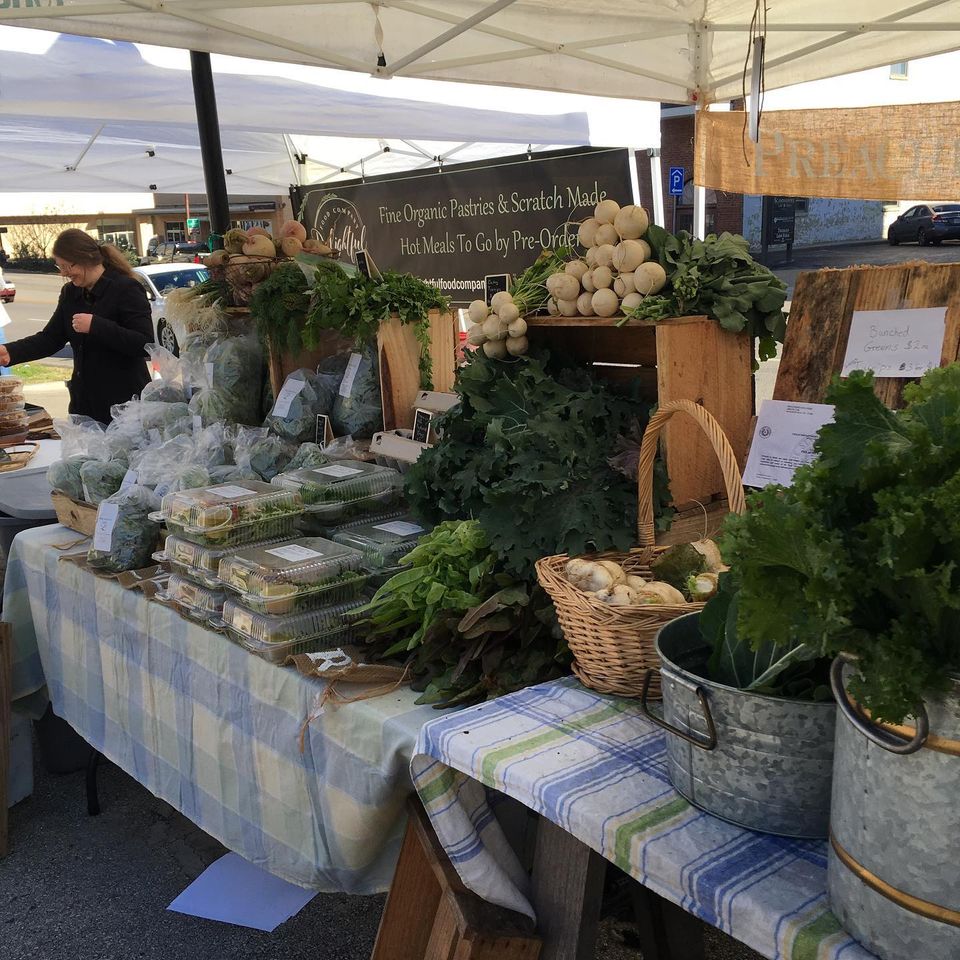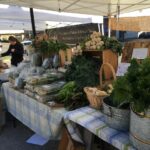 Edition! The market will be open from 10 a.m. to 1 p.m. and will feature goods from local vendors, including greenhouse-grown produce, baked and canned goods, and more. ETX Brewing Co. will open for brunch at 10 a.m. also and there will be live music.
Winter Pop-Up Market
Another pop-up market will be held in downtown Tyler on January 21st. Stop by for local goods, food, and drink. This is a great opportunity to spend time shopping with friends or just support local businesses.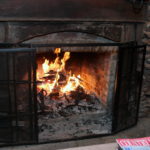 Want to know more about area events? Just ask! We're here to do all we can to make your stay the best it can be. Book online or call (903)592-2221. See you soon at Rosevine Inn where fires burn nightly and breakfast is served daily!
Come see us soon!! We can't wait to see you Your innkeeper signing off until next month which will usher in Spring and our wonderful Azalea Trails!!!