At Rosevine Inn, we hope you're having a great summer so far. As mind-boggling as it seems, season change is not that far away. School supplies are already out at local grocery stores. Signs are everywhere that while this summer came early and hit hard, it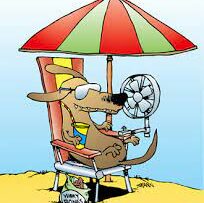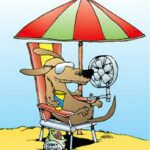 won't last forever.Some call it dog days! That's why we want to help you make the most of the remaining summer days by exploring the fantastic activities and events happening in Tyler during August. Whether you're a local looking for weekend plans or a visitor seeking a memorable experience, Rosevine Inn is here to be your guide to the best things to do in the East Texas area.
Your downtown Tyler bed and breakfast prides itself on offering a warm and welcoming atmosphere that combines the charm of a 1930s vintage home with all the modern amenities you need for a comfortable stay. As you enjoy your adventures in Tyler, our Inn will be your dependable home away from home. Don't forget Rosevine Inn also offers the best and most reasonable Extended Stay Lodging in the Tyler area.
Shopping Extravaganza
August brings not one, but two First Mondays! From August 3rd to 6th, and again at the end of the month from August 31st to September 3rd, don't miss the excitement of Tyler's renowned First Monday Trade Days. This iconic market attracts visitors from all around, offering a treasure trove of unique finds, local crafts, antiques, and so much more. Stroll through the bustling booths, indulge in mouth-watering treats from food vendors, and immerse yourself in the vibrant atmosphere of this beloved event.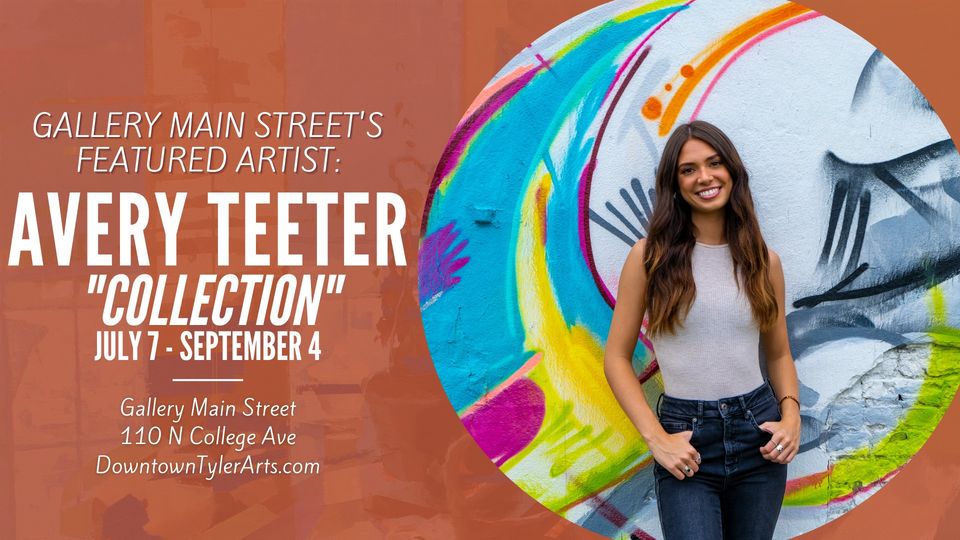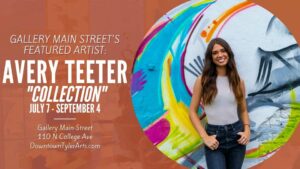 After you shop Canton, head to Tyler's Gallery Main Street, where the featured artist for August is Avery Teeter. Don't miss the opportunity to attend the Saturday evening reception, where you can meet the talented artist, enjoy music, refreshments, and discover the beauty of Avery Teeter's art. The exhibit openings are free and open to the public, making it a delightful way to spend an evening in Tyler's artistic scene.
Art and Culture
Tyler's vibrant art and cultural landscape offers a plethora of opportunities to indulge in creativity and enjoy local talents. Get ready to dance and sing along as Tyler Civic Theatre brings the beloved classic, FOOTLOOSE, to life! With its Oscar and Tony-nominated Top 40 score, FOOTLOOSE is a heartwarming musical that celebrates the wisdom of listening to young people while guiding them with a warm heart and open mind. Catch the last weekend of this fantastic live play from August 3rd to 6th and enjoy a night of pure entertainment.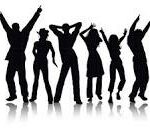 But the cultural experience doesn't end there! If just the thought of FOOTLOOSE gets you in the mood for toe-tapping fun, head over to the VFW Post 1799 off Rhones Quarter Road on August 2nd for dance lessons. Beginners are welcome to learn Line and Country Couples dancing, and no sign-up is required. For only $5 per person, you can enjoy an evening of music and dancing in a non-smoking facility now open to the public.
Mixology Basics at Kiepersol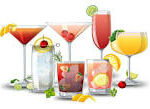 Calling all cocktail enthusiasts! On August 3rd, local winery Kiepersol invites you to an exciting Mixology Basics class where you'll learn the art of crafting tasty and crowd-pleasing cocktails. With tickets at $45+tax per person, you'll receive tastings of three expertly made cocktails, along with insights into the products used to create them. Get ready to shake and stir your way to becoming a master mixologist!
First Saturday Hike at Tyler State Park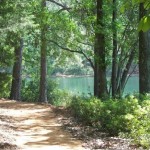 Nature lovers and hiking enthusiasts will find their bliss on August 5th with the "First Saturday Hike" at Tyler State Park. Join the group for a guided hike through the picturesque trails, surrounded by the beauty of East Texas nature. The hike begins at 9:00 a.m. in the lot adjacent to the Camp Store. It's a fantastic opportunity to connect with fellow hikers and immerse yourself in the serenity of the great outdoors.
Elvis Gospel & Beyond at Liberty Hall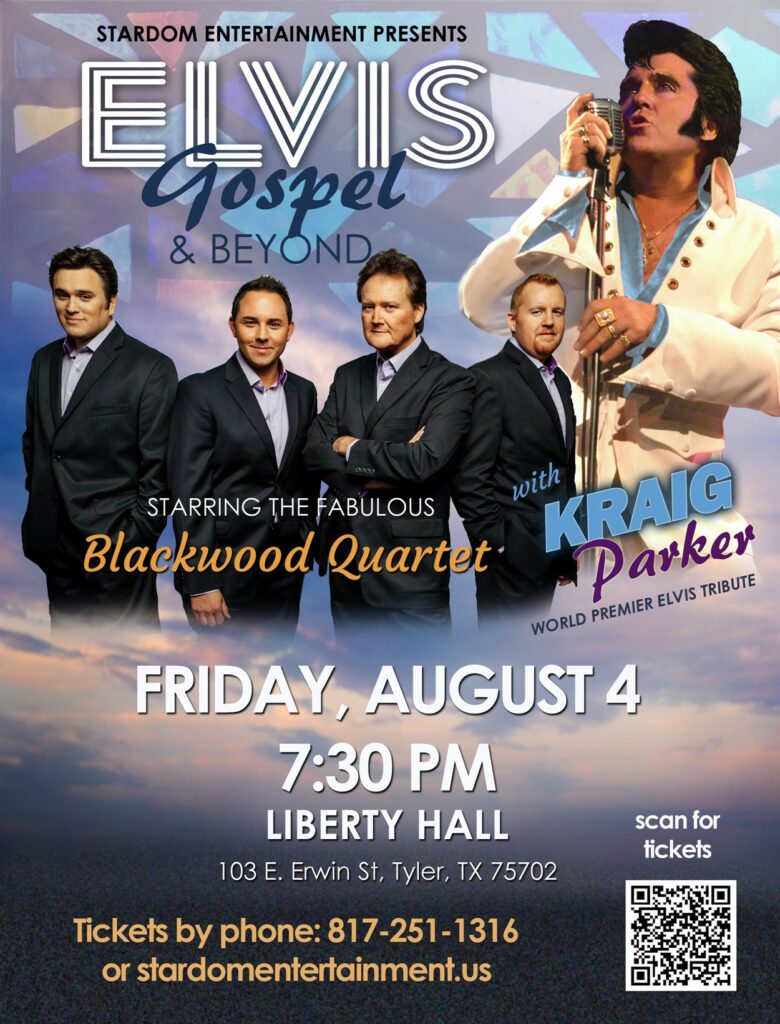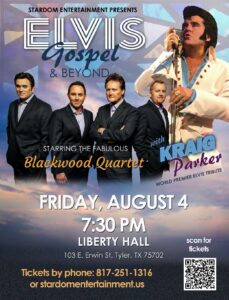 On August 4th, experience the magic of Elvis Presley's incredible songs and stories in "Elvis Gospel & Beyond 2023" at Liberty Hall. The Fabulous Blackwood Quartet, along with Elvis Tribute Artist Kraig Parker, will bring the legend to life on stage. Backed by the Royal Tribute Band, Kraig Parker will take you on a journey through the timeless music of Elvis. Don't miss this mesmerizing performance that pays tribute to the King of Rock and Roll.
HOT August Nights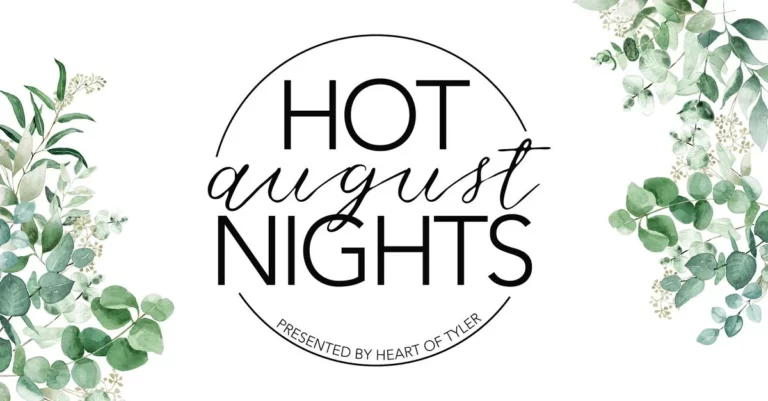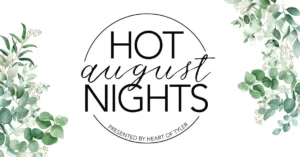 Indulge in an extraordinary culinary experience at HOT August Nights on a special Saturday. Delight in a premier five-course meal featuring "a medley of downtown cuisine and local artists," with proceeds going to downtown area improvements. This unique "white" event promises an unforgettable long-table gathering not to be missed. As a fundraiser for The Heart Of Tyler, proceeds will contribute to the Downtown Revitalization Program Grant, which supports Tyler's local businesses through an application process. Mark your calendars and choose your favorite all white attire for this fantastic event and celebrate the art of fine dining with the community.
Star Party at The Earth and Space Science Center
Witness the mesmerizing beauty of the night sky at the Star Party on August 5th at The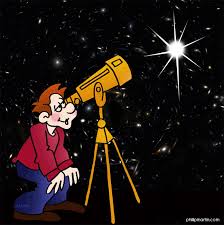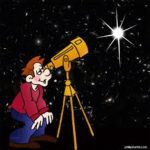 Earth and Space Science Center. Telescopes will be available (weather permitting) to help you explore the wonders of the celestial world. With astronomy buffs guiding your way, you'll navigate through the constellations and learn more about the mysteries of the cosmos. The event also features free live planetarium shows at 8:00, 8:30, and 9:00 PM to add a touch of magic to your evening. Reserve your tickets and prepare for a night of stargazing wonder.
Movies at the Brewery!
Experience classic summer movies under the stars at True Vine Brewing Company on August 10th. Event coordinators transform the pavilion into an intimate outdoor theater as they present the movie "Grease."
Grab a blanket, bring your friends and family, and enjoy this movie night with delicious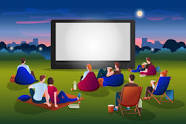 treats from the event's Concession Stand. The atmosphere at True Vine Brewing Company is always inviting, making it the perfect spot to kick back and relax while enjoying a time-honored classic film.
EDOM Play: The Bookstore
Head to Edom on August 11th and 12th for a delightful romantic comedy titled The Bookstore. Set in the charming town of Edom, this play promises a heartwarming and entertaining experience for the whole family. Celebrate the arts and immerse yourself in the community spirit as you witness the creative talents of local performers. It's a fantastic opportunity to support the arts and be part of a memorable and uniquely local theatrical event.
Second Saturdays at Bluebird Farmers Market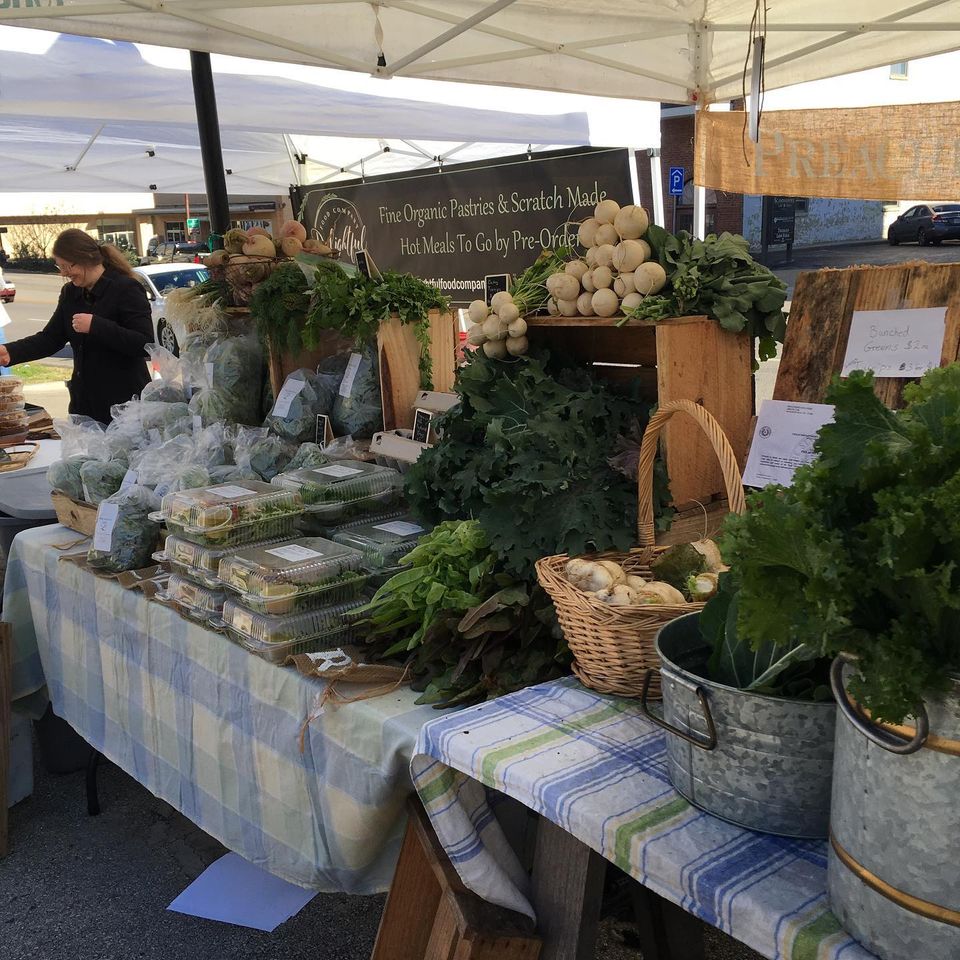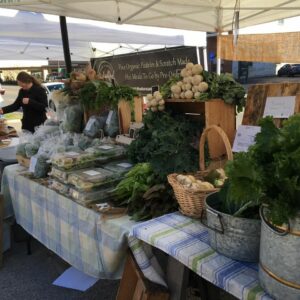 Come down to the Bluebird Farmers Market on August 12th for their very first Second Saturday vendor market! The market will feature around 30 vendors offering a wide array of products, from fresh produce and baby chicks to jewelry, art, and baked goods. Bluebird Farm Stand is open year-round, but this event is new and one you don't want to miss. Supports small family-owned businesses while taking the opportunity to shop local and find unique treasures. Explore the market, connect with local artisans, and savor the vibrant atmosphere of this community gathering.
Saturday Market at Bergfeld Park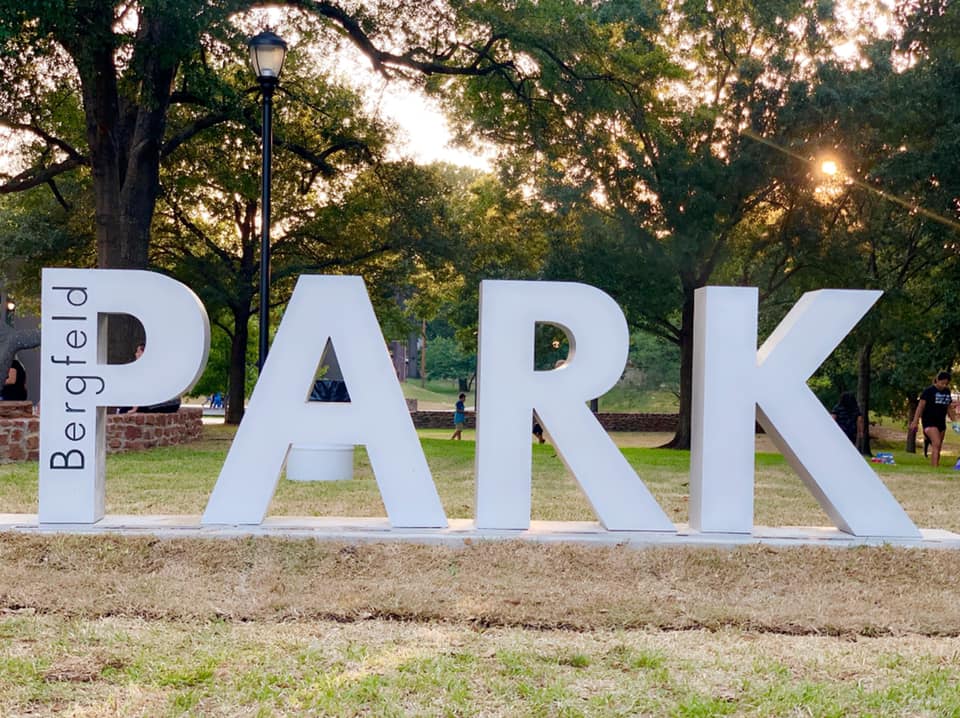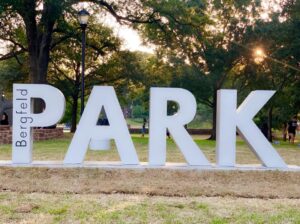 Bergfeld Park has picnic areas, tennis courts, a playground, an amphitheater and a fountain sprayground, so it's always a popular destination for family-friendly fun. If you're in town on August 26th, visitors will find it has even more to offer. Bergfeld Park's Saturday Market brings together a diverse array of local vendors, boutiques, and direct sales, offering a fantastic variety of products to peruse and purchase.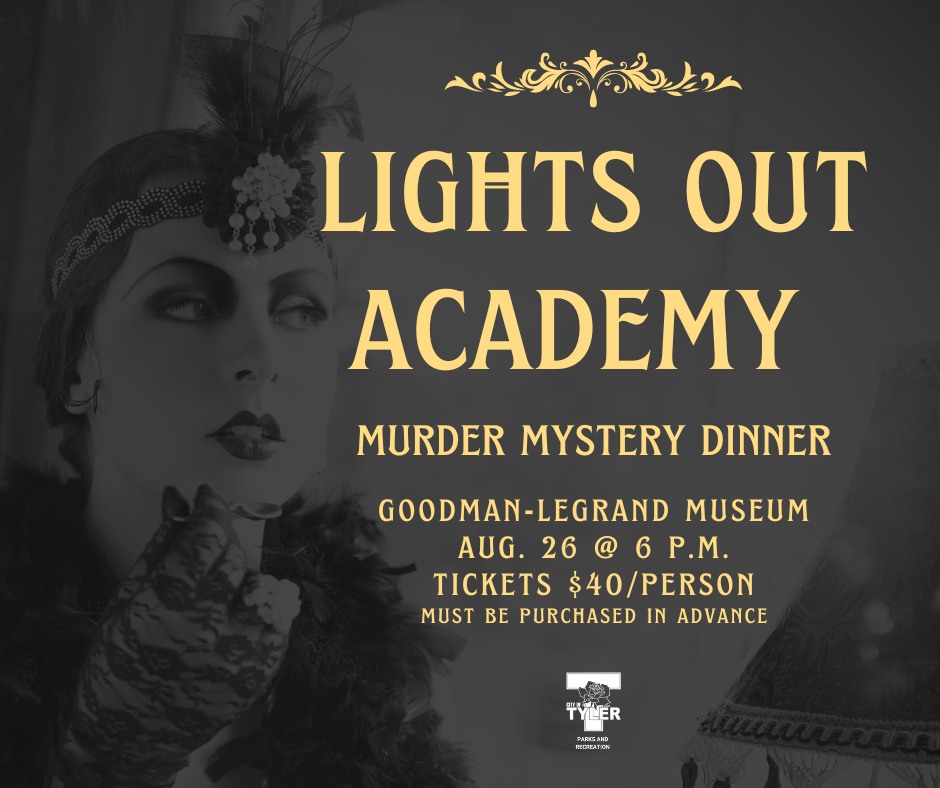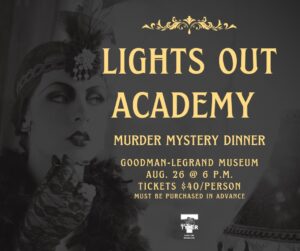 Come to a Murder Mystery : Lights Out Academy Murder Mystery Dinner
There's been a murder and we need your help to solve it! Be ready for an evening of 1930s glitz, glamour and intrigue! For more information or to reserve your seat, call (903) 531-1286. Saturdau August 26 6-8:30 pm. Call for tickets-for more info clock here
Explore Tyler's Attractions:
While you're enjoying the abundance of August activities, don't forget to visit some of Tyler's most popular attractions. Take a leisurely stroll through the Caldwell Zoo, home to an impressive array of animals from around the world. Discover the beauty of nature at the Tyler Rose Garden and Museum, a picturesque spot boasting over 38,000 rose bushes and captivating exhibits.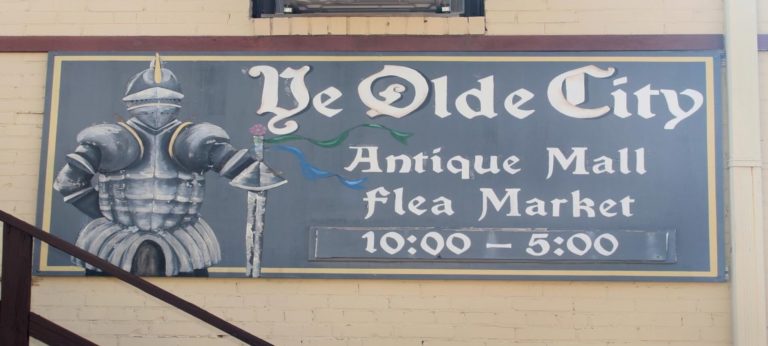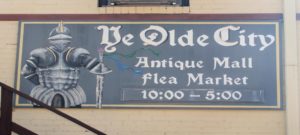 For history and antique enthusiasts, Ye Olde City Antique Mall is a must-visit destination filled with treasures from the past. Then, expand your horizons at the Historic Aviation Memorial Museum, where you can explore aviation history and marvel at restored aircraft.
Tyler Lodging Location Matters!
August in Tyler promises an exhilarating mix of entertainment, arts, and outdoor adventures. As you explore the vibrant events and attractions, the Rosevine Inn invites you to find comfort and relaxation in our cozy bed and breakfast. Whether you're seeking a weekend getaway or an extended stay, our charming inn will be your home base for unforgettable experiences in Tyler. Embrace the magic of August, and let the Rosevine Inn be your guide to an extraordinary stay in this dynamic East Texas city.