Innkeeper Rose Vine Inn Bed & Breakfast
Well it has been hot! In Texas we deal with the heat with cookouts, swimming and air conditioning! Shopping in Canton slows a bit, but it still goes on. We will feature the 33rd annual balloon festival July 30 and 31st. Other happenings will also be mentioned
"Rise, Loss & Revival of Cherokee Beadwork
Thursday, July 29th, 2010 @ 5:30pm at The Tyler Museum of Art.
Lecture by Martha Berry titled: "The Rise, Loss, and Revival of Traditional Cherokee Beadwork." Lecture with be held at the Tyler Museum of Art in the Classroom. Visitors are encouraged to view the exhibition "Cherokee Beadwork: Finding a Lost Art" in which examples of Mrs. Berry art are on view.

33rd Annual Great Texas Balloon Race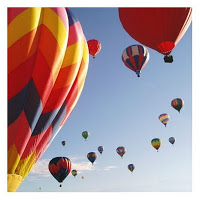 Balloon Flights begin the event on Friday morning with a flight over the City of Longview. Launch and landing sites change each year as they are always determined by wind and the weather.
Balloon Glows on Friday and Saturday night entertain crowds with an awesome display of color and excitement. One of the most popular things to do at the event as the public is able to get up close and watch how balloons are inflated and operate.
Live Concerts in the afternoon and evening both Friday and Saturday always feature an entertaining band as the headliner. Local and regional bands play during the day.
Vendors display their arts, crafts and other merchandise in booths lined up along an improvised midway.
Food Vendors make sure there is always enough to eat and drink during the day and evening.
What fun and Rosevine Inn is a perfect place for you to rest after spending a fun day at The Great Texas Balloon Race!!
Canton Trade Days
The next First Monday Trade Days in Canton is July 29 through August 2, 2010.
Booths open 9am.

Do Not Forget that the best thing you can do is Stay at The Rosevine Inn Bed and Breakfast. Rest and Relax with us. Enjoy the gameroom and the Hot Tub (turned down for the summer heat!). We have the best breakfast around, too!