Well school has started for the kids-now
girls weekends
can get into full gear! Labor Day weekend is just around the corner-and Canton Trades Days is the same weekend!! There are a few things going on in the area that we will highlight-the biggest on is a Concert called "Country for Our Country" to benefit our soldiers!
"Don't Dress for Dinner" a play at the Tyler Civic Theatre
A farce about a romantic weekend in the country that goes badly awry as unexpected complications arise.
Begin Friday September 3 thru September 12.
Event Contact Information:
Tyler Civic Theater ← click to contact via email
(903) 592-0561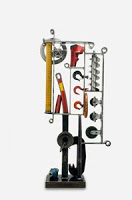 http://www.tylercivictheatre.com/
Form & Substance Sculpture by Texas artist George Tobolowsky.
At the Tyler Museum of Art Begins Sept 5 and runs until November 28th
At the Tyler Rose Garden there is a fun event called
1st Tuesday in the Garden
The monthly 1st Tuesday in the Garden lecture series, an educational program sponsored by the Smith County Master Gardeners, in the I.D.E.A. Garden at the Tyler Rose Garden.
This event in September is September 7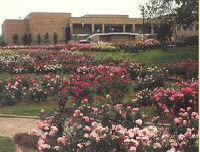 This program is free, open to the public, and about an hour long. Feel free to bring your lunch and paper and pen for note taking.
The I.D.E.A. Garden is located in the SE corner of the Rose Garden with ample parking available outside of the SE gate. In case of inclement weather, the lecture will be moved inside the Rose Center.
Living Green: A Sustainability Synposium
Saturday, September 11th, 2010 @ 9:00am
Baffled by recycling? Is composting a dirty word? Do you want to learn to live €œgreen but don't know where to start?
The answers to these questions and much more will be available at the second annual Living Green: A Sustainability Symposium to be held Saturday, Sept. 11, at the Harvey Convention Center.
Cost for the day-long symposium is $5 for adults, admission is free for children under 12 and anyone with a student ID.
The program is presented by City of Tyler, Keep Tyler Beautiful and the Texas Conservation Alliance and will include:
-Presentations on recycling
-Conservation and sustainability issues
-€œGreen vendor displays and exhibits
-Demonstrations on how you can learn to sustain our planet.
For more information please visit http://www.livinggreenintyler.com/.
Canton Trade Days
The next First Monday Trade Days in Canton is September 2 through September 6, 2010.
Booths open 9am.
AND LAST BUT NOT LEAST!!
Country for Our Country Benefit Concert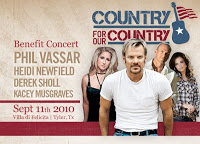 The second annual Country for our Country Benefit Concert will be a time to celebrate our local Veterans – past, present and future and honor those who serve and protect us including all of those who came to the aid of our country on 9/11.
This years benefit concert will some of Country Music's biggest stars including: Phil Vassar,
Heidi Newfield, Derek Sholl and Kacey Musgraves.
Honored Guest: Marcus Luttrell
Saturday, September 11th, 2010 @ 7:00pm Click here http://www.youtube.com/watch?v=dpN7Hwit3ew
to hear some of what you will enjoy at the concert