Innkeeper
Rose Vine Inn Bed & Breakfast
By now all the kids are back in school. Hope the transitions were easy and fun. We are back form our much needed break and ready to try to let you in on the happenings in the area. We are on the countdown to cooler days and Autumn breezes! Can't wait!!! Many things will be happening in the area the next 2 or 3 weeks. Labor Day weekend and Canton Trade Days are both the first weekend in September. Lots of fun movies, concerts, kid events and more.  Let's get started-then you decide when you want to visit The Rosevine Inn Bed and Breakfast, so you can participate 🙂
August 29 through September 1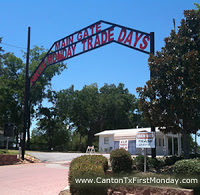 Canton Trade Days
What started more than a century ago as a flea market has become home to some
of the most exciting, cutting-edge home furnishings, antiques and collectibles
that can be found anywhere. Over the past 150 years, lots of things have changed
in the Original First Monday Park; but the genuine, down-home human
relationships between vendors and shoppers are the reason people keep coming
back. This is a place where you can slow down, visit and ask questions, talk to
collectors and antique dealers and meet the artists and craftsmen who create
one-of-a-kind items.
The Circus will be in town!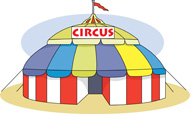 The Sharon Shrine Circus
Saturday, August 31st Tyler – 3:00 and 7:00
Sunday, September 1st Tyler – 1:30 and 5:30
Monday, September 2nd Tyler – 4:30 and 7:30
The JORDAN WORLD CIRCUS, one of North America's premier traveling circuses, is owned and produced by Jody Jordan of Las Vegas, Nevada. Hailing from a long background of aerialists and circus performers, Jordan brings a unique talent to the circus management field. His exciting two hour shows are presented
Each performance includes all the elements of a traditional circus show including but not limited to: lions and tigers; amazing aerialists; dashing, daring, dauntless daredevils; fabulous funny clowns; enchanting elephants; boundless feats of balance and agility; hazardous horsemanship; precision performing animals of all shapes and sizes; plus we can bring in those mania motorcycle manipulators, the amazing Jordan 'Danger Zone' riders in the unbelievable Globe of Death!
Age of the Dinosaur exhibits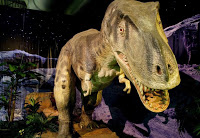 The Center for Earth & Space Science Education at TJC and Discovery Science Place are joining forces for a summer of gigantic proportions. With ONE ticket, you gain access to:

    "Age of the Dinosaur" exhibit – Discovery Science Place
"Origins: The Dawn of Dinosaurs" exhibit – Center for Earth & Space Science Education at TJC
"Sea Rex: A Prehistoric Journey" dome theater show – Center for Earth & Space Science Education at TJC
Combo tickets are good Saturday, May 25, through Sunday, Sept. 1, 2013 and may be purchased online or at either location. Take advantage of this great deal before it goes extinct!
Ticket Prices: $8.00 – $12.00
Center for Earth and Space Science Education
1327
South Baxter Avenue
Tyler, TX 75711

http://www.tjc.edu/cesseFor questions… 
(903)-510-2312
NEXT A VERY FUNNY PLAY!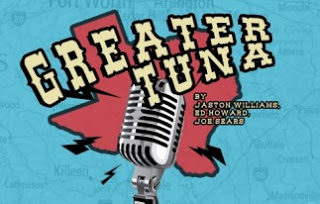 7:30 pm

7:30 pm

2:30 pm

7:30 pm

7:30 pm

2:30 pm
The JORDAN WORLD CIRCUS, one of Greater Tuna is the first in a series of 4 comedic plays (followed by A Tuna
Christmas, Red, White and Tuna and Tuna Does Vegas), each set in the fictional
town of Tuna, Texas, the "third-smallest" town in the state.
The series was written by Jaston Williams, Joe Sears, and Ed Howard. The
plays are at once an affectionate comment on small-town, Southern life and
attitudes but also a withering satire of same. Of the four plays, Greater Tuna
is the darkest in tone.
The plays are notable in that two men play the entire cast of over twenty
eccentric characters of both genders and various ages. Greater Tuna debuted in
Austin, Texas, in the fall of 1981, and had its off-Broadway premiere in 1982.
St. Vincent Summer Theatre produced the play in 2000,[1] and No Name Players
produced it in 2002.[N
Tyler Civic Theatre Center
400 Rose Park Drive
Tyler, TX 75702
http://tylercivictheatre.com/           For questions… (903)-592-0561
The Liberty Theatre Is a fantastic historic theatre in downtown Tyler. We usually feature the events at the Liberty every blog! We will start with the largest event this month-then go back to the weekly movie offerings!  Check back often for all the fun at The Liberty.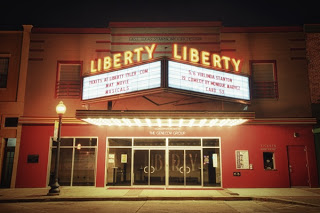 East
Texas All Star Showcase
Saturday, Sept.
7
$20 for just
admission$35 – VIP ticket –
limited availability 50; (includes access to VIP area, tables, meet & greet with Uncle Lucius, a meal provided by Stanley's
Famous Pit Bar-B-Q, and 1 drink voucher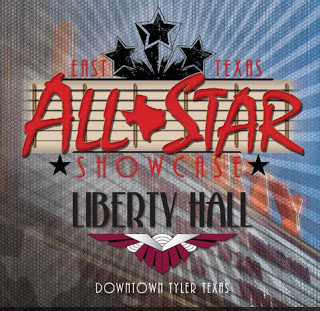 Come join us
September 7th on the brick streets of downtown Tyler for the
3rd
Annual EAST TEXAS ALLSTAR SHOWCASE! This year's Showcase will feature an
art gallery with some of the most talented artists in East Texas displaying and
selling their work to go along with an incredible music line up.
Music includes
a number of national touring acts with deep East Texas roots!
UNCLE LUCIUS                                                GREYHOUNDS
LUCAS YOUNG AND
THE WILDERNESS         THE
BIGSBY
THE WINNER
FROM "ROCK, PAPER, SCISSORS" BLACKTOP MOJO!
There will be an Art Auction benefiting the LIBERTY HALL
FOUNDATION!
Guaranteed to be an evening of fun, brought to you by LOCAL
ARTISTS, MUSICIANS, and BUSINESSES
A pragmatic U.S. Marine observes the dehumanizing effects the Vietnam War has on
his fellow Marine recruits from their brutal boot camp training to the bloody
street fighting set in 1968 in Hue, Vietnam.
September 5 at 7 p.m.
Starring James Steward and
Grace Kelley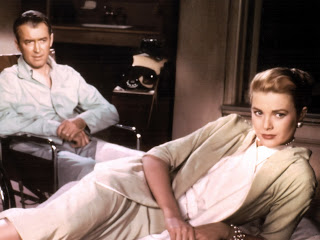 Tickets are $5           A wheelchair bound photographer spies on his neighbours from his apartment
window and becomes convinced one of them has committed murder.
DOUBLE FEATURE
Friday the 13th part 1 and 2
September 13 at 7pm and 9pm
Tickets are $10 – one
ticket covers both movies.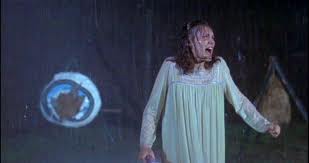 Camp counselors are stalked and murdered by an
unknown assailant while trying to reopen a summer camp that was the site of a
child's drowning.then
Part 2 – Mrs. Voorhees is dead, and Camp Crystal Lake is shut down, but a camp
next to the infamous place is stalked by an unknown assailant. Who can it be?
Jason drowned in the lake some 30 years before, right….right??!
Starting on September 14-The Liberty will begin showing their movies as matinees! Like in the "olden days"  They will be shown on Saturday and/or Sunday-with some weekday features interspersed-making the theatre more accessible to everyone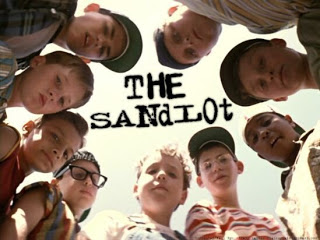 Saturday, September 14 at 3p.m.
Tickets are
$5
Scotty Smalls moves to a new neighborhood with his mom and stepdad, and wants to
learn to play baseball. The neighborhood baseball guru Rodriquez takes Smalls
under his wing, and soon he's part of the local baseball buddies. They fall into
adventures involving baseball, treehouse sleep-ins, the desirous lifeguard at
the local pool, the snooty rival ball team, and the travelling fair. Beyond the
fence at the back of the sandlot menaces a legendary ball-eating dog called The
Beast, and the kids inevitably must deal with him.
Sept. 12 at 7
p.m.
Starring James Stewart and Kim Novak
Tickets are $5
A retired San Francisco detective suffering from acrophobia investigates the
strange activities of an old friend's much-younger wife, all the while becoming
dangerously obsessed with her.
C
heck back in a couple of weeks-more great things coming up at the Liberty!The CCC Sale
For over a decade, The CCC Sale has helped East Texan's put cash in their pockets while recycling their outgrown or no longer needed stuff.  Currently, over 1,000 East Texas families bring their gently used children's and maternity clothing as well as shoes, equipment, baby furniture, outside playground equipment, nursery and maternity items, books, software, videos, toys, furniture and home decor to the Children's Clothing Consignment Sale.
We offer over 30,000 sq. ft. of space and 3 days of shopping. The CCC Sale is a great way to clean out your no longer needed items and earn money at the same time. Come join us.
Shop. Sell. Save.
www.facebook.com/cccsale
Harvey Convention Center
2000 W Front St
Tyler, TX 75702  
For questions… 
cccsaletyler@gmail.com
903-705-2236     903-531-1349
Football great Gene Stallings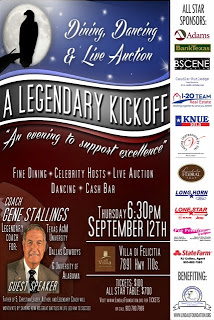 Football great Gene Stallings will be the keynote speaker at A Legendary Kickoff: An Evening to Support Excellence to be held on Thursday, September 12, 2013 at 6:00 p.m. at Villa Di Felicita located at 7891 Highway110 North in Tyler. The Dallas Cowboy Cheerleaders, Bryan Houston, and Dr. David Dykes will be a part of the evening events at the beautiful Villa di Felicita.
Individual tickets for the dinner are $100.  VIP table purchases are available for $700 and include six tickets for dinner and access to a pre-dinner meet and greet and photo with Coach Stallings.  Only two tables remain at this time!
The event will include special guest Stallings, dinner, cash bar, live auction and a dance. Table and ticket purchases can be made online at www.lindalefoundation.org or by contacting LISD Education Foundation Director Holly Rand at (903) 780-7969.
A special appearance by selected Dallas Cowboy Cheerleaders will be one event highlight, and live auction items include: a Nolan Ryan Autographed Baseball and Texas Rangers Fan Package, A Home Visit from Santa Claus, the opportunity to be "Lindale ISD Superintendent for A Day", a collection of gift cards sold as "Christmas in A Box", a district-wide All Sports Pass, and an original design pearl necklace.  Donations continue to collected for the live auction.
KNUE will host the dance for the evening, and Villa di Felicita chefs will prepare the evening meal.
Stallings is a graduate of Paris High School and was a member of the esteemed "Junction Boys" under head coach Paul "Bear" Bryant at Texas A&M University. During his career he served as an assistant coach at the University of Alabama, winning the national championship in 1964. He later returned to Texas A&M where he was head coach and led the Aggies to the Southwest Conference championship.  Stallings was a member of Tom Landry's coaching staff with the Dallas Cowboys and won Super Bowl XII. He later went on to coach the St. Louis Cardinals before the team relocated to Phoenix. Stallings returned to the University of Alabama as head coach in 1990, a position he held until 1997.
Villa di Felicita
7891 Texas 110
Tyler, Texas 75704
For questions   holly@progressrocks.com     903-780-7969
SEP 12
7:30 pm
Cirkopolis combines the worlds of circus, dance and theatre. In the heart of a stern and imposing city in appearance, giant gears and dark portals symbolize a mechanism that crushes individuality. Performing within an inventive stage design and accompanied by an original musical score and video projections, twelve acrobats and multidisciplinary artists rebel against monotony, reinvent themselves and challenge the limits of the factory-city. In a world where fantasy provokes reality, the veil of anonymity and solitude is lifted and replaced by bursts of colour.
Cirkopolis unfolds scene by scene like an elemental universe, with sculptural imagery: jugglers brave the space, a contortionist is lifted by her companions in a surge of inspiration, aerial artists defy the height of the skyscrapers. Experiencing Cirkopolis is also stepping into the dance of the Cyr wheel, surrendering to the virtuosity of the diabolo, dreading the audacity of the German wheel and discovering the candour of a man who dreams only of dancing.
Cowan Center
3900 University Blvd.
Tyler, Texas 75701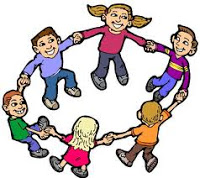 For questions…     903-566-7424
Day for Kids
SEP14           10:00 am
The Boys and Girls Club of East Texas will host this event, sponsored in part by the Parks and RecreationDepartment. There will be games, artsand crafts, puppet shows, entertainment,free goodie bags with T-shirts plusmuch, much more! Over 8,000 attended last year.
EAST TEXAS CHRISTIAN ACADEMY PRESENTS
A&E's DUCK DYNASTY
Featuring Willie and Miss Kay

TICKETS ON SALE NOW!
The Oil Palace – Tyler, Tx
Sunday, September 15, 2013
Door open at 1:30 PM
Show starts at 3:00 PM
Tickets
Golden Circle $50.00
Reserved Floor $40.00
Bleachers General Admission seats $30.00
Plus Service Fee
What Another Cirque!!
CIRQUE DREAMS ROCKS
The East Texas State Fair beginSeptember 20! Goes through the 29th! Check back in a couple fo weeks for more fun happenings in the area.
Come stay with us at The Rosevine Inn Bed and Breakfast where very soon                                              fires will burn nightly!




 Until Next Time   Innkeeper Becca signing off!!
h Ameriunca's premier traveling circuses, is owNoned and produced by Jody Jordan of Las Vegas, Nevada. Hailing from a long background of aerialists and circus performers, Jordan brings a unique talent to the circus management field. His exciting two hour shows are presented