Innkeeper
Rose Vine Inn Bed & Breakfast
Happy Independence Day!! Let's all celebrate this fantastic country we live in.
July is considered the middle of summer because if the school holidays, although we all know August is truly the middle of summer-and the hottest month. We will feature anything that may be going on in the area and a couple of our favorite places to eat in the area.


The first thing we need to feature is not actually in Tyler! It is in Kilgore, which is about 30 minutes East of Tyler. It is so much entertainment-it is not to be missed The plays and dates are below.
A Midsummer Night's Dream
June
25th, July 2nd, July 4th, July 10th*, July 12th*, July 17th, July 19th,
July 22nd, July 23rd*, and July 25th * Denotes Matinee

Shakespeare's
most famous comedy, performed every day of the year somewhere in the
world. Touched with magic and loaded with laughs, it is considered one
of the ten most brilliant comedies ever written.


The Nerd
June
26th, July 3rd*, July 5th*, July 10th, July 12th, July 15th, July
16th*, July 18th*, July 23rd, and July 25th *Denotes Matinee

The Nerd is a modern American comedy written by Larry Shue, who also wrote The Foreigner which was a huge success in the Festival's 2013 season. Along with The Foreigner, The Nerd is
one of the most frequently-produced comedies of the American theatre,
guaranteed to elicit almost-endless laughter from its audience.

Twelfth Night
June
27th, July 3rd, July 5th, July 8th, July 9th*, July 11th*, July 16th,
July 18th, July 24th*, and July 26th* *Denotes Matinee

"Be not afraid of greatness:
some are born great, some achieve greatness and some have greatness
thrust upon them" and "Love sought is good, but given unsought is
better" are two examples of the poetic wisdom in Shakespeare's
masterpiece Twelfth Night.

Man of La Mancha
June
28th, July 1st, July 2nd*, July 4th*, July 9th, July 11th, July 17th*,
July 19th*, July 24th, July 26th *Denotes Matinee

Man of La Mancha is
one of the most universally admired American musical dramas. Based on
the classic novel by Cervantes, a Spanish contemporary of Shakespeare,
it features such beautiful songs as "The Impossible Dream" and
"Dulcinea", and tells the inspiring story of Don Quixote's noble quest
for an ideal world.

The Belle of Amherst
July 14th at 2:00 and 7:30 July 15th at 2:00 and 7:30 July 18th at 10:00 a.m.

The Belle of Amherst is
a one-woman play written by William Luce about the life and poetry of
Emily Dickinson. Throughout the evening, the actress plays fifteen
different characters.
The Princess
and the Players
July 15th, 16th, 17th, 18th, 21st,
22nd, 23rd, 24th,
and 25th at 10:00 a.m.

When a spoiled young princess
demands
to be entertained, young William
Shakespeare and his troupe of
actors perform a new play for her.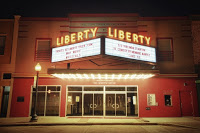 The Liberty Theatre is featuring
some great patriotic shows in July
Yankee Doodle Dandy (1942)
July 2 at 7 p.m.
Tickets are $7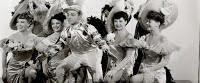 A musical portrait of
composer/singer/dancer George M. Cohan. From his early days as a
child-star in his family's vaudeville show up to the time of his
comeback at which he received a medal from the president for his special
contributions to the US, this is the life- story of George M. Cohan,
who produced, directed, wrote and starred in his own musical shows for
which he composed his famous songs.
Mr. Smith Goes to Washington (1939)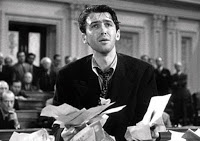 July 9 at 7 p.m.
Tickets are $7
Naive and idealistic
Jefferson Smith, leader of the Boy Rangers, is appointed on a lark by
the spineless governor of his state. He is reunited with the state's
senior senator–presidential hopeful and childhood hero, Senator Joseph
Paine. In Washington, however, Smith discovers many of the shortcomings
of the political process as his earnest goal of a national boys' camp
leads to a conflict with the state political boss, Jim Taylor. Taylor
first tries to corrupt Smith and then later attempts to destroy Smith
through a scandal.
Forrest Gump (1994)
July 16 at 7 p.m.
Tickets are $7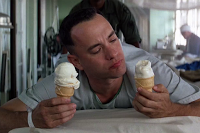 Forrest Gump is a
simple man with a low I.Q. but good intentions. He is running through
childhood with his best and only friend Jenny. His 'mama' teaches him
the ways of life and leaves him to choose his destiny. Forrest joins the
army for service in Vietnam, finding new friends called Dan and Bubba,
he wins medals, creates a famous shrimp fishing fleet, inspires people
to jog, starts a ping-pong craze, creates the smiley face bumper sticker
and meets several presidents. However, this is all irrelevant to
Forrest who can only think of his childhood sweetheart Jenny. Who has
messed up her life. Will Forrest get his happily ever after? We all root
for Forrest because he is the complete reflection of someone making the
most of the time he has on this earth.
The Quebe's in concert
July 18 at 8 p.m.
Tickets are $25 for the floor
$20 for front balcony
$15 for back balcony
$150 for VIP Box – seats 4


When Grace, Sophia
and Hulda Quebe (Kway-bee) raise their fiddles and play, audiences
marvel. When the girls sing their three-part harmony, audiences are
blown away. The Quebe's unique brand of music has taken the Americana
music scene by storm. They perform a refreshing blend of swing, vintage
country, bluegrass, jazz & swing standards, and Texas style
fiddling.

Awarded the
"Crescendo Award," by the Western Music Association and winner of the
"Western Swing Album of the Year" from the Academy of Western Artists,
the Quebe Sisters have released their latest album, "Every Which-A-Way".

Performance
highlights include appearances at the Grand Ole Opry, the Kennedy
Center, NYC's Lincoln Center, "The Marty Stuart Show", "The Ernest Tubb
Midnite Jamboree" and "The Smithsonian Folklife Festival".
"One thing is for sure, you don't see a group like the Quebe Sisters
Band come along everyday," says Grand Ole Opry announcer Eddie Stubbs.
"Give them your undivided attention and if you're not already, you too,
will become a fan."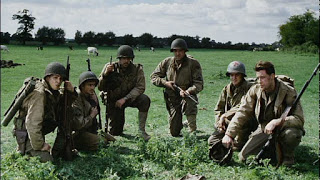 Saving Private Ryan (1998)
July 23 at 7 p.m.
Tickets are $7
Opening
with the Allied invasion of Normandy on June 6, 1944, members of the
2nd Ranger Battalion under Captain Miller fight ashore to secure a
beachhead. Amidst the fighting, two brothers are killed in action.
Earlier in New Guinea, a third brother is killed in action. Their
mother, Mrs. Ryan, is to receive all three of the grave telegrams on the
same day. The United States Army Chief of Staff, George C. Marshall, is
given an opportunity to alleviate some of her grief when he learns of a
fourth brother, Private James Ryan, and decides to send out 8 men to
find Sgt. Ryan and bring him home. This is the story of the men who are
given this strange and dangerous mission. Is one man's life more
valuable than another?
Found a site that lists many of the live music venues in Tyler. If you click here
you may access it and see who and where you may want to light when you are staying at The Rosevine Inn!!
The Tyler Civic Theatre is doing productions this Summer!! We just missed Les Miserables ): but there are two the month of July –First
July 3, 2015 – July 5, 2015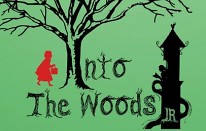 The Brothers Grimm "go Broadway" as Sondheim and Lapine offer up a cockeyed fairy tale in Into The Woods JR., an adaptation of one of Sondheim's most popular works designed especially for young performers.
All of your favorite characters—Cinderella, Little Red Riding Hood,
Jack (and his beanstalk), and the Witch—meet and interact in this
whimsical original story. The musical centers on a baker and his wife
who wish to have a child; Cinderella, who wishes to attend the king's
festival; and Jack, who wishes his cow would give milk. When the baker
and his wife learn that they cannot have a child because of a witch's
curse, the two set off on a journey to break the curse and wind up
changed forever.
With unforgettable roles, little dancing, and no chorus, Into The Woods JR.
showcases a medium-sized ensemble of talented singers and actors. The
sophisticated score has been adapted to make it easier – though still
challenging –for young performers. Into The Woods JR. is a funny and
engaging way to get young people to think about the stories with which
they've grown up and the ethical issues raised therein.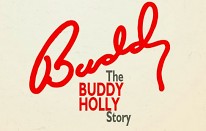 July 23, 2015 – August 2, 2015
The Buddy Holly Story
tells the true story of Buddy's meteoric rise to fame, from the moment in 1957 when '
That'll Be the Day
' hit the airwaves until his tragic death less than two years later on "
The Day the Music Died
".
The show features over 20 of Buddy Holly's greatest hits including 'That'll Be the Day', 'Peggy Sue', 'Everyday', 'Oh Boy', 'Not Fade Away', 'Rave On' and 'Raining in My Heart', plus Ritchie Valens' 'La Bamba' and the Big Bopper's 'Chantilly Lace'.
The incredible legacy of the young man with glasses, whose musical
career spanned an all-too-brief period during the golden days of rock
& roll, continues to live on in Buddy.
Seen by over 22 million people around the world, Buddy will have you on your feet and "send you out of the theater on an unstoppable high" (The Boston Globe)
Two Great and wonderful Restaurants in Tyler!!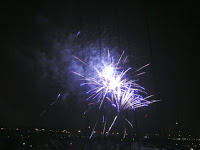 There is a really great patio in Tyler-it is at a grocery store (of all places) called
FRESH
BY BROOKSHIRES. This is a wonderful place to go for fireworks viewing!!
They have live music on Friday and Saturday, too. Great food-beer and
wine. Then at dark thirty the neighborhood just to the northeast does
their fireworks display. It is perfect.
The next place we want to feature this time is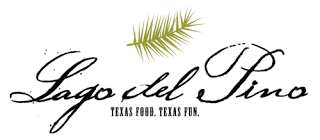 A Destination Restaurant Come
to Lago del Pino to experience all that makes Tyler's destination
restaurant an oasis in the countryside. From its spectacular private
lake views and its distinctive fountain show, to its eclectic live
music, relaxed dining, and fabulous wine list, you'll quickly recognize
all that makes dining at Lago del Pino more than just a memorable meal.
Our chef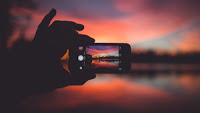 prepares a variety of traditional cuisine including fine
steaks, pasta, one-of-a-kind burgers, gluten free options, and fresh
seasonal vegetables and salads.
They also have live music on the weekend and a fabulous patio. My bet is they will have fireworks over the lake on the 4th, although I can't find any info on this!


Canton First Monday is July 2-5 and in August July 30-August 2.
Hope this may help with your shopping plans-If you don't want to
brave the Summer heat stay in Tyler and visit the best antique mall in Texas.

302 East Locust St, Tyler Tx 75702 http://www.oldcitytyler.com/index.html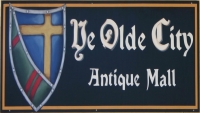 That place we remember when the
present doesn't quite measure up to our expectations. Enjoy the
nostalgia of days gone by with a pleasant visit to Ye Olde City Antique
Mall where you can find those items that bring back precious memories.
There has been an antique mall and/or flea market at the current
location of Ye Olde City for decades. Over the years, the property
languished and lost much of its former charm. In April 2007, the Powell
brothers, Bert and Robert, acquired the property from the Swann
Estate. A lot of time and effort has gone in to restoring the property
to its former self and to creating an atmosphere of "old world charm". Our Dealers add a nice warmth
and friendliness to make your shopping experience a pleasant one. We
hope you enjoy the way that the mall flows. New surprises lurk around
every corner. Hopefully, you will find whatever you want!
One minute you are relaxing, the next you are playing, then you meet a new friend!
Return to your carefree days when your biggest worries were: When can we
go out to play? When do we go to bed? What's for breakfast?
Bye till next time!!
Innkeeper Becca signing off