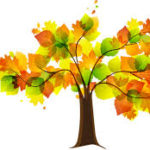 Poor Thanksgiving! Gets lost in the Christmas hustle. The next few weeks there are lots of activities to help you enjoy our beautiful fall season. The trees are just beginning to change and we are back to regular time-getting the extra hour of sleep is always a treat. Now let's get started and see what there is to do in the area the next few weeks!
Mistletoe & Magic is a three-day shopping extravaganza held November 9-11th at Harvey Convention Center in Tyler. This holiday market is a collection of more than 90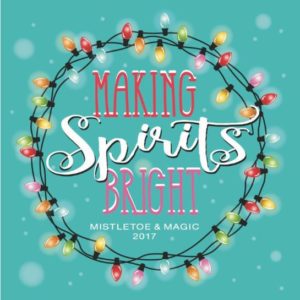 specialty boutiques and merchants from all over the country showcasing antiques, artwork, gourmet foods, jewelry, seasonal decorations, housewares, adult and children's clothing and much more. The weekend long event is also host to brunches, style shows, musical entertainment and children's events.
The 2017 Mistletoe & Magic committee has already started planning this spectacular annual event. As one of the Junior League of Tyler Inc.'s largest fundraisers, Mistletoe & Magic raises crucial funds that help financially support local non-profit agencies and community programs. With the generous support of both individual and business contributors, the Junior League of Tyler Inc. can help bridge a financial gap of the more than $500,000 requested from 41 different agencies in need.
For information on 2017 sponsorship opportunities, please call our Fund Development VP at the Junior League of Tyler office at (903) 595-5426 or visit www.juniorleagueoftyler.org. You can also call the Mistletoe & Magic Office line for general information at (903) 593-1080.
Heritage Syrup Festival in Henderson Texas
Henderson is proud to host the only folk life festival in East Texas. The Heritage Syrup Festival is always celebrated the second Saturday in November from 9:00am-5:00pm. Beginning in November 1989, this unique fall festival is centered around the making of sugarcane syrup.The 7 acre grounds of the Depot Museum and the 10 blocks in the
National Register Historic Downtown District are the locations of this event.A bustling center of activity featuring old time syrup making with mule power, craftsmen and folk artist as well as outstanding food vendors, retail vendors, musical entertainment, children's activities, antique tractors, antique & classic cars, cloggers and square dancers complete this fun filled day.A hayride shuttle sponsored by the Rusk County 4-H Club transports visitors between the Depot and downtown.Antique & Classic car (no charge entry) information: Trey Segura 512-569-9858 Approximately 25,000 people from Texas and neighboring states attend the festival each year. Contact Henderson Dept of Tourism Coordinator
400 W. Main ST
Henderson TX 75654
866-650-5529
E- Mail: tourism@hendersontx.us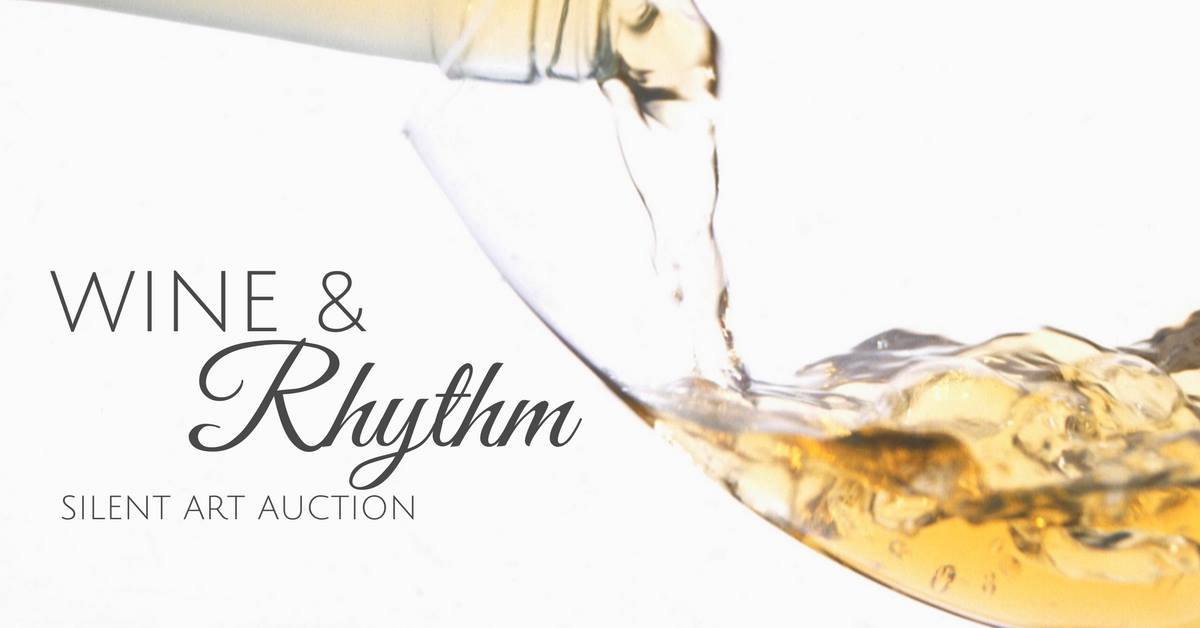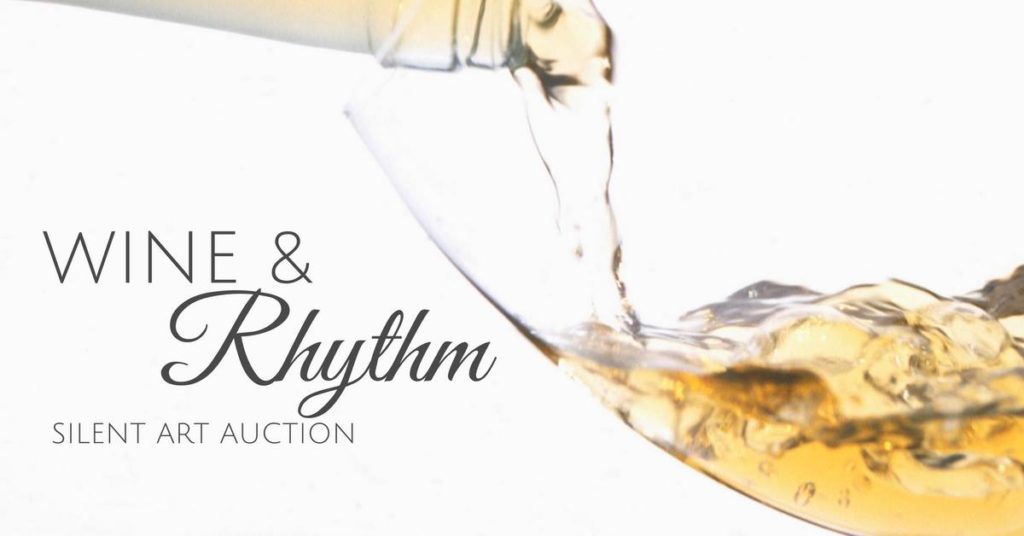 You are invited to join us for the celebration and silent auction of the work of abstract artist, Kelly Gowan. Enjoy a casual 'Wines & Rhythm' evening mixer with wine provided by 55 Winery and intimate acoustic performance by Simon Young. This is your opportunity to be one of the first to participate in our annual silent art auction. Please join us at Tyler Innovation Pipeline, 217 E. Oakwood St., on Nov. 9, 2017, at 5 p.m. 25% of the Silent Auction proceeds will benefit the Tyler Innovation Pipeline and ensure that artists, makers, and innovators in our community have a safe and welcoming place to network and create.Location:
Tyler Innovation Pipeline, 217 E. Oakwood St., Tyler, Texas 75702

Starting on November 11 thru Christmas Eve Get your Photo with Santa!Sit on Santa's lap, and tell him what you want for Christmas
at Broadway Square Mall. Photo packages are available for
purchase.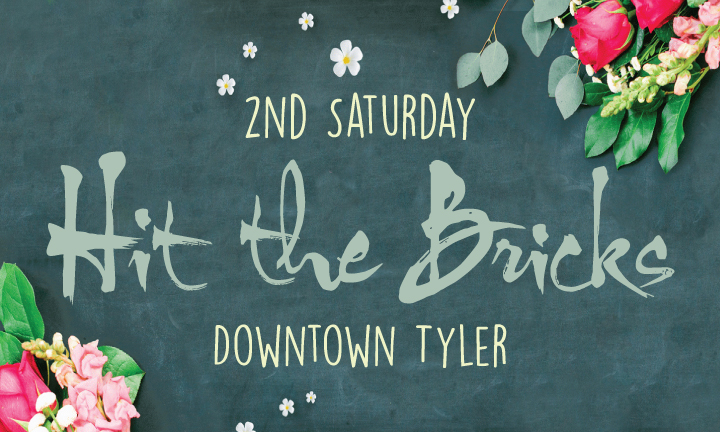 Downtown businesses and attractions (around the square and off the square, inside and outside) will be bursting with things to do the second Saturday of every month.
PARKING IS FREE in the parking garage and on the square. And free valet at Rick's on the Square and Jack Ryan's (tips appreciated). Also, there will be a FREE hop on/hop off shuttle that will take you around Downtown. For a full list of restaurants, activities, and shops in Downtown go to Link:www.visittyler.com
In conjunction with Hit The Bricks is a wonderful opening of an Art Show At Gallery Mainstreet! It is Titled HEAVY METAL Industrial influences or rock n roll? Rusted salvage or Ozzy Osbourne's guitar? Put on some music and get out your paintbrushes(or blowtorch?) and show us what heavy metal is to you! Gallery Main Street
110 W. Erwin
Tyler, Texas 75702
Santa Land, Inc. Drive thru Christmas Parks opening November 11 through New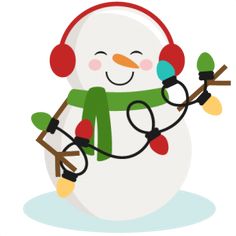 Years-You Should go NOW and beat the crowds.Experience the sights and sounds of a Christmas Wonderland
with over 2 ½ million lights lighting your path. Take a ride on
Santa's Trailer or remain in the warmth of your own vehicle
as you drive through Santa Land's 24 acres of unforgettable
adventure designed especially for the entire family. Before you
leave, shop the 4,000 sq. ft. gift shop. Admission Fee $25 per
car / $35 for 15 passenger commercial vans, $5 per person for
each additional passenger / Additional fee for trailer rides. santalandtylertx.com
CHRISTMAS IN BERGFELD OPEN HOUSE Thursday Nov. 16 5-8 PM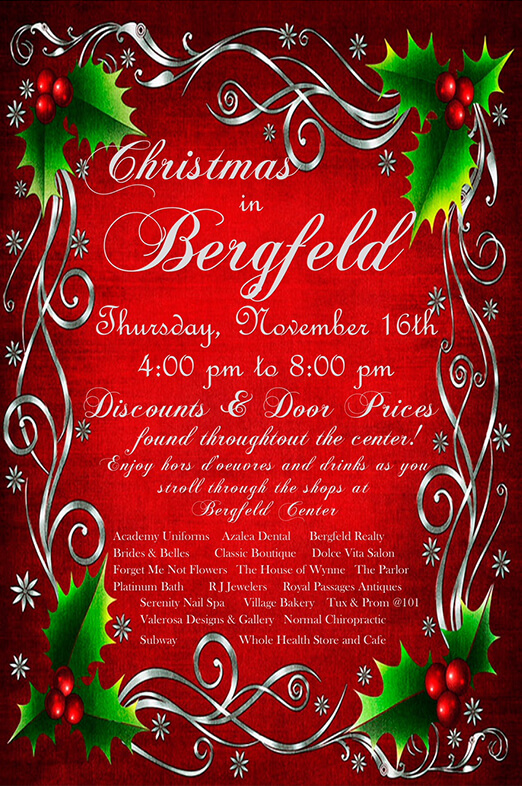 This is always lots of fun. We have been several years in a row!! Bergfeld Center is ready for Christmas! All the shops offer spirits and hors d'oeuvres plus
discounts and door prizes. Free admission.http://www.bergfeldcenter.com/events.html
The 2017 TylerHeart Walk is designed to engage Tyler's businesses, corporations, and the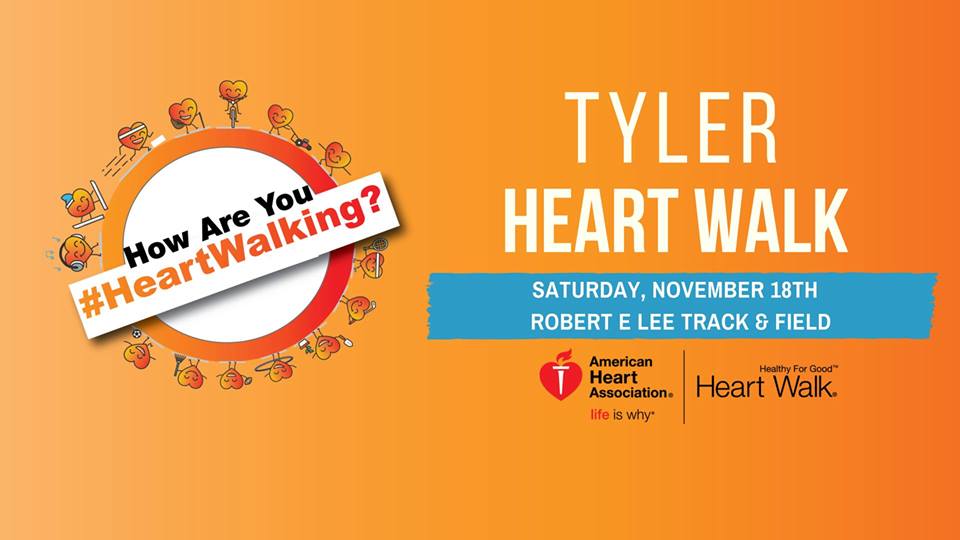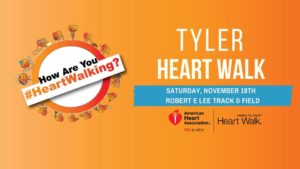 community at large in a fun-filled day of activity that promotes heart health through physical activity, friendly competition, volunteerism, and fundraising. Local presenting sponsor: CHRISTUS Trinity Mother Frances. www.facebook.com/events/126766821385908

Smith County Historical Society Opening Exhibit Gala Saturday, November 18, 2017, 6:30 – 8:30pm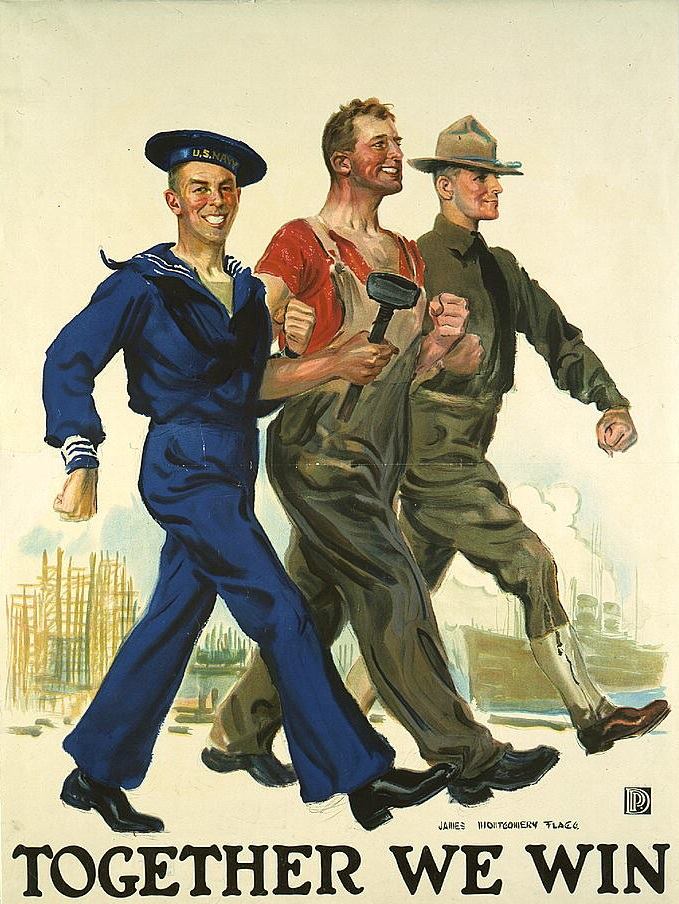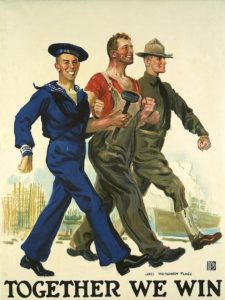 Please join the Smith County Historical Society for our grand unveiling of our brand new exhibit! This commemorative World War I exhibit marks the theme of this year, and next, for the Historical Society. We hope that all visitors will be able to take away new information and a new view on how Smith County, Texas gave to this "war to end all wars".
Exhibit designers and volunteers who helped in this exhibit installation will be here to take and answer your questions! Not to mention the opportunity to learn more about our Sponsorship levels, and just what they mean in honoring these centennial years!Wine and heavy hors d'oeuvres will be served.
Saturday November 18 7:30 to 10 PM ETSO Jazz Spectacular
Join the Tyler Junior College Jazz Ensembles and guest artist Andy Martin for the 2018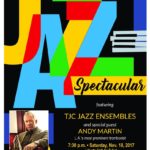 ETSO Jazz Spectacular. Andy Martin is one of LA's busiest musicians. Martin is well known for his work as a lead player and featured soloist with virtually every big band in L.A. Martin has long been one of L.A.'s most prominent trombonists for commercial recordings, television and motion picture soundtracks and live theater. His motion picture credits span the soundtracks of over 150 major films. Liberty Hall, 103 E Erwin St, Tyler, Texas 75702
Also at the Liberty MICHAEL JACKSON TRIBUTE SHOW Nov. 19, 6-10 PM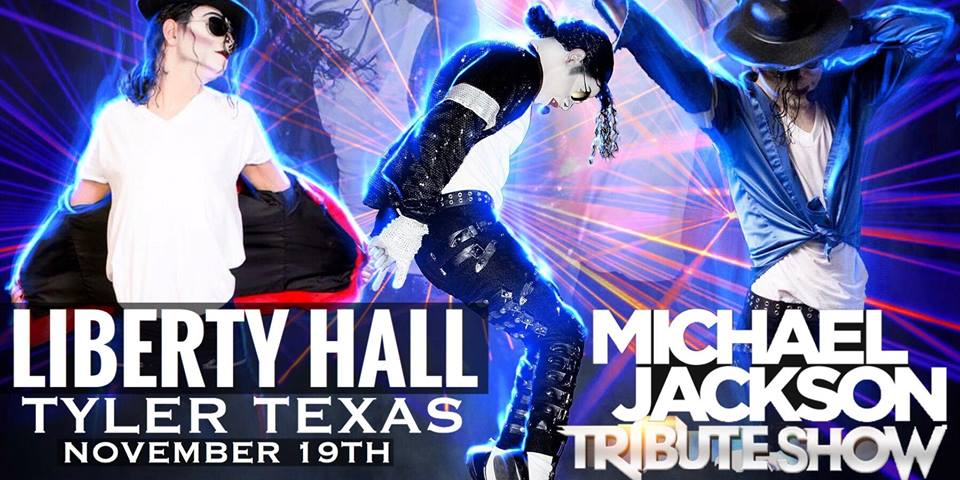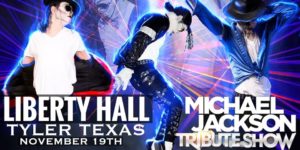 Michael Jackson Tribute Light Show spectacular starring America's #1 MJ impersonator Danny Dash Andrews. Be apart of this incredible concert experience that pays tribute to the life and legacy of The King of Pop. A show for all ages, this two hour non stop high energy show will take you on a breathtaking magical musical journey that spans Jackson's four decade career. Our extraordinary production features state of the art lighting and concert sound that truly captures the essence of Michael Jackson's worldwide concerts.
Tickets: $50.00 VIP Front Seating: Get up close and personal with the King of Pop. Priority VIP meet & greet after the show. (1) Autograph 8×10 poster. (1) Memorabilia merchandise, early VIP early admission at 6:00pm. $25 Front Balcony. $20 Back Balcony.
15th Annual Tyler Turkey Trot Thursday, November 23, 2017, 9 – 11am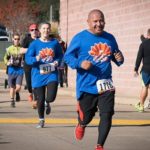 Location:Racquet & Jog
5403 S Broadway Ave.
Tyler, Texas 75703 Join others for the 15th annual Tyler Turkey Trot benefiting Boot Campaign. Finisher medals and cool swag for all! Happy Thanksgiving to All. Run first then chow down.
November 24 7-10 pm at Liberty Hall
Seventeen years after joining forces as the backing band for rockabilly cult hero Ronnie Hawkins, Canadian roots rockers The Band call it quits with a lavish farewell show at San Francisco's Winterland Ballroom on Nov. 25, 1976. Filmed by Martin Scorsese, this documentary features standout performances by rock legends such as Bob Dylan, Van Morrison, Eric Clapton, Joni Mitchell and Muddy Waters, as well as interviews tracing the group's history and discussing road life. For tickets click here https://tickets.vendini.com/ticket-software.html?t=tix&e=0ac26f5c6705b8b06f2fd5913ab27a7e&vqitq=f63b7343-7d75-473c-854a-541b9dd9a2dc&vqitp=1e39ceb9-949e-485a-897c-119b4d90cd59&vqitts=1509833493&vqitc=vendini&vqite=itl&vqitrt=Safetynet&vqith=921b018686b9c0ce151780da56791a9b
Grand Opening of Downtown Tyler Artist and Maker Market
Nov 24 2-4 PM Celebrate Small Business Saturday and everything artist- and maker-made at this one-of-a-kind gift market at Gallery Main Street in #DowntownTyler! Purchase a heartfelt, hand-made gift for those on your list and support local artists and makers at the same time! The grand opening is Nov. 25, but the market will be open throughout December. Come and find that perfect gift!
Then Comes all the Christmas Joy!! First of all November 30 through December 3 is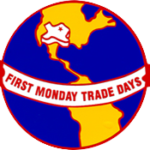 Canton Trade Days.We always try to mention a great shopping venue that has been around for over a century. That is
Canton First Monday Trade Days!
Always lots to do and see. Find treasures, art, knick knacks, furniture, decorating ideas and pieces, etc.etc. And, oh don't forget the food-like going to the fair every month! Located only 30 short minutes from the Inn. Come back here after your shopping spree and relax and unwind.
Tyler

Rotary

Clubs

Christmas

Parade
Thursday, November 30, 2017, 6 – 7pm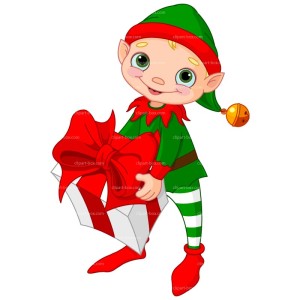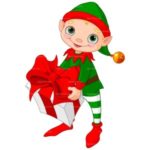 Kick off the spirit of Christmas in Downtown Tyler with the
annual Rotary of Tyler Christmas Parade. Enjoy family, friends,
Santa, and much more! Bring a friend, jacket, and smile
and enjoy the show. The annual Christmas Parade will
begin at 6pm at the corner of Bow St @ N Broadway Ave, then
proceeding south on Broadway and around the downtown square. Free
Admission. For info, email: parade@rotaryoftyler.com
AFTER THE PARADE!!
ALL IS CALM: THE CHRISTMAS TRUCE OF 1914
Thursday, November 30, 2017, 7:30 – 9:30pm
The Western Front, Christmas Eve, 1914. Out of the violence of the Great War's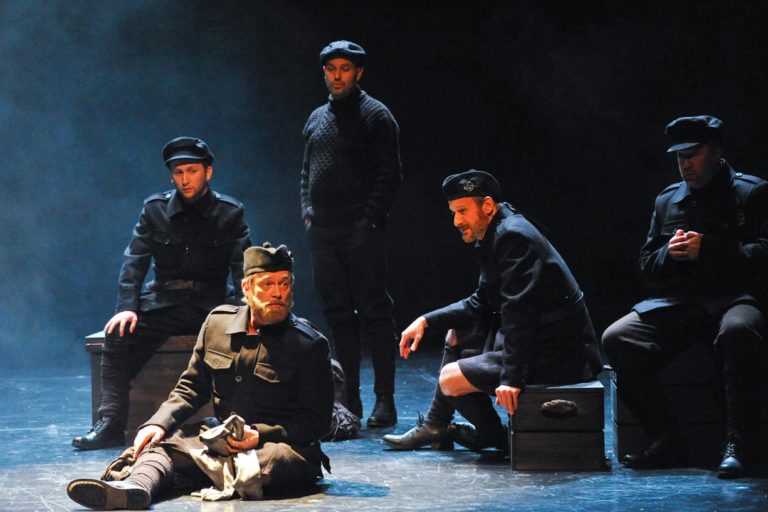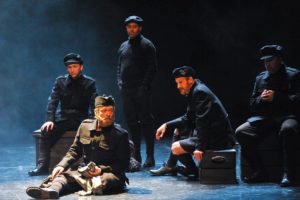 trenches comes a silence, then a song as a young German soldier steps into no man's land singing "Stille Nacht." Thus begins an extraordinary night of camaraderie, music, and peace. A remarkable true story, told in the words of the men who lived it. Cantus and Theater Latté Da present ALL IS CALM: THE CHRISTMAS TRUCE OF 1914 by Peter Rothstein, with musical arrangements by Erick Lichte and Timothy C. Takach. Through new arrangements of European carols and war-songs, like "O Come, O Come Emmanuel," "Good King Wenceslas," and "Auld Lang Syne," all sung by stunning a cappella voices, ALL IS CALM recalls the remarkable World War I truce between Allied Forces and German soldiers on Christmas, 1914. www.cowancenter.org/alliscalm.html
If that is too heavy for you here is a really cute play playing Nov 30, Dec 1&2!! 7:30 PM
Pollard Theater Center Presents
'A Charlie Brown Christmas'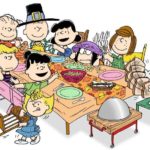 The classic animated TV special comes to life in this faithful stage adaptationin which Charlie Brown, Snoopy and the rest of the Peanuts Gang discover the true meaning of Christmas. All tickets $10.
Location:
Pollard United Methodist Church Campus,
3030 Copeland Rd
Contact:
903-597-2571pollardumc.com
Okay we have only hit the highlight here! There is soooo much to do and see when you visit us in Tyler. I did not even mention that you can go to a nearby Christmas Tree Farm and cut down your own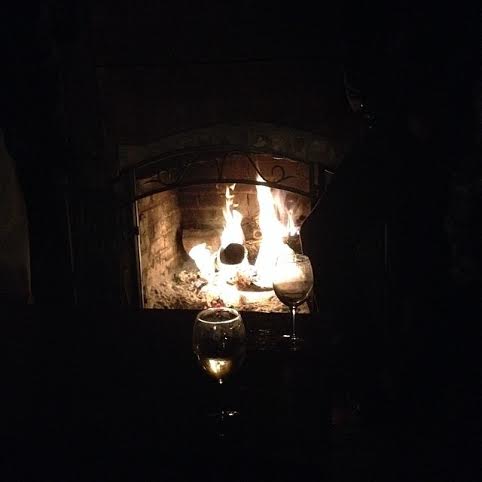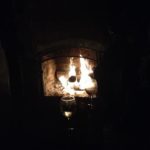 tree! That is loads of fun with the kids or if you are just a kid at heart!! So come see us soon at The Rosevine Inn Bed and Breakfast and Extended Stay Suites where cozy fires burn night nightly and breakfast is served daily.
Innkeeper Becca signing off until next time!!