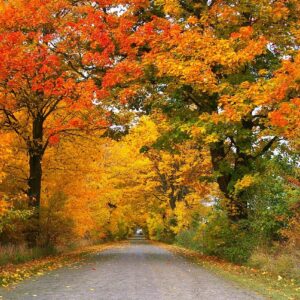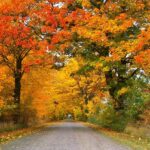 Where can you find country roads with breathtaking fall foliage, a plethora of live music choices, shopping for every taste and need and festivals galore? They're all in East Texas this November, and when you book your stay at Rosevine Inn you're in the center of it all. Here's what's happening in the Tyler area this month.
Shopping Near Tyler TX
The holiday season starts this month, and it's wise to get your shopping done early to beat the rush and avoid supply chain headaches. First Monday Trade Days is November 3 – 6, and Canton has something for everyone on your list.
Then make plans to attend the Fall Vintage Market Days of East Texas on November

11, 12 and 13. Shoppers can purchase the work of local artists, apparel, delectable treats, fall plants both edible and ornamental and hundreds of other unique items. The event takes place at Pickers Pavilion in Lindale and tickets are $10-15 depending on when you attend.
Vintage and Company is a shop and antique mall in Flint with treasures for anyone on your nice list who prizes items vintage and rare. Their Christmas in the Country event takes place on November 18-20, when the barn will be decorated for the holidays. Admission those days is free, but early birds can get first dibs on all the best goods at the early buying event on November 17 from 2-4 p.m. Admission is $10 at the door and proceeds benefit Operation Christmas Child and Samaritan's Purse. Whatever day you go, take your holiday selfies with the vendor's vintage red sled and Christmas-decorated Volkswagon bus.

Then from November 30-December 3, the Junior League of Tyler presents the 2022 Mistletoe and Magic, a shopping event that takes place annually at the Rose Garden Center in Tyler. Funds raised help support local nonprofits like Children's Advocacy Center of Smith County, Mentoring Alliance, East Texas Food Bank and more. At the event, every year vendors dazzle shoppers with home and seasonal decor, adult and children's clothing, gourmet food, jewelry and so much more.
East Texas Entertainment for November 2022
Almost every day of the month there's some kind of live music or live entertainment. Here are just a few of your options for November entertainment near Tyler TX.
November 4 – True Vine Jazz With the Jazz Connection. Visit True Vine Brewing Company's Earl Campbell location for outdoor entertainment, craft beer and tasty treats.


November 5 – Murder Mystery Dinner. Gear up in your favorite western wear and step back in time to the year 1862 for dinner and a murder mystery at The Goodman Le-Grand from 6-8:30 p.m. Tickets are $40, seating is limited.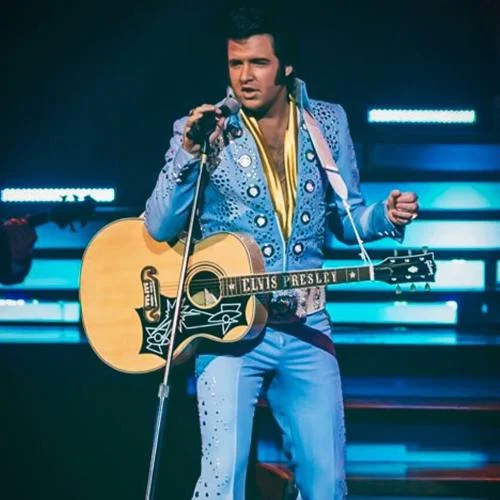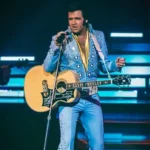 November 5 – He's got the hair. He's got the dance moves. He's even got the pinky finger positioned just right. Travis Powell's attention to detail has earned him a top spot as an Elvis tribute artist and he will bring his show to the Gilmer Civic Center on Nov.5. For tickets call 832-312-0074
November 10 – The Queen of Soul is world renowned for being one of the greatest artists of all time, with hits like "Natural Woman," "Chain of Fools," and "Respect." Hear vocalists perform all your favorites with a live band at Cowan Center, with tickets available here.
November 12 – ETSO Opening Night. East Texas Symphony Orchestra's season kicks off with world famous conductor and composer Yoav Tami leading ETSO musicians as they perform masterpieces by Maurice Ravel, Claude Debussy and Hector Berlioz.
November 12 – Penny and Sparrow at Liberty Hall. If you prefer new music to the classics, you'll find them at the renovated theater Liberty Hall on the brick streets of downtown Tyler. Annika Bennet opens and Penny and Sparrow's Andy Baxter and Kyle Jahnke perform their self produced new album Olly Olly. Exclusive pre-show soundcheck access is available online, with more information available here.
November 17 – True Vine Beer and Hymns. The traditional hymns you grew up with meet artistically driven Texas beers and other award-winning favorites at True Vine Brewing company on November 17. Sip crowd-pleasing favorites like Mermaids & Unicorns and Rose City while you listen to Amazing Grace and Jerusalem.
November 17 – Rudolph the Red-Nosed Reindeer The Musical. This beloved holiday tale highlights the idea that what makes each of us different can be a unique strength. Bring children of all ages to Cowan Center to see Santa, the Abominable Snowman, Rudolph and all the others take the stage. The show starts at 6:30 p.m. with tickets available here.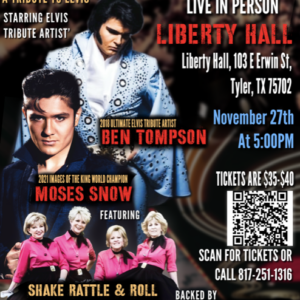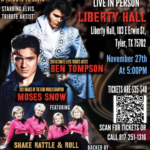 November 27 – Tupelo to Vegas. Elvis tribute artists Ben Thompson and Moses Snow shake, rattle and roll at Liberty Hall as they walk you through the King of Rock and Roll's musical career and progression from Tupelo, Mississippi to Las Vegas, Nevada. Yes that's right two Elvis show in one month!
Festivals & Community Events
On November 5, soak up the fall sunshine and indulge your inner car lover at the 3rd Annual Whitehouse Car and Truck Show at 801 E. Main Street in Whitehouse TX between 10 a.m. and 1 p.m. Collectors show off vehicles of all ages at this free to the public event. If you have a vehicle you'd like to enter, registration is $20/vehicle with proceeds going to St. Jude's Children's Research Hospital. Trophies will be awarded to select participants.
Visit the first annual Tyler Arts Festival, a Downtown Tyler Arts Coalition event intended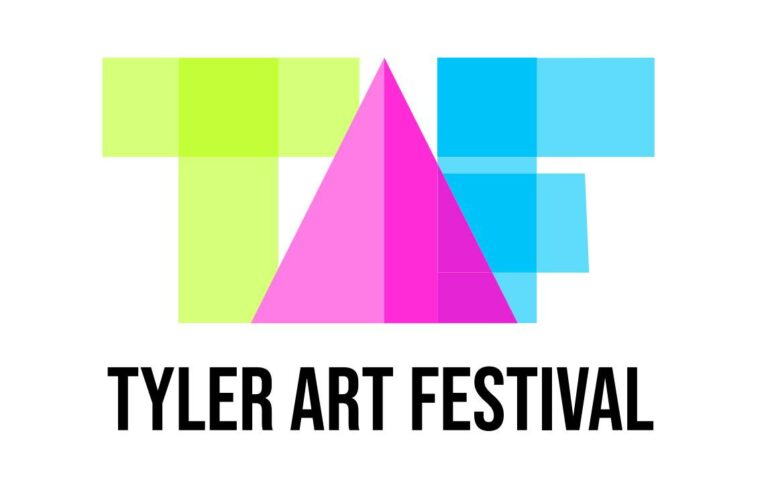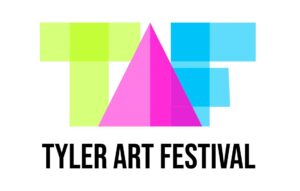 to spotlight local artists and their contribution to the community. Make plans to attend and support your local art community, whether that means buying for your private collection, purchasing art for unique holiday gifts or interacting with local businesses and local artists. The festival takes place November 12 on the downtown Tyler square from 7 a.m. to 4 p.m.
Escape into the Marvel and DC Universe and meet up with other gaming or sci-fi fans at The Cascades Country Club on November 19 and 20 for the Tyler Comic Con. Meet Melanie Kohn, Jim Foronda, Joshua Passmore, Tom Cook, Cosplay guests and some of your favorite comic book artists.
For Young Audiences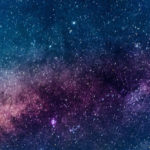 Nothing captures the imagination like stargazing, and one of the best places to do it in East Texas any time of year is at an Earth and Space Science Center Star Party. Attendees first see what's visible in the November night skies in the Hudnall planetarium dome theater, then step outside to view celestial wonders through the Center's telescopes, with astronomy buffs on hand to help you navigate the heavens. The November Star Party takes place on November 5 at 8, 8:30 and 9 p.m.
Then on November 11 at 5:30 p.m., bring chairs, blankets and snacks to Bergfeld Park for the movie A Charlie Brown Thanksgiving. Admission is free, but viewers are asked to bring a plastic jar of peanut butter to donate to East Texas Food Bank. The movie also shows at UBank in Lufkin on November 4 at 5:30 p.m.
Coming in December
Stay tuned next month for Christmas Fun! Make plans now to be here the first weekend of December for Canton Trade Days, Christmas parades, the Blue Santa Crawl, Home Alone at Liberty Theater and so much more. And whenever you visit, make Rosevine Inn your home away from home for comfort, convenience and the best breakfast in the area.

We are so thankful for all of our fabulous guests. Rosevine Inn has truly been blessed over the years. Hoping everyone has a fun Thanksgiving with friends and family. Stay tuned for more happenings in December-look for the next blog! Until then, do not forget Fires burn nightly and breakfast is served daily at our wonderful Inn.