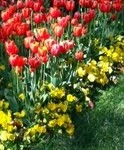 Happy, Happy Spring!!
Spring is in full bloom and spring is upon us! There are lots of fun things to do in East Texas this time of year, from big festivals to theatric performances to major music events. Check them out.
Celebrate Easter in East Texas
Happy Easter from Rosevine Inn! Good Friday is April 7th, followed by Easter Sunday on the 9th.
Craft & Trade Show Easter Egg Hunt
Bring the kids by Bergfeld Park on April 8th for a free Easter egg hunt. There will be games for the children and vendors selling food and goods starting at 10 a.m. The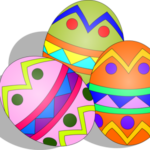 Easter egg hunt begins at noon. Good Friday Service & Easter Sunrise Service
Kick off Easter weekend on Friday the 7th, when Green Acres Baptist Church hosts a Good Friday Service at 7 p.m. Or, celebrate the Savior's resurrection on Easter Sunday (April 9th) at 7 a.m. at the Cathedral in the Pines Memorial Garden. He is risen!
Discover Local History
Tyler is a great place to explore the rich history of East Texas. Check out the Goodman-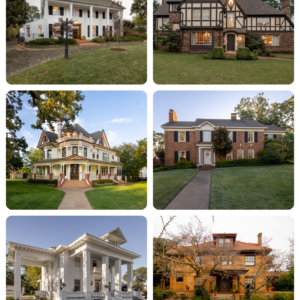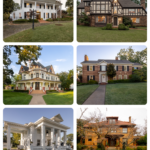 LeGrand Museum or walk the streets of the Azalea District anytime.
Historic Tyler on Tour
April 1st and 2nd, stroll through Charnwood, Tyler's first historic district. Historic home tours will take place from 10 a.m. to 5 p.m. on the 1st and 1 p.m. to 5 p.m. on the 2nd.
Roseland Plantation Afternoon Tea & Tour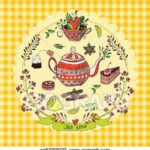 Gather your friends or family and head on over to Roseland Plantation for a lovely four-course afternoon tea. Sip on freshly brewed Earl Grey or raspberry tea while you nibble on seasonal fruits, delicious scones, tiny sandwiches, and delightful desserts. Then, once satiated, tour the 1854 Hambrick Plantation House. This event is by appointment only, so make your reservation today.
Spirits of Oakwood
April 8th, take a stroll through Historic Oakwood Cemetery, resting place of many remarkable Smith County residents. Guided tours will take you through the history of Tyler and the impact these citizens had on East Texas. Tours start at 1 p.m. and take place every 10 minutes until 4:30 p.m. This event is sooooo interesting. Don't miss it!
Get Outside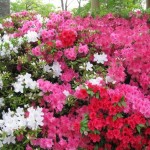 Springtime is a wonderful time to go outside! The flowers are blooming, the temperature is warm, and there is a nice breeze. Check out the Tyler Rose Garden, walk Rose Rudman Trail, or visit one of Tyler's beautiful parks any time you like. Or, if you're interested in something else, take a look at these great opportunities. Find out about all the goings on for the Azalea Trails-just click Here!
Tyler Run for Autism
No, this is not an April Fools' joke, there really will be a run for autism on April 1st. Go casual in the family 1K, or kick it in the 5 or 10K. Proceeds go to support local kids with autism.
Run Tyler 5K
Run over to the Tyler Rose Garden April 8th for the Run Tyler 5K benefitting the Tyler Parks and Recreation Department. This is one of the more affordable races that take place in Tyler throughout the year, only $15 per person. Check-in starts at 7:30 a.m., the race begins at 9 a.m., then there is an afterparty once the race is complete.
Tyler State Park Dogwood Days
The dogwoods are blooming at Tyler State Park! Walk or drive through the park trails March 24th to see gorgeous blossoms and breathe in the wonderful woodland air. Also at the Tyler State Park, ranger programs take place every Saturday.
Arp Strawberry Festival

Head over to Arp on April 29th for the annual Strawberry Festival. The festival begins at 9 a.m. and lasts until 5 p.m., during which there will be games, food trucks, kids play areas, shopping, and even a parade! Check out Arp Community for more information.
Channel Your Inner Artist
Tyler Blooms Art Sale & Show
Through April 28th, visit the Southside Bank Art Gallery for "Tyler Blooms", a unique art display featuring the work of 40 local artists. Stop by anytime during bank hours to vote on your favorite piece.
Hinds Fine Art Gallery
Hinds Fine Art Gallery & Event Space downtown will present two major art showcases this month: Amanda Hukhill through April 22nd, then Doug Carter April 28th through May 27th. Stop by for fantastic artwork.
Art in the Garden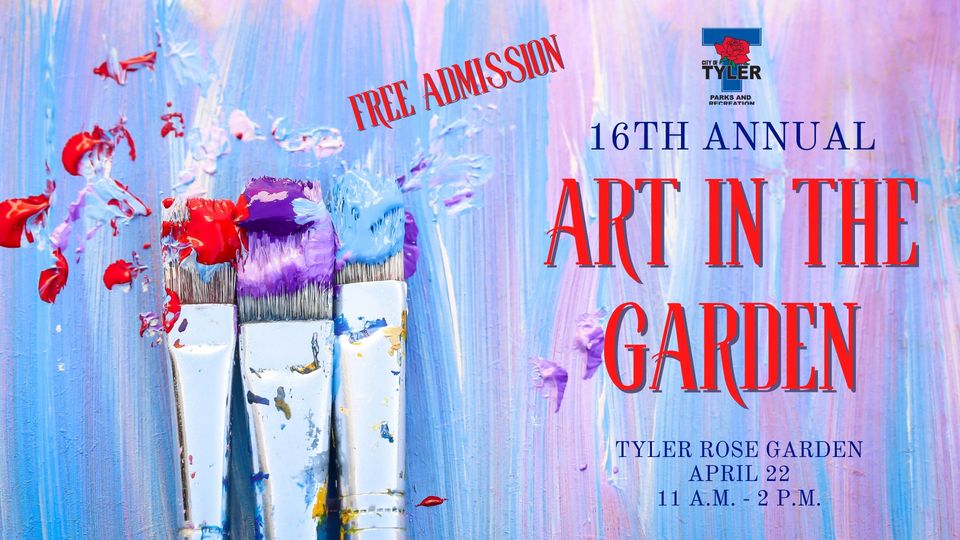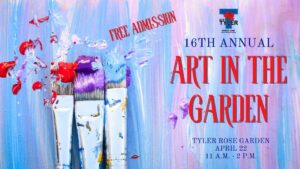 Bring your own art supplies to the Tyler Rose Garden on April 22nd and relax among the blooms as you sketch or paint. Local artwork will be displayed throughout the garden. Even if you choose not to indulge in your own creativity, it will be a fantastic time to stroll through the garden or have a picnic.
Music & Entertainment
There are tons of opportunities to hear live music or attend performances in East Texas this month!

Liberty Hall is one of Tyler's oldest theaters, first opened in 1930. They have several great events throughout April.
Chicago Sing-Along: April 8th, sing along to the 2002 film Chicago, starring Renee Zellweger, Catherine Zeta-Jones, and Richard Gere.
Malpass Brothers: April 20th, stop by for country music artists the Malpass Brothers.
Ruthie Foster: April 22nd, come listen to Grammy-nominated singer-songwriter Ruthie Foster.
Cowan Center
Visit UT Tyler's Cowan Center for these thrilling performances.
Chicago – The Musical: April 13th, performers at the Cowan Center will put on Chicago the Musical in honor of its 25-year anniversary.
Popovich Comedy Pet Theater: April 15th, pets run wild! Okay, maybe not actually wild. Bring the family along for an amazingly hilarious performance by Gregory Popovich and his cast of over 30 cats, dogs, geese, doves, parrots, and even a Shetland pony.
Michael Carbonaro – Lies on Stage: April 20th, experience the magic of Michael Carbonaro, star of truTV's The Carbonaro Effect.


More Entertainment

Specialized Bowling Night at Times Square Grand Slam

Every Tuesday, visit Times Square Grand Slam for unlimited bowling and great happy hour specials on drinks and appetizers. DJ James Bowen will perform in the VIP lounge from 9 p.m. to midnight.

Interstate Music Artist Showcase

Head out to Texas Music City Grill in Lindale on April 7th for the Interstate Music Artist Showcase, hosted by Billie Jo Jones. Order a drink and something to eat, then sit back and relax as Holly Tucker and Bailey Rae perform song-swap-style.

Cinderella

April 14th through 16th, the TJC Academy of Dance presents a special adaptation of Cinderella. Purchase your tickets now.

Praise Fest 2023

Head to downtown Tyler for the annual Praise Fest, near the Smith County Courthouse. This year, there will be performances by Shelia Johnson, Taylor White, Eloise, Grace Alone Church, Freedom Fellowship, Micheal Lucas, and De'Lisia James.

Other Great Events

April 1st is the East Texas Book Fest. This year, 40 authors will be in attendance. Get your favorite books autographed, shop the vendors, grab a bite from a food truck, or attend one of the writers' workshops that will be available.

For the 15th year in a row, the Goodman-LeGrand Museum will host the Rose City Artisans and Flower Market. The Smith County Master Gardeners will give lectures, there will be vendors selling plants and all things plant-related, and artisans peddling gardening-related crafts.

First Monday Trade Days in Canton are March 30th through April 4th, then again April 27th through 30th.

Have a wonderful April! We think if you include a fantastic stay at The Rosevine Inn Bed and Breakfast that it will complement your month!!
So until next month-Dont forget that fires burn nightly and Breakfast is served daily at our comfortable and fun bed and breakfast! Located at 415 S. Vine Ave., Tyler Tx.
This is your Innkeeper signing off!