Whew, who else is relieved to have survived August? As the summer sun begins to mellow, hopefully soon the air will begin to take on a hint of crispness as our corner of the world comes alive with a symphony of events, festivals, and activities that invite you to savor the essence of the season.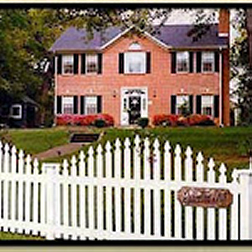 We invite you to join us. Picture yourself waking up in one of our clean and comfortable suites, enjoying a gourmet breakfast, then strolling the brick streets with a warm mug of apple cider in hand and the sounds of live music dancing on the breeze.
At the Rosevine Inn, we're here to be your local tour guide, sharing the heartwarming experiences that make our September truly exceptional. Whether you're a music enthusiast, a foodie in search of delectable treats, an art aficionado, or simply looking to embrace the charm of our region, there's something here to savor for everyone. So, let's dive into this guide, a road map to September's East Texas delights.
September Overview
If you're planning your trip, here's an overview of festivals, concerts, shopping opportunities and events:

1st Monday Trade Days – Aug 30 to September 3
1st Monday in Oct – September 28 to October 1
Behind the Scenes Tours at Keipersol Winery – Every Friday & Saturday

Fridays: 1:00 p.m.
Saturdays: 1:00 p.m. and 3:00 p.m.

Swing Dancing with Tyler Swing Thing – 1st and 3rd Fridays

Beginner East Coast Swing Dance Lesson at 7:30 pm
Open Social Dancing from 8:30 pm to 10:00 pm

3rd Annual Symphony in the Park – September 2
Labor Day Fireworks at Lake Palestine – September 3
Tyler Film Festival – September 7-9
"Noises Off!" at Tyler Civic Theatre Center – September 8-17
2nd Annual Downtown Tyler Art Festival – September 9
Live Music: True Vine Jazz With The Jazz Connection – September 15
Bullard Bluebonnet Festival – September 16
Rose City Fiesta – Hispanic Heritage Celebration – September 16
"Come From Away" at The Cowan Center – September 18
Toby Mac in Concert – September 20
CCC Sale Fall 2023 Recycling Event – September 21-23
East Texas State Fair – September 22 to October 1
Fall Pop Up Market – September 23
Neon Nite Super Fun Nite Beer Run – September 23
East Texas Symphony Orchestra Opening Night – September 23
Dailey & Vincent at Liberty Hall – September 28
Ann Wilson Of Heart & Tripsitter at The Cowan Center – September 28
Out of the Darkness Tyler Walk – September 30
ZERO Prostate Cancer Run/Walk – Tyler – September 30
Oktoberfest at ETX Brewing Co – September 30

Dates and events are subject to change, so it's always a good idea to double-check closer to the date you plan to attend. Enjoy your time exploring East Texas in September!

First Week of September:

Step into the enchanting world of music and celebrate the magic of Labor Day weekend with the 3rd Annual Symphony in the Park. Gather your loved ones and head to the picturesque Bergfeld Park on September 2 at 7:00 p.m. As the sun sets, the park will come alive with the captivating melodies of the East Texas Symphony Orchestra, delivering a mesmerizing performance that spans across genres and eras. From show tunes to popular classical pieces and even patriotic numbers, this family-friendly event promises an evening of musical delight for all ages. Don't forget to bring your blankets or chairs to make this an unforgettable night under the stars. For more information, visit www.ETSO.org.

Then on September 3, bid farewell to summer in the most spectacular way possible! Join the festivities at the Labor Day Fireworks extravaganza at Lake Palestine Resort on September 3. As the sun dips below the horizon, prepare to be awed by the largest fireworks show the resort has ever orchestrated. But it's not just about the breathtaking pyrotechnics – come with an appetite, as the grill will be sizzling and a variety of food trucks will be ready to satisfy your cravings. That's not all; the evening promises karaoke, corn hole, and a whole lot of fun. The resort's address is 8900 Ruby Lane, Frankston, TX USA.

---

Mid-September Delights

Calling all cinephiles and storytelling enthusiasts! From September 7 to 9, immerse yourself in the world of cinematic creativity at the Tyler Film Festival. This celebration of film is your chance to witness the magic of storytelling through the camera lens. The festival showcases a diverse range of short films from all corners of the world, with a special emphasis on supporting local independent works. Prepare to be captivated, moved, and entertained as you experience the art of visual storytelling like never before. To learn more about this exciting event, visit tylerfilmfest.com.

Then, laughter is the order of the day as the Tyler Civic Theatre Center presents the uproarious comedy "Noises Off!" From September 8 to 17, get ready to be in stitches as you witness a zany troupe of actors stumbling their way through a chaotic rehearsal process. Doors slamming, on-stage mishaps, and a bit of theatrical chaos – this play is a rollicking rollercoaster of comedic brilliance. You have multiple opportunities to catch this theatrical gem between September 8 and 17, and again from September 12 to 17. Secure your tickets at buy.ticketstothecity.com.

During the same time frame, the 2nd Annual Downtown Tyler Art Festival is here to inspire and enchant. On September 9, the heart of Downtown Tyler comes alive with an explosion of artistic expression. This free community event celebrates local artists, showcasing their talents through various mediums. Hosted by the Downtown Tyler Arts Coalition, the City of Tyler Main Street Department, and Liberty Hall Theater, this festival is a vibrant tapestry of art, culture, and community. Make your way to this artistic haven between 10 a.m. and 5 p.m. and immerse yourself in the beauty of creativity.

Music and Entertainment

Tap your feet to the rhythms of True Vine Jazz on September 15 as you harmonize with The Jazz Connection. Join True Vine Brewery for a night of great jazz, fantastic brews, and endless fun!

Then on September 20, see Toby Mac in concert as he takes the stage at Green Acres Crosswalk. Sing along with hits like, "Speak Life" and "Momentum" by this contemporary Christian singer, wrapper, songwriter, and producer.

Festivals and Fiestas

On September 16, explore the vibrant Bullard Bluebonnet Festival showcasing chili cook-offs, car shows, live entertainment, and more. This celebration of community and culture is not to be missed.

Or, experience the rich tapestry of Hispanic and Latin American culture at the Rose City Fiesta. Live music, dance performances, folk art, and family activities await you at Bergfeld Park.

Local Shopping

On September 21-23, smart moms and savvy shoppers unite at the CCC Sale Fall 2023 Recycling Event. Discover treasures at 50-90% off retail as over 1,000 families come together to sell their gently used items.

Then on September 23, Downtown Tyler comes alive with local vendors, boutique shops, live music, and more at the Fall Pop Up Market. Shop local and discover unique treasures.

Late September Highlights

As the final days of September approach, the excitement in East Texas continues to unfold. Mark your calendars for these captivating late-month events that promise to add an extra dose of magic to your September experience.

September 22 – October 1: East Texas State Fair

Step into a world of vibrant exhibits, captivating arts, and tantalizing treats at the East Texas State Fair. There's something for everyone with carnival rides and games, a livestock show, the famous Food Row, and live music every night on the stage.

September 28: Dailey & Vincent at Liberty Hall

Get ready for a night of musical excellence as Dailey & Vincent, Grand Ole Opry Members and multi-award winners, grace the stage at Liberty Hall. With their unique blend of country, bluegrass, and gospel, they're guaranteed to deliver a performance that resonates with the heart and soul of East Texas.

September 28: Ann Wilson Of Heart & Tripsitter at The Cowan Center

Prepare for a musical journey led by the iconic voice of rock – Ann Wilson of Heart. Accompanied by the band Tripsitter, this concert at The Cowan Center promises an electrifying evening filled with timeless classics and powerful vocals.

September 30: A Double Dose of Purposeful Steps

Wrap up the month with not one, but two impactful walks/runs for worthy causes. Join the Out of the Darkness Tyler Walk and stand united against mental health stigma and suicide. Additionally, participate in the ZERO Prostate Cancer Run/Walk and contribute to raising awareness and funds for prostate cancer research and education.

September 30: Oktoberfest at ETX Brewing Co

The month reaches its crescendo with the spirited Oktoberfest at ETX Brewing Co. Revel in the festive atmosphere as you indulge in traditional German beer, savor delectable food, and sway to live music. It's an ode to culture, community, and camaraderie that perfectly wraps up your September escapades.

Best Tyler Tx Lodging for Local Events

Plan your stay at the Rosevine Inn Bed and Breakfast, your cozy haven in the heart of East Texas. Our charming accommodations and warm hospitality are ready to welcome you. Book your stay today to be in the perfect destination to watch the magic of September as it unfolds. Visit www.rosevine.com to reserve your cozy escape.

Come visit us. The fires are, once again burning nightly! The breakfast is ready for you each morning. Can't wait to see you .
This is your innkeeper signing off until next month which is one of my favorites

OCTOBER

!!